Sound Stylists Goes Bold With CHAUVET Professional Chris Brown
Posted on May 11, 2015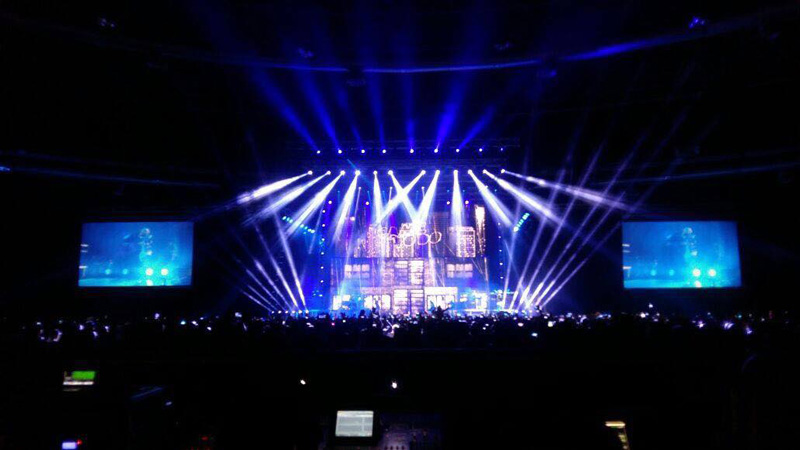 JOHANNESBURG, SOUTH AFRICA – The world tour supporting Grammy-winner Chris Brown's latest album X features a power-packed lightshow designed by LD Bryan Hartley, who is widely known for his work with the Trans-Siberian Orchestra.  As sometimes happens with international tours, however, rigs have to be pared down when the show travels from country to country.
This was the case, recently when the Chris Brown tour made two stops in four days in South Africa. The lightshow nevertheless was able to deliver the bold, powerful statement that Brown's critically acclaimed album deserved, thanks in part to a powerful performance from Legend 230SR Beams from CHAUVET Professional.
"The original design had 174 fixtures, but the number of fixtures was reduced slightly due to venue structural weight limitations and availability of outdoor stage structure for the tour," said Sean Crawley, Head of Lighting for Sound Stylists (Midrand, South Africa). "We also substituted Legend 230SR Beams for other fixtures on the rig. The lighting designer, Bryan Hartley, was receptive to our adding the Legends."
Despite its compact size, the Legend 230SR has a powerful output (96,000 lux at 15 meters) that makes it capable of delivering the kind of eye-tingling punch suitable for a performance by Brown. The South African X tour featured 30 of the Legend fixtures provided by Audiosure, which like Sound Stylists is also located in Midrand.
The South African rig had 12 of the Legend 230SR Beams on the floor downstage — six on either side — and 18 of the fixtures on trussing over the stage. Preprogrammed and controlled with a Hog 4 console, the Legend 230SR Beam units created an array of high impact beam looks. "It was bold statement lighting," said Crawley.  "We had pillars of light going straight up. We had crisscrossing beams, and we had this unique look where the beams converged and then opened up like a flower. As I said, the looks made a very powerful statement."
The 18 Legends on the overhead truss were used for audience lighting. "We drove those beams into the crowd to engage the audience," said Crawley. "The brightness, the color, the sharpness of the beam all worked well to connect to people."
Grouped with a robust collection of other beams, washes and followspots, the Legend 230SR Beams created a "world class concert look" for the Chris Brown South Africa tour, which took place at the Coca-Cola Dome in Johannesburg and the Moses Mabhida People's Park in Durban. Although it may have been trimmed somewhat from its original design, the South African rig was still substantial, with close to 150 fixtures included. This created special demands for Crawley when setting up and tearing down the rig.
"Time was the big challenge with this project," he said. "We had 18 hours of set up time in Johannesburg on Thursday, and then we had to take down the rig and get to Durban, where we had 12 hours of set up time on Friday. It was non-stop work, excitement and a lot of lighting power for four days — and we enjoyed it a great deal!"