Paragon 360 Calls On CHAUVET Professional For Church Renovation
Posted on January 28, 2015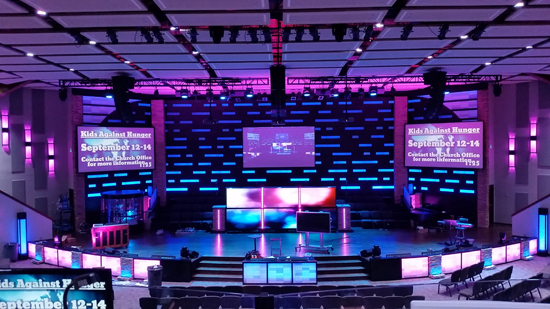 ENID, OK – Emmanuel Baptist Pastor Wade Burleson described the results of Paragon 360's recent renovation project at his church by saying "Paragon hit a homerun with this one."  To extend the baseball analogy a step further, one impressive result of that renovation is that Emmanuel Baptist can now make the transition from a traditional service with a choir to a band-led contemporary service in about the same time it takes Major League teams to complete one inning of play.
Springfield, MO-based Paragon 360 accomplished this feat at the 35-year old-church by adding new architectural elements and upgrading the audio, video and rigging system, in addition to installing an impressive collection of lighting fixtures from CHAUVET Professional. As a result of these changes (and the hard work of church staff) Emmanuel Baptist is now able to change its sanctuary space from a traditional to a contemporary worship area in 20 minutes. (The average inning takes 18.3 minutes according to Major League Baseball.)
The ability to make this smooth transition quickly was important to Emmanuel Baptist, in part because of the growing popularity of its contemporary service, which was being held in a smaller venue. Creating a single worship area that could reach the young and the unchurched, while still remaining welcoming to congregation members seeking a more traditional service, was of paramount importance to church leaders. Additionally, the church wanted to create a smaller modular choir loft to replace the oversized wooden platforms from its original construction.
Emmanuel Baptist turned to Paragon 360 for its renovation project. By providing a turn-key design, Paragon 360 was able to deliver a fully integrated cost-efficient solution. Beyond that, however, the company offered something more: experience and a willingness to listen. "Paragon understood our needs immediately," said Pastor Burleson. "We didn't have to explain ourselves. We told them what we needed and they said 'we got it,' and they did. We're reaching the unchurched. When they come into this facility they are comfortable. It's about people and this facility that Paragon designed allows us to reach people."
Lighting from CHAUVET Professional played a key role in helping Paragon 360 achieve this vision for Emmanuel Baptist. "One of the best things about the CHAUVET Professional line is you get reliability at a great price point," said Donnie Brawner, CEO of Paragon 360. "We want to give our clients the best product while keeping costs under control.  Chauvet helps us do this; another aspect of Chauvet that we like is that it gives us a lot of fixtures to choose from, so you can find an LED to fit most needs."
The CHAUVET Professional LED fixtures used in the renovation include 21 COLORdash Batten-Quad 6 RGBA linear washes; 20 COLORdash Batten-Quad 12 RGBA linear washes; 10 COLORdash Par-Quad 7 RGBA par-style units and 22 COLORado Batten 144 Tour washes; as well as 48 Ilumipod Logic Tri-4 RGB fixtures and 8 Ilumiline Logic 12 linear RGB fixture from CHAUVET Professional's sister company Iluminarc. The rig also includes 20 Wedge Tri RGB uplights as well as 6 Core 3×1, and 10 Core 3×3 COB LED panels from CHAUVET DJ.
Paragon integrated the compact COLORdash Batten-Quad 6 units in illuminated cap walls at the front of the stage and in the sidewalls of the new choir loft. The COLORdash Par-Quad 7 fixtures are positioned at the top and bottom of four columns located in front of the balcony stairs.  Having Par-Quad 7s at both ends of the columns gives Emmanuel Baptist the flexibility to have one color or split colors in each piece.
Serving multi-purposes in the design are the 20 COLORdash Batten-Quad 12 fixtures. Six of these fixtures are used in a video screen set piece custom made by Paragon 360.  This set piece has 6"- 80" LCD displays. The top three displays can be lowered to make the choir visible or raised to create a video wall behind the pastor. The Batten-Quad 12s are positioned between the displays and in the endcaps of the set piece to accent the video content.
Paragon 360 also uses the COLORdash Batten-Quad 12s on four portable risers that are rolled out during musical performances. A single Quad 12 is positioned in each riser, illuminating the whole cube and allowing the cube to color coordinate with the rest of the set. The Quad 12s are also used as stage uplights, providing good light for IMAG and video.
The COLORado Batten 144 Tour fixtures are positioned in an upstage wall set piece, which is made out of wood planks with slats left open to provide a view of the back wall. The COLORado Batten 144 Tours have  a long and a short throw lens integrated into the fixture, which made them ideal for illuminating the 27' high wall behind the set piece.
For added color, the Ilumipod Logic Tri-4 provides a wash around the balcony, while the Ilumiline Logic 12 illuminates six faux rock columns that Paragon 360 fabricated. Paragon 360 also created customized sconces for the church, and each of these are warmed and colorized by two Wedge Tri fixtures positioned on either end of the structure.  The Core fixtures, which are used to add impact to contemporary services, are on custom stands built by Paragon 360 so they can be moved on stage quickly in the 20-minute transition time.
Although the renovation project at Emmanuel Baptist was ambitious, Paragon 360 succeeded not only in meeting, but exceeding expectations. As Dan Heath, Minister of Music at the church, aptly put it, "We have finished other remodels in the past, but I don't know if we have ever finished one before where no one was unhappy with the result. That was certainly the case with this one."