New VPX Video Booths Attract Attention With CHAUVET Professional
Posted on March 16, 2018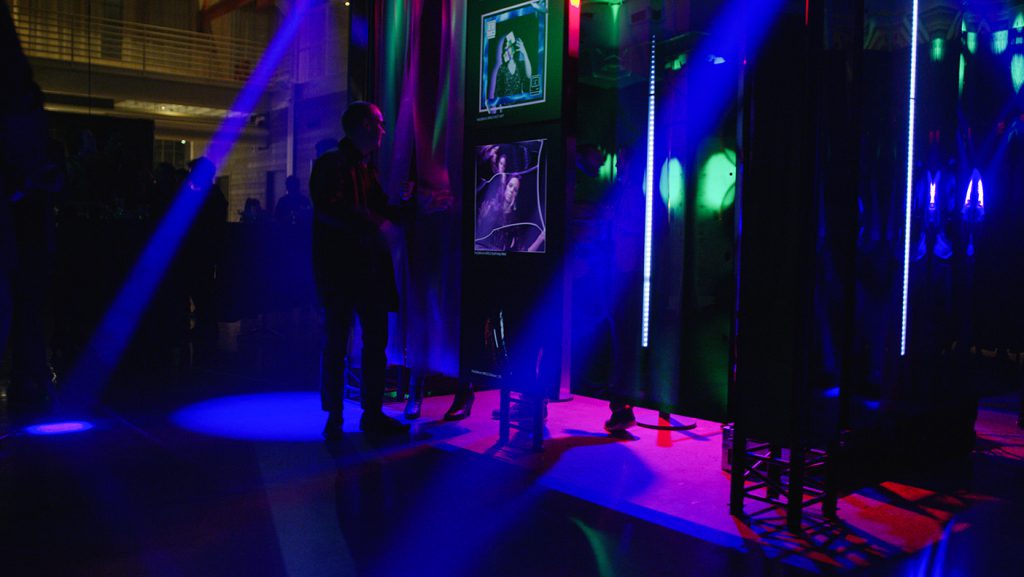 MINNEAPOLIS – A company made up of people devoted to spreading fun and good time, FEEDBACK has been pushing play into new frontiers at clubs, events and even corporate functions. The impish Minneapolis company has been at the forefront of creating new digital experiences that unleash the imagination, in even the most unlikely of places. Its latest inspiration is VPX, a slow-motion video booth complete with custom backdrops, props and patented editing features that bring out the creativity in everyone.
Drawing attention to the VPX booth, and giving it an appropriately edgy glow, is an exterior lighting display created with CHAUVET Professional Épix Strip Tour 50 fixtures supplied by Monkey Wrench Productions. The half-meter LED strips are arranged in geometric patterns on the shell of the booth behind two-way mirrors to conjure up colorful, captivating looks. Controlled via the Épix Drive 900 and Art-Net, the strips are also used to create moving displays and chase scenes, which draw attention even at the hottest clubs and most bustling events.
"We have the Épix Strips on the shell of the VPX booths to make them look great in any space at an event," said Geoffrey Schuler, a designer at FEEDBACK. "They make the booth pop, so we're obviously very pleased with that."
Schuler and the FEEDBACK team did "tons of research" before selecting the Épix Strip Tour 50. "We wanted an LED strip that looked sleek and was very bright to stand out, even in the most intensely lit environments," he said. "We did our homework and decided that the Épix was right for the job.
"We create futuristic looks with the Épix strip, which really reflects what our company does," continued Schuler. "The strips are easy to program, so we can create looks that reflect the theme of an event. These programming features make the strips extremely versatile, so we get a lot of variation in our booths, without having to use a large number of different fixtures."
The VPX booths themselves are extraordinary blends of artistic inspiration and engineering. In front of each booth is a giant TV screen that allows people to see their manipulated images in real time. Using a patented background subtraction method, the booth shows and records video images of people in the midst of incredibly colorful, creative and unique backdrop scenes.
"We spent three years developing VPX," said Schuler. "The concept is very popular at clubs and events. By using editing functions, we can weave the videos into branding events for companies. Regardless of where or how it's used, our booth creates a unique experience that no one forgets."
Now, thanks to its stylish and forward-looking shell, this creative entertainment booth is going to command attention even before people step inside for that memorable experience.