Michael Apostolos – Deep Light
Posted on January 4, 2022
Things have happened fast in the young career of this Chicago-based lighting and production designer. In 2013, while still a senior in high school, he created the lightshow for Chance The Rapper's Social Experiment Tour. He hasn't looked back since.
Following this early success, he's gone on to work for stars like Jennifer Hudson, Billie Eilish, Maren Morris, Travis Scott, and SZA, as well as network TV shows and major ceremonies, including the Grammy, BET and Billboard Awards.
Although Apostolos' career has ascended with breathtaking speed, the creative process that underlies it has been anything but hurried. Taking a thoughtful and deliberate approach to design, he proceeds at a poet's pace, even seeing a measure of virtue in procrastination, as it provides time for inspiration to take root
Invariably, that inspiration revolves around the ideas of his client. Apostolos dives deep into the things at the heart of his client's vision. Much of this meaning lies in the music, so he listens carefully to every song, but why stop there? Listening will shed light on how the music moves him, but what do these beautiful sounds really mean to the artist who created them? To find out, he spends time talking to each client about the music before the design begins.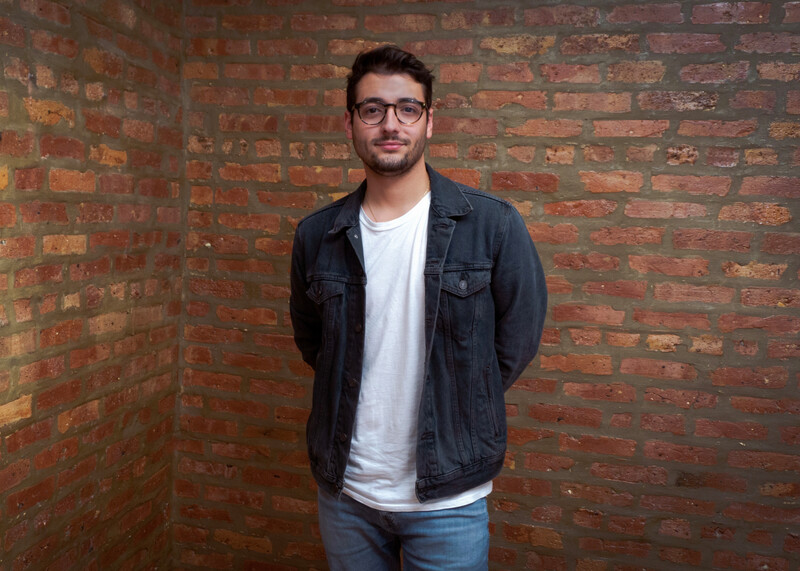 The net result is an emotional visual setting that embeds itself deeply into the mood of each song. Most often these vistas are comprised of myriad details, none of which are too small to escape Apostolos' attention, whether it's the way sunlight passes through a window for a John Lewis tribute in Chicago, or some authentic 1960s fabrications for Jennifer Hudson's tribute to Aretha Franklin at the Apollo Theatre in Harlem. All create a sense of authenticity that make the work of this designer that much more compelling.
Speaking to us from his Chicago studio, Apostolos shared insights into the power of deep design.
You spend a lot of time listening to your clients' music, but beyond that, you once said that, for you, the design process begins with talking to the artist about the music itself. Can you give us a sense of what you learn from these conversations that is different from what you learn just by listening to the music? What kind of insights do these talks give you?
"The true insights come from when I can get a sense of what the music means to the artist. While listening to music, we often build our own ideas and feelings of what it means to us based on our worldview.
"While I of course have my own personal experience with the music and my own opinions about music when I first listen to it, I'm able to experience a deeper understanding when I speak directly with artists about their music. I'm able to get a sense of what they were feeling when they made the music, what it means to them now, and what they hope their listeners feel when they take part in listening or seeing the music come to life during a show.
"These conversations provide a glimpse into the artist's reality of what they're living and feeling and those raw emotions are what they've put into their music. That's what I try to help them bring to life visually."
We were really impressed with the emotions your design conveyed for Jennifer Hudson's "Bridge Over Troubled Water" tribute to John Lewis. The amber light you used to light the area around her played off beautifully against the skyline background outside. What was your vision behind that design? Why did you choose that color? Did you consider other colors?
"When Jesse Collins invited me to work with him on this monumental performance, I knew we would have to find a unique and inspiring location that would allow us to create a one of a kind performance honoring an iconic man. I also knew that Jennifer's performance and voice would carry no matter the location, so my goal was to choose a location that amplified what Jennifer was singing and to further inspire the viewers.
"Jesse and I collaborated closely on the concept and design of the performance and wanted to make sure there was this added touch of the sunset's golden hour. Personally, I love the rawness and warmth of tungsten par cans and lighting fixtures, and thought that would help amplify the rooftop sunset vibe we were going for. I also didn't want the performance to be overproduced from a lighting perspective with too many colors and flashing lights. I wanted the performance to feel organic and raw, really to connect with the viewers."
Speaking of Jennifer Hudson, you've done quite a few projects with her. So, when you work with an artist multiple times, does it deepen your creative relationship. How does that impact your design?
"It's a gift and an honor to be able to work with an artist multiple times. Having this opportunity I believe absolutely helps strengthen the collaborative relationship I have with the artist. With the consistency in work often comes a building of trust and understanding of the artist's creative goals. It also allows for me to truly get a sense of their style – what they like and don't like. I'm able to gain a deeper understanding of the music, vision, and emotion that they want to communicate through their work, especially as our relationship working together grows.
"My approach to any design comes from a deep understanding of the goal of the artist or whoever I'm creating with at the time. When I have a rapport with an artist and an ongoing working relationship with them, my approach is a little deeper than it would be for someone who I just started working with.'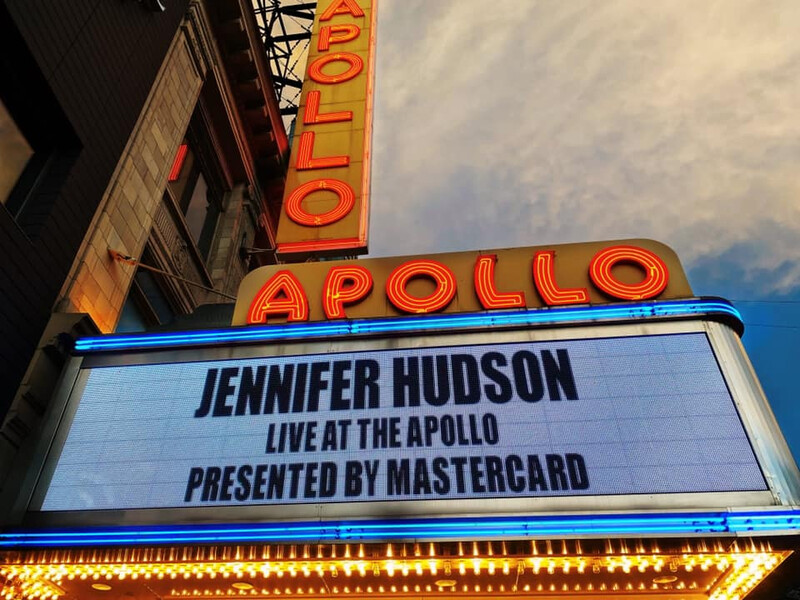 One more about Jennifer! At her recent Apollo Theatre Show, you created some subtle retro looks that complemented the Aretha Franklin classics she performed. Yet the show design itself felt anything, but "old." Any advice on creating a retro vibe, while still maintaining a contemporary feel?
"I think the first step in creating a retro aesthetic is to put yourself mentally in that specific era. You need to study and pull inspiration from the historic looks, colors, fabrics and materials from said era. Once you've studied the colors and textures, you then introduce your own new age designs and touches. It was really important to me to keep the old time aesthetic of the theatre and to not overwhelm it with too many bells and whistles. For that specific show I leaned heavily into scenery that matched the pre-existing colors of the theatre and I think that helped keep that retro era alive without making it feel old."
You started out as a lighting designer for Chance The Rapper before branching out into production design. Did your experience in lighting help you develop as a production designer? Does your lighting background give you a different perspective on production design?
"Yes, absolutely. My experience in lighting design was exactly what I think I needed to take that step forward as a production designer. It allows me to design beyond just looking at structural and architectural elements. The dual perspective allows me to have a side conversation with myself as a lighting designer to help fill areas with lighting that will complement the structural elements and really tie everything together."
Back when you first lit Chance The Rapper you were only 17. What gave you the confidence to do that? You must have had people telling you that you were too young. How did you handle that?
"I was really motivated to learn and put practice into play, and I simply would not take no for an answer. When I graduated high school, I already knew my interests and knew how I could apply those to a career. School wasn't something I was interested in pursuing at the time, and therefore knew that working in the industry would be my best next step.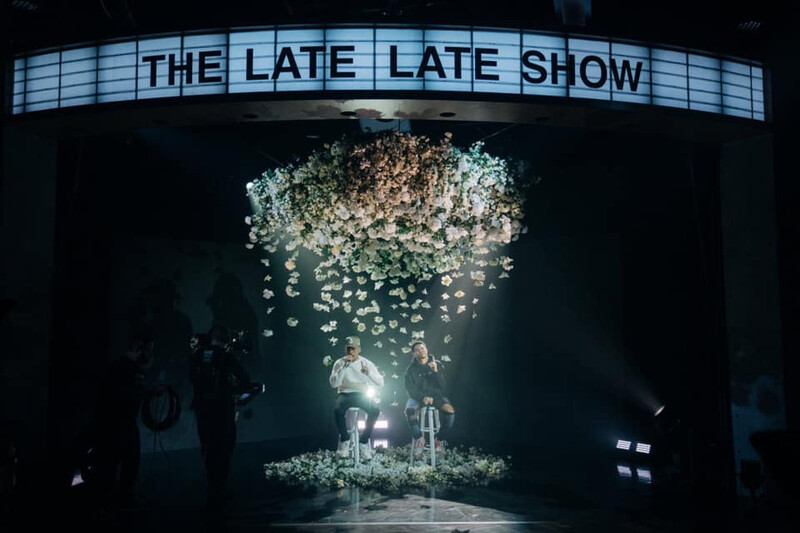 "There's only so much people can teach you, and at the time I thought the best route for me would be to get hands-on experience. People often told me I was too young — and instead suggested I should shadow them on tours and continue in a safer more traditional lane. But by the time I was 17 I had been educating myself in lighting and production for a few years by prepping tours and local shows for a Chicago based lighting company and with the local bands. I knew that this route with Chance would be a great opportunity to grow, learn, and develop, and I took that leap of faith in myself and my dreams."
In the eight years since that time, you've gone on to design for the Grammys, BET Awards, and SNL as well as stars like Billie Eilish, SZA and Maren Morris. If you had to select one thing – what has it been that's been most crucial to your success?
"The most crucial elements to my success are being ok with change, and having the ability to adapt. There's not one single show, performance, or event that's the same. Things are constantly changing and evolving between crews, ideas, art, etc. In this industry, we are constantly developing and expanding on our ideas and practicing our ability to adapt. I think this is especially important because as trends are set and technology advances, you have to keep up with the curve while also establishing your own point of view as you adapt."
How do you get inspired at the very start of a project?
"I gain a lot of inspiration by listening to the project I'll be creating to and by familiarizing myself as much as possible with the project. After I've done a deep dive into the music or project, I often take time to gain inspiration through my everyday surroundings – things like architecture, nature, etc. When listening to music, I try to never overthink anything and instead allow myself to become fully immersed. I'm truly a fan of all music and genres, so by the time I'm done listening to a body of work, if I wasn't a fan before, I'm usually a fan by the end of listening. I also find inspiration by putting myself in the shoes of the audience and determining what exactly we're trying to invoke in them and want them to see."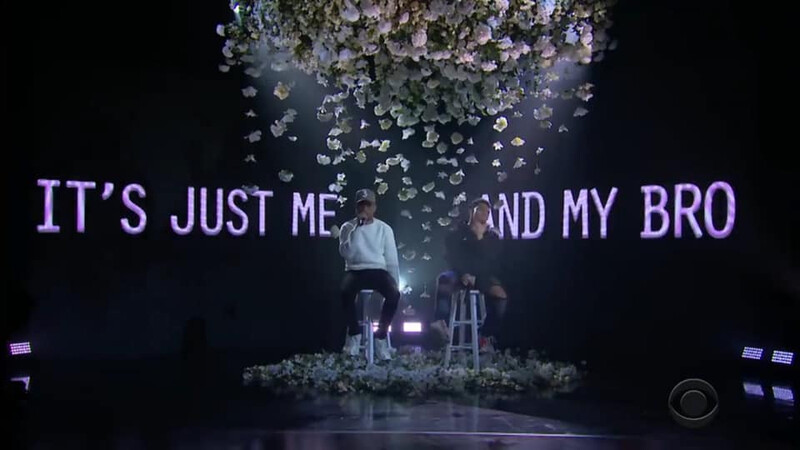 Do you ever procrastinate?
"I definitely procrastinate — though, procrastination can be both a blessing and a curse. The hardest part of starting a project is the unknown. At the same time, I also find inspiration at the start of a project because you're able to work with a blank canvas. When you put that pencil to paper, theoretically you have the opportunity to take your ideas anywhere."
Your designs exhibit a great deal of balance and symmetry. Why is that? Do you ever go with asymmetrical designs?
"I naturally enjoy a symmetrical design and room. At the same time, I love asymmetrical designs. I'll sometimes present asymmetrical designs, but only if they really fit the artist or event. I like the cleanliness of a symmetrical design, but there's also an ambiguous cleanliness in an asymmetrical design. I'm always fighting myself on both symmetrical and asymmetrical when I first begin designing something."
We've been impressed by how you're able to create a sense of depth on stage, when your clients appear on late night TV, the way you did for Chance The Rapper's performance of "Roo" and The Late Show With James Corden. Any advice on creating depth in a small space?
"Again, I think it all comes down to understanding your end goal. It comes down to forced perspective, scale, shadows, the piece of content you're creating, camera angles by which you're filming, etc. Understanding the space that you're given to work with too is super important."
Do you have a favorite color to work with? Is there a color you find most challenging?
"I love a CTO, an amber, yellow, and a simple white / NC. I'm a big fan of bright, airy colors. The color I find most challenging, but also the most rewarding, is blue. Blue can easily wash out a stage, but at the same time can also really set the mood and provide a beautiful look."
What role do you see xR playing in your work, and in the design industry in general?
"I think xR is still developing and will continue to develop over the next couple years. It was really big in virtual performance productions during the pandemic/lockdown and I think as we move forward, we'll continue to see it incorporated within live performances that are televised or potentially live performances with people in the audience. It's got a lot of room to grow and I'm excited to see it happen."
Your work has a very appealing emotional quality. How do you use technology without having it take over the more human element of design?
"I try to use technology to amplify the existing qualities of the music and design. It can definitely be a tricky balance, especially in an industry with some of the coolest and most advanced technology available. Again, understanding the emotional quality your trying to set is where it begins for me."
What is the most challenging part of your job?
"There are many challenging, yet rewarding qualities of my job. I'm constantly meeting new people, experiencing new types of technology, experiencing an evolution of music and so on. As a whole, I would say navigating the entertainment industry is a challenge in itself. We must constantly keep up with a continually evolving industry and all of the assets that make it so special. In the same vein, these challenges continue to motivate and push me forward and simultaneously serve as a source of inspiration."
Looking at your career to this point, which of your projects stand out as being the most memorable?
"The most memorable moments of my career thus far have been 'the firsts,' like the first time I had the opportunity to create on the Grammy Award stage with Alicia Keys and Marren Morris, Chance's first performance on the Grammy Awards show , and my first time working Coachella, to name a few. I'm so grateful for the many opportunities I've been given and have worked hard for; and while it'll always be fun and exciting to do the larger shows time after time — nothing will ever beat the first time you get to work on the shows you once watched as a kid and dreamed of being a part of. Those are the most memorable moments to me."
Which have been the most influential on your development as a designer?
"Although cliche, each and every project is truly so unique in its own sense. I honestly feel that every project I've worked on has influenced my development in one way, shape, or form. Not one project has been the same, so they've all pushed me in different ways than others and have allowed me to grow and succeed in whatever I'm trying to create or direction I'm trying to head in."
You've already accomplished so much in your career. What are your goals for the future? Is there a type of project that you haven't yet done that you'd one day like to tackle?
"I'd love to tackle and be a part of the country / worldwide moments such as the Super Bowl and the Olympic ceremonies. Those would be top of the list. At the end of the day though, my goal for the future is to be able to continue to create across many mediums and collaborate with friends, coworkers, designers and producers. While I absolutely love being able to be a part of the fulfillment of other's visions and dreams, I think someday I would love to take time to execute some of my own visions/projects from start to finish in the future."