Miami Heat's Chris Bosh Celebrates With CHAUVET Fixtures
Posted on April 25, 2014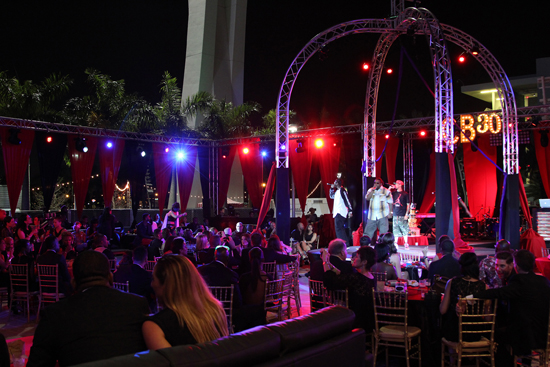 MIAMI – To say that Chris Bosh's 30th birthday party was spectacular is akin to describing the 6'11" Miami Heat forward as simply "tall." Bosh's wife Adrienne marked her hubby's special day with one big bad mean beast of a bash that thundered past any normal definition of "party" by serving up an exhilarating mix of A-list guests, star-studded performances, carnival games and more.  LeBron James, Dwyane Wade and the rest of Bosh's teammates were at the party, as were Bone Thugs-N-Harmony, rapper Ty Dolla $ign, Gary Owens and Gabrielle Union, along with 168 fixtures from CHAUVET Professional.
The fixtures were "invited" by LD Dan Cohen of UPLYTE (Dania, FL), a leading provider of event design and décor services in Florida. Cohen used the Chauvet products as the lynchpin of a very versatile and lively lighting design that supported the Cirque du Noir theme of the party. "This project was brought to us by one of our very talented event planner clients who does a lot of work with Team Bosh," said Cohen. "Adrienne Bosh wanted a sultry Cirque style event with a seductive look and feel and yet, at the same time, also provided the traditional excitement of a 'Big Top.' We had to create a vast array of looks to give us some 'cabaret' style moods and then transition smoothly into a very different feeling for some of the specialty acts, which included a variety of Cirque-like performers. Having a versatile and reliable lighting rig was essential to us being able to fulfill the client's vision for this project."
Cohen relied on 16 Nexus 4×4 LED panels to create a sizzling glitzy backdrop for some of the party's high-energy performances. One hundred COLORado 1-Tri Tour par-style fixtures, with their smooth color mixing and five dimming curves, provided rich and warm color washes to help create the "sultry feeling" that the LD sought; while 12 Q-Spot 560-LEDs and 8 Legend 300E Beams added the excitement of sharp edged moving heads.
Other fixtures included: 24 battery operated WELL 2.0s, which were used to uplight the party areas; 2 COLORado Range IP panel fixtures for uplighting columns at the Miami Marlins Stadium, where the gigantic birthday bash took place; and 6 SparkliteLED tri-color LED drapes, which were used as a "hall of mirrors" entrance piece. The impressive lighting rig, which also featured aerial beams, was controlled by a Road Hog 4.
Setting up such an extensive lighting rig in a short time always presents a challenge, especially when it's going into such an unusually configured space like the plaza of the Miami Marlins baseball stadium. "Since our rig was going to be in a very unorthodox space, weight loads were critical," said Cohen. "We needed gear that was flexible enough to allow us to fit our design into this infrastructure. The Chauvet fixtures helped us meet this challenge by delivering a lot of punch while still being compact." As a party, Chris Bosh's birthday extravaganza had something for everybody: great musical performances, comedy, Chris Bosh branded burgers, caricatures, carnival games, a dunk tank, special guest gifts like "I got game socks" and shout outs to the basketball star. All of this was made that much more special by a very versatile lighting rig.
So while most guests left saying, "I can't wait to see what Adrienne does for Chris' next birthday," Dan Cohen had a somewhat different expectation. Speaking of CHAUVET Professional after the party, he said, "We have always been very successful with their products, and are always excited to see what they will bring to market next."
For more information on UPLYTE visit www.uplyte.com