Mavericks and Rogues Brew Lighting Mix at BruFest
Posted on July 5, 2017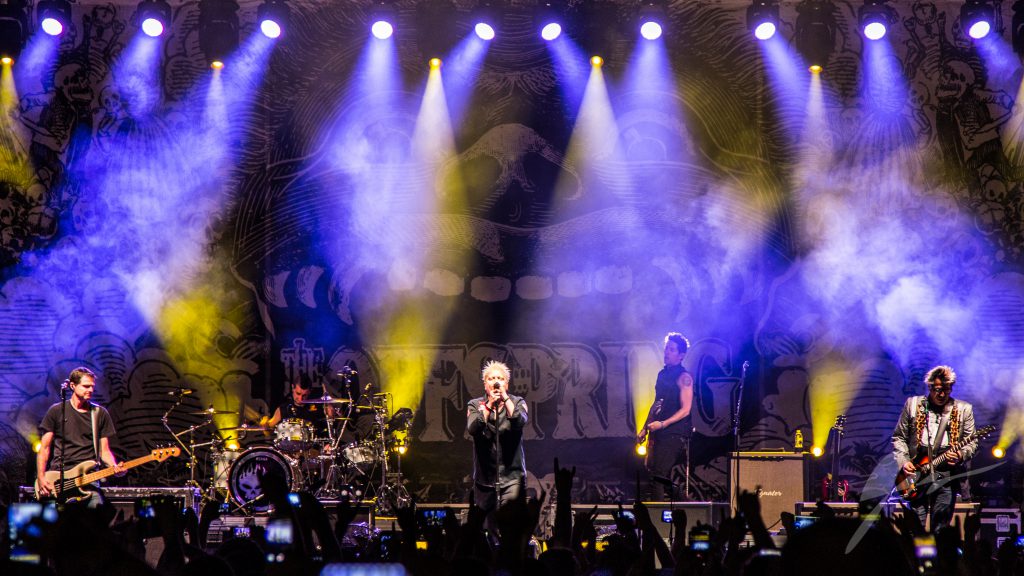 PHOENIX, AZ – Beer isn't the first thing most people associate with Arizona, but The Grand Canyon State has become a hot bed of micro brewing. A local survey by a Phoenix news outlet found that the city alone is home to 29 different establishments that brew craft beer.  Recently, the Arizona capital celebrated its growing local brewing industry with BruFest, a day-long festival featuring a mind-boggling assortment of craft beers, bountiful taco buffets and hours of penetrating punk and metal music.
Headlining the festival was Offspring, the best-selling punk band of all time with 40 million album sales. Also laying down thunderous rifts were the iconic punk rockers Pennywise, metalcore legends Atreya and All That Remains plus other groups. These performances were supported visually by an appropriately intense lightshow that featured CHAUVET Professional Maverick, Rogue and STRIKE fixtures supplied by Creative Backstage.
"We wanted a lighting rig for this festival that was straightforward and powerful, because of the hard-driving nature of the artists," said John Garberson, owner of Creative BackStage. "At the same time, we also wanted a rig that was flexible enough to support the different styles of the bands, which varied quite a bit from the early punk music of some acts to the darker metal sound of others."
Garberson and the Creative BackStage team, which included board operator Matthew Berg, and second lighting director Rita Assi, achieved the balance between raw power and subtle versatility with a rig made up of 12 Maverick MK2 Spots, 24 Rogue R2 Washes and eight STRIKE 4 multi formatted fixtures, as well as two haze machines and eight arc wash fixtures.
The 24 Rogue fixtures were flown 12 apiece on front and back truss, and were used for aerial washing, back washing, top washing and audience lighting.  Sharing space with them on the front truss were the eight STRIKE 4 fixtures, which accented highpoints of the performances by serving as strobe lights. For some songs, the STRIKE 4 units engaged the crowd by washing them with a warm white tungsten-like glow.
"This festival really had a community party cookout type of atmosphere," said Garberson. "It took place at Fear Farm, which includes a popular local haunted house attraction. It's the kind of venue where local people feel at home. The bands also are straightforward and down to earth.  We wanted to support this mood with audience light using the STRIKEs and with warm aerial effects from the Rogues."
The Maverick MK2 Spots added to the atmosphere, while also delivering some punchy looks for edgier songs by projected crisscrossing shafts of light and crisp gobo patterns on the stage. Garberson and his team also utilized the powerful output from the Maverick's 440W LED engine to create some dominating aerial effects.
"There were a lot of features in the Mavericks that not only gave us power, but a lot of flexibility to change looks with the different bands," said Garberson. "Its zoom range (13⁰-37⁰) allowed us to cover a wide area — and its prism and variable frost made it easy to change things up during the concert."
In the end, said Garberson, the lightshow did everything that was expected of it. The bands got visuals that supported their performances, the crowds got a closer connection to the artists on stage, and the aerial effects created a sense of excitement throughout the festival. It was show worth celebrating — and toasting with a cold glass of one of Phoenix's frothy craft beers.