Manny Newman – The Band Plays On
Posted on October 5, 2020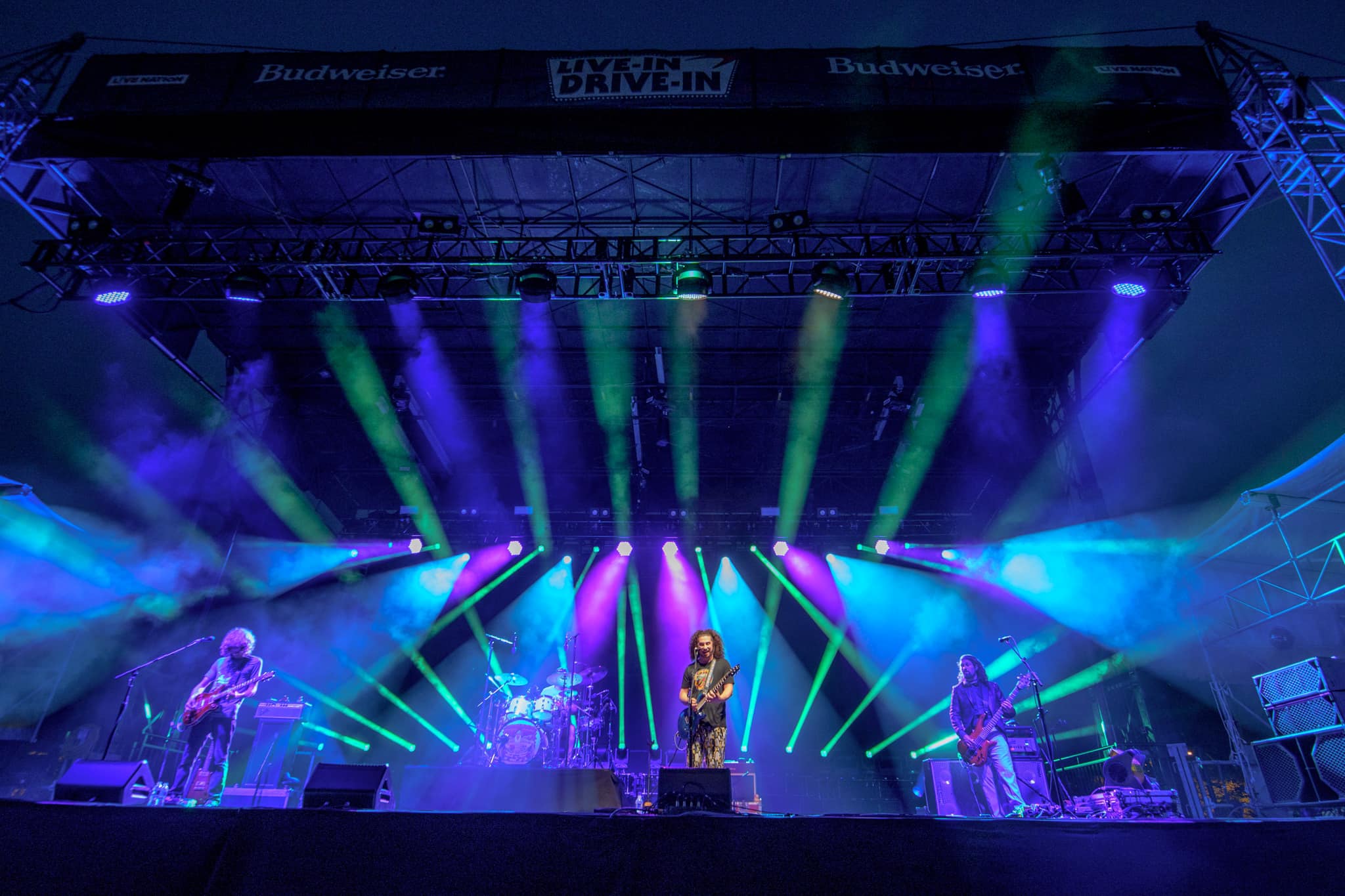 Since breaking out in Baltimore in 2009, Pigeons Playing Ping Pong has made major waves on the funk and jam band circuit. Part of the reason is the band's strong connection to their fan base. This bond between the freewheeling quartet and their "flock," as they affectionately call their fans, is nurtured by a mind bogglingly relentless touring schedule that has included as many as a hundred gigs a year.
When the pandemic brought touring to a screeching halt, the band could have easily felt its lifeline was cut off – but they fought back. Rallying around themselves, their love of music and their fans, they did one of the earliest livestream concerts, a show on nugs.TV, in early March. This was quickly followed by a steady procession of other livestream shows, before they spread out and began doing drive-in tours.
Lighting designer, Manny Newman, who the band calls their fifth member, has been with Pigeons Playing Ping Pong every mile of the way on their tours. Now that the band has had to reimagine their performance life, he has moved into livestreams and drive-ins with them.
Newman spoke to us about meeting the unique challenges of this transition, and expressed how grateful he is that, even during this trying period, his band continues to play on.
Why have Pigeons Playing Ping Pong kept up a regular schedule of shows?
"Playing live shows is what we absolutely love to do and we intend on entertaining our fans as long as we can, anyway we can.
Pigeons played one of the earliest livestreams back in March. What was that like? Did you have any notion then that the lockdown would still be going on as we moved from summer to fall?
"It was definitely different from our usual show, but just doing what we loved helped us keep our sanity and gave us purpose, as it continues to do. I figured we weren't going to tour until there was a vaccine but I really didn't know how long that would be.
We all hear about how bands get pumped up by their connection to the crowd, but lighting designers do too. What was it like lighting without a crowd to feed off? How did you psyche up?
"Well first off, I want to say that I have seen many Pigeon shows and what I strive for is entertaining myself. If I can't entertain myself then I'm definitely not entertaining the audience. Not having a crowd definitely affects things, but being a fan myself, it's my own energy that I feed off and use to fuel the show. I usually psych myself up just by going to every band member and just yelling 'LETS GOOOO!!!' Sixty percent of the time, it works every time!"
Does not having a crowd affect your busking?
"The busking always depends on how they jam, so the stream didn't affect that aspect too much. The only thing that really changed with streams is the use of more side wash and front wash during jams."
We talked about you getting psyched up, but how do you use lighting to psyche up the band for livestreams with no audience?
"They definitely feel the lighting more in a live-stream than at a usual show just because there are fewer distractions. So, just being engulfed in the lighting energizes them."
You created some powerful looks on the drive-in stage. How is lighting a drive-in different from lighting anything else?
"The biggest difference between doing a drive-in show and doing let's say a festival or an outdoor show is that most of the time there is no PA. Most people have to listen to the show through their car radio.
"When this happens there's something called 'latency.' which can be somewhat troublesome when timing is important. So, the way I worked around this is to get the delayed feed just like everyone else does. If I would do lights to what the band is hearing my timing may have been off. Also, for our Philly show I had to watch the whole show through a screen because there was no front of house position which was actually quite delightful thanks to the air conditioning."
From a creative standpoint, are you thinking of lighting differently during this period? Are you more or less likely to try new ideas?
"The show always has the same structure, but the way I get there I usually try to take different roads. So, from my creative standpoint, I always try to push my own envelope, because I need to entertain myself as well as entertain the crowd. Most of my time off I've been working on my master show file. I've definitely tried a bunch of new ideas and programmed a lot to make the show more entertaining."
Not to get personal about finances, but are the drive-ins and livestreams you're doing able to sustain you and the band financially? –
"Yes, and I'm very grateful for that as I know our entire industry is currently at a screeching halt."
How do you and the band keep your spirits up during this period?
"By practicing and remaining creative. We all know that this time is not easy for anyone and we also know that this is temporary. So anytime we feel down we try to remind ourselves the things we are grateful for like friends, family, and our health."
Do you think it will take any time for you and the band to reacclimate yourselves to live touring again when this pandemic finally ends?
"I don't think it will take any time for us to reacclimate ourselves to touring. On the contrary, we will be so ready to tour again when the time comes. Pigeons Playing Ping Pong is a creative force and what we like to do is make other people happy through our music and shows. So, when this vaccine comes in and music venues are open again, believe me, we're going to have a heavy tour schedule ready."