Lighting for Tight Spaces
Posted on April 25, 2014

You can't always get the space you want at every installation, but that doesn't mean you have to sacrifice brightness, intensity, color or excitement in your lighting design. Among the many benefits resulting from the advance of LED technology is that it has allowed us to develop a new generation of compact fixtures that save space, while still delivering a high level of output.
New breakthroughs in lens and optic system designs have made it possible for us to push the bar even further, creating fixtures that are even smaller and more powerful. So when creating designs don't assume that any space is too small to allow you to achieve the level of lighting you want; there may be a new mighty mite ready to step into the tightest spot to save the day. Here are two examples: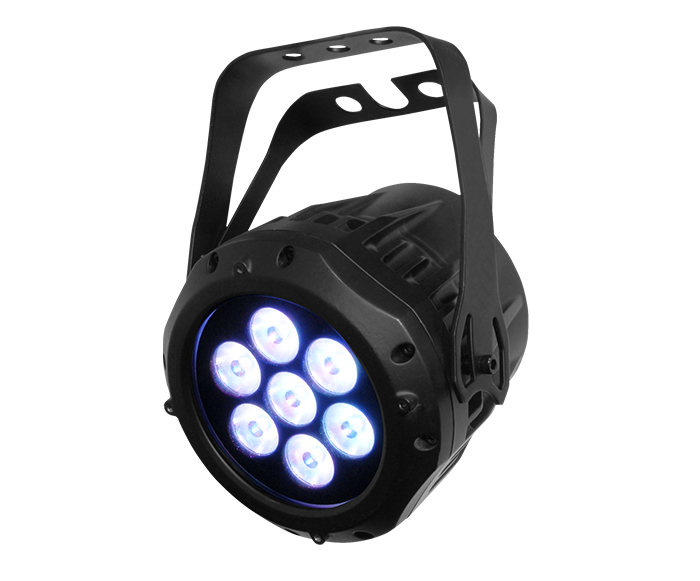 COLORado 1 Tri-7 Tour
Weighing a mere 7.7 pounds (3.5 kg) and measuring just  8.7 x 6.9 x 10.2 inches (220 x 175 x 258 mm), this road ready little brother of the COLORado 1 Tri Tour, epitomizes the new generation of "little big lights." Equipped with seven tri-color RGB 3-watt LEDs, it produces an illuminance of 392 lux at 5 meters. The 16-bit dimming of each color (and master dimmer), which results in ultra-smooth fades,  sets it apart from every other light in its class.
RGB color mixing can be done via DMX (Channels: 3, 4, 5, 9 or 13)  or manually. The color temperature presets range from 2,800K to 10,000K. Other features include 3-pin and 5-pin DMX input/output connections, variable electronic dimmer (0-100%), 15° beam angle, 28° field angle, 0-20 Hz strobe rate,  Neutrik powerCON power in/out connectors, and 3- and 5-pin DMX connections. .
Compact and sturdy, COLORado 1 Tri-7 Tour is ideal for installation in tight locations without a compromise in output. A double-bracket yoke, allows it to be positioned as a floor stand, adding to its flexibility as a "go anywhere" fixture.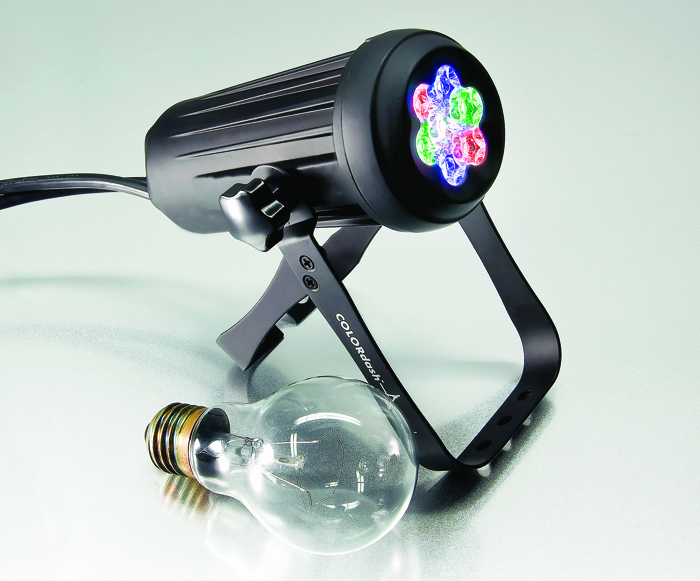 COLORdash Accent
This compact LED wash is a dream come true for anyone looking to produce a wide range of rich colors to tight spaces.  Equipped with 18° lenses, it produces a tight color wash that remains consistently smooth and even, thanks to its tightly calibrated RGBW LEDs. The COLORdash Accent is fitted with seven LEDs (2 red, 2 green, 2 blue, 1 white) that produce an illuminance of 240 lux at 5 meters.
An extremely versatile wash fixture, the COLORdash Accent features built-in auto and custom programs recalled via DMX or Master/Slave; manual and DMX RGBW color mixing; and simple plus complex DMX channel profiles for programming versatility.
Weighing just 1.5 pounds (0.6 kg) and measuring 6.9 x 4.3 x 2.5 inches (174 x 108 x 65 mm), the COLORdash Accent is easy to set up even in the tightest spaces. A double bracket-yoke allows it to do double duty as a floor stand fixture.
Other features that allow this compact wash fixture to make a big difference in lighting designs include variable electronic dimmer (0-100%), 0-20 Hz strobe rate, 20° beam angle, 37.5° field angel and 2,800K to 10,000K color temperature range.
These are just two of the compact fixtures from CHAUVET Professional that are making it easier than ever to address small, tight and unusually configured spaces in your installations.  Looking at them, we think you'll agree that sometimes the best things do indeed come in small packages.