John Garberson and Creative BackStage Set Mood for Arizona Bike Week '23 with CHAUVET Professional
Posted on May 4, 2023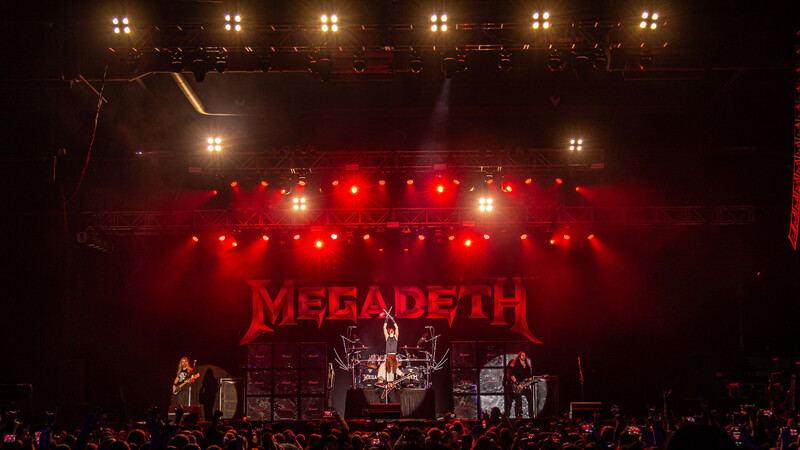 SCOTTSDALE – The big crowd oohed and aahed when they witnessed extreme rider Clint Ewing do his wheelie stands and rolling endos at Arizona Bike Week, just as they marveled at the 30-foot-high motorcycle acrobatics by the Brigade Freestyle Motorcross Extreme team. But these weren't the only jaw-dropping feats at the annual event, which drew over 75,000 bikers from across North America to the Phoenix area between March 29 and April 2.
Although they didn't attract an admiring crowd, since their work was done before the big festival started, the production crew from Creative BackStage also demonstrated some pretty impressive dexterity when they put up a massive lighting rig on a stage with a 50-foot ceiling, all without a catwalk, using only a boom lift.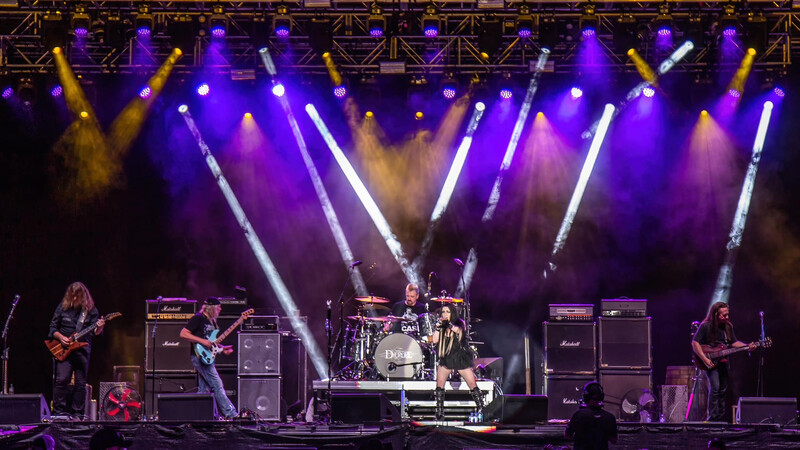 "It was our biggest challenge in this project," John Garberson, Director of Creative BackStage, said of the rigging, which took almost a full day to complete. "In the end though, we got the job done on time."
What a good job it was too! Taking advantage of the stage's 92-foot width and 48-foot depth, Garberson and his team put together a multi-layered rig that allowed LDs to create immersive and intricately textured looks for headliners Megadeth, Billy Idol, Staind, Texas Hippie Collection and a host of supporting bands, including local artist Dierde, who opened the festival.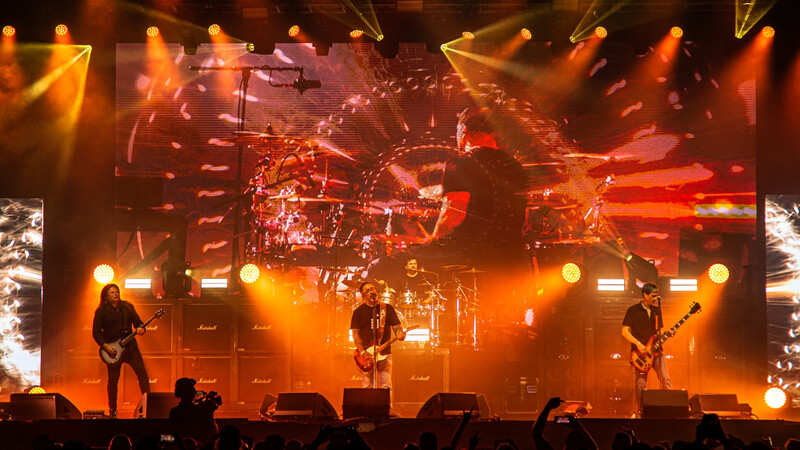 Adding punch to these shows was a collection of over 80 CHAUVET Professional fixtures supplied by Creative BackStage with some support from LIT Lighting. Drawing on the intensely bright output and color rendering prowess of these units, led by the Maverick Force 2 Profile and Rogue R2 Wash, the LDs were able to transform the stage into a wide array of personalities from brooding emotional reflectiveness, to fiery cauldrons of defiance, all while also reaching out to the crowd with audience lighting from the rig's 10 STRIKE 4 blinders.
"The visiting LDs were very happy with the rig," said Garberson, noting that all the headliners, except for Texas Hippie Collection, brought their own lighting team. "We merged the different rider requests into versatile rig. It was a good experience for everyone; the visiting LDs were great to work with."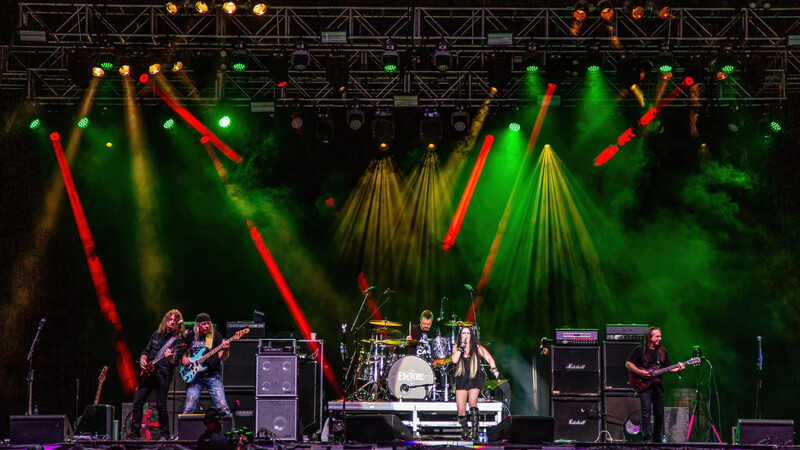 Garberson points out that his 16 Maverick Force 2 Profiles were key in adding to the rig's versatility. He had four of the 580W units flown down stage and four mid-stage, with the remaining eight on back truss.
"Our Force Profiles were used in a variety of ways," said Garberson. "LDs relied on them for washes, effects and downstage spot specials. Their framing shutter system and prism wheel really added to the options open to LDs."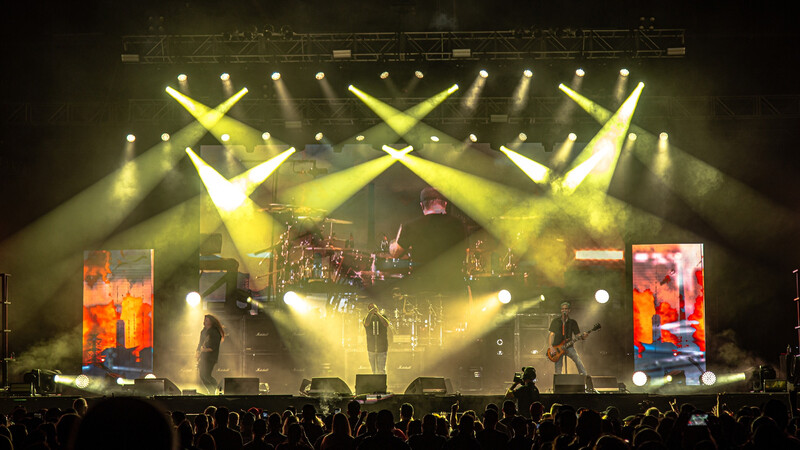 The Megadeth design team also requested that added spots be positioned on the deck for their show. Garberson had six Maverick MK2 Spot fixtures brought out for this purpose. These units served the band well, creating fierce aerial effects and some evocative low-lying side lighting.
For Garberson one of the visual highlights of the event came during Staind's show when the rig's Rogue R3 Beam and R2 Washes were used to cover the stage with a shimmery blueish-white cover of light.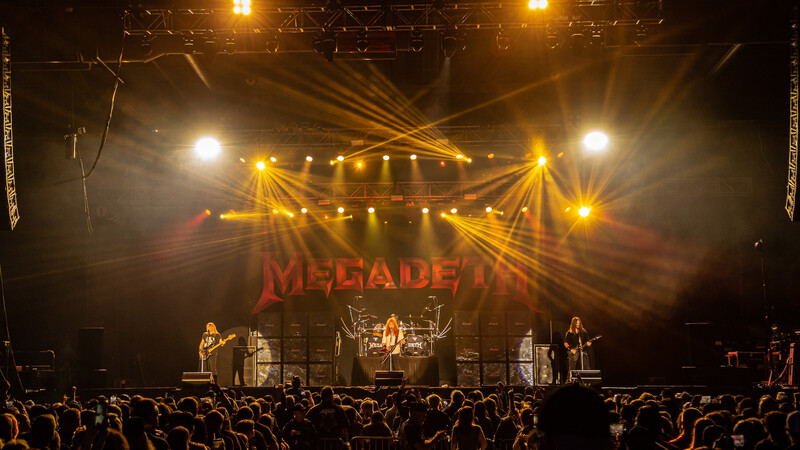 It may not have been as death-defying as a Clint Ewing hand standing stunt, but this look, like so many others during Arizona Bike Week, did inspired gasps of admiration from the crowd… and it all began with a production crew performing some aerial feats of their own!