iHeartRadio Theater Expands Design Options With Rogue R1 FX-B
Posted on December 1, 2016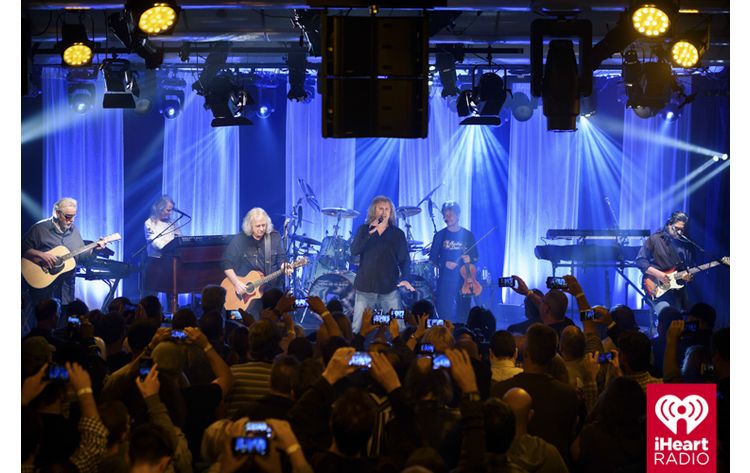 NEW YORK – Since its opening in 2009, the iHeartRadio Theater in TriBeCa has been, in the words of one music critic, "the most exclusive consistent venue in Manhattan." Month after month, often two times a month, artists who normally would be appearing at nearby Madison Square Garden, perform in its cozy 5,500 square foot confines before 225 or so contest winners and invited VIP guests.
Millions of other fans get to enjoy these performances via iheartradio.com, the online (including mobile) outlet for over 350 radio stations across the US. To those watching the video streams, the performances have a full concert look, not just because of the big-name acts on stage, but also as a result of the theater's multi-faceted lighting rig. Recently, that rig became even more versatile with the addition of 12 CHAUVET Professional Rogue R1 FX-B fixtures supplied by PRG.
"We have a unique space — our triangular stage is 24' x 18' — but we want to create large looks similar to what the artists we feature have on their arena tours," said lighting designer Stephen Wyker, who has been the Technical Director of the iHeartRadio Theater since its inception. "This is the principle that guides our choice of lighting fixtures. We want lights that will give us a wide variety of looks without taking up a lot of space."
Following this principle, Wyker recently added the Rogue R1 FX-B to an already-impressive rig that includes a variety of moving spots, washes and beams. "We wanted a rotating linear fixture, because you can do so many different things with this type of light," he said. "We looked at the Rogue and compared it to the competition. Aside from having a more pleasing price point, it looked much better – there was far less color separation, which makes the light look a lot nicer on video. At the end of the day, what people see on the screen is what matters most in our world, and the Rogues have a very camera-friendly look."
Coming off well on camera is only the starting requirement for fixtures in Wyker's rig. Flexibility is also an essential attribute, which isn't surprising given that The iHeartRadio Theater has welcomed artists ranging from the Jonas Brothers, Kelly Clarkson and Tim McGraw to Alice in Chains, Jon Bon Jovi, and even Adele. Somehow, the theater has even managed to squeeze the Trans-Siberian Orchestra onto its stage.
"We welcome a very eclectic group of artists," said Wyker. "Our goal is to provide each act with a distinctive lightshow that makes them look good.  Every time people see a concert from the iHeartRadio Theater, we want it to be fresh, original and unique. We don't want it to look like the same-old same-old set with a different act on it. After every show, we rehang the rig to give it a new look for the next concert. We have a one-day build, so this means extra work under some pressure, but is it worth the effort? Of course!"
With their five independently controlled moving heads and 360° rotation, the Rogue R1 FX-B fixtures add valued flexibility to the theater's rig.  When the 12 fixtures' heads are moved at different pan and tilt angles and rotated at different speeds, it makes the stage seem larger and projects a more dynamic image for edgier acts. On the other hand, the fixtures help slow things down and create a more intimate mood for mellow artists.
"When we have an acoustic act, the Rogues are used almost like a standard ACL, creating colors and static looks," said Wyker. "However even in those cases, we're able to change the focus from being straight to being curved; plus we're able to do fades, so we get a lot of different looks from them as static lights."
Typically, the acts who perform at iHeartRadio Theater come to the venue with their own production and design staff. "A lot of the acts have their LDs with them, or at the very least someone who has ideas about the look they want," said Wyker. "We of course respect that and meet with them, explaining what we need from our viewpoint, and come up with something that makes everyone look good."
Given the power and flexibility of Wyker's carefully chosen rig, finding designs that put every act in a good light should never be too hard.