Glenn Ottenbacher On The House: At The Saloon on Calhoun
Posted on September 4, 2018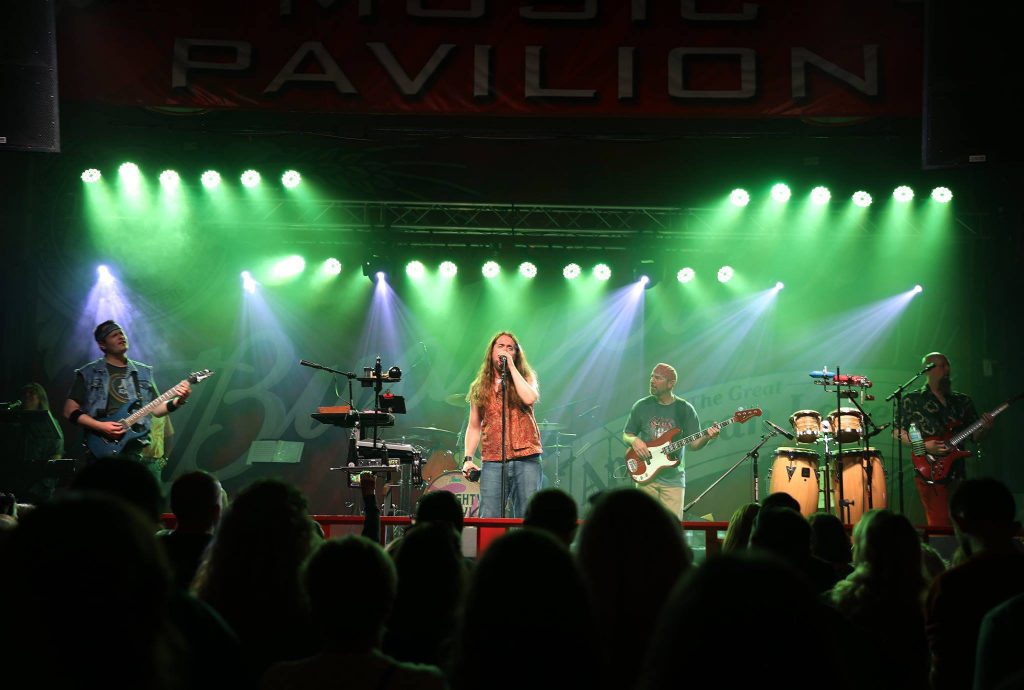 A little over three years ago, Glenn Ottenbacher was subcontracted to help with the lighting and sound installation at a Milwaukee venue that wanted to up its live music game. When the project was over, a new chapter began for the affable Wisconsin native, when the club owner asked him to run the new lighting rig for a few shows. One thing led to another, and before long Ottenbacher was the house LD at the Saloon on Calhoun.
Together, the house LD and his club flourished. Saloon on Calhoun became one of the most popular music venues in its market, and Ottenbacher became known among visiting bands for his skill and can-do attitude. This quickly led to more outside jobs in Chicago, Minneapolis and other markets throughout the Midwest as a lighting designer and programmer.
Today, Ottenbacher balances his work as the house LD at Saloon on Calhoun and his projects with other clients. He talked to us about the opportunities, challenges and rewards of his work.
Aside from your work at Saloon on Calhoun, you've also lit shows in music halls. How do the two compare in terms of how you prepare yourself and how you design?
"With Saloon being an in-house and everything pretty much staying at the saloon, there's not much physical changes to the rig. On the other hand, when working at other venues, things may be different from one time to the next, depending on the particular venue's house rig and the band. Many times it comes down to what is available and the budget of the event."
You have quite a few different acts coming through Saloon on Calhoun. Do you familiarize yourself with their music before they come to the venue? Do you talk to the band?
"I am familiar with most of the acts that come through. On weekends, the majority are cover bands. I have the chance to see them or light them in the summer at festivals. Some will provide a set list before the show. During the week, our venue has a mix of original and solo acts. We typically do not get much time to familiarize ourselves with each band, so I do my best to follow along."
The stage at Saloon on Calhoun is not very large, but you manage to create some big looks on it. Any advice on adding depth to a stage?
"The stage is approximately 15′ wide by 20′ deep. With the lighting and rig living there, we are able to create a layered effect using the full depth of the stage by having fixtures at various heights and places throughout the stage."
You have a lot of regular customers; you may have acts two or three days in a row on weekends. Is it hard to keep your lightshow varied, so it always remains interesting for people who come regularly to your venue?
"Yes, having entertainment two or three days in a row can be challenging. Dave Dayler, the owner, tries to mix up the shows so there is not a repeat of genre from day to day. And I try to mix things up. I like to have a large busking selection at my fingertips, although some songs I do like to do a certain way."
How long have you been the house LD at Saloon on Calhoun? How did you hook up with them?
"I've been the LD at Saloon for about three years now. One of the companies I subcontract with, Proline Entertainment, did the original install and I was asked to do the first few nights, because there was not anyone available that knew the software. After the first few nights, Dave Dayler asked if I would just stay onboard as many nights as possible. The rest is history!"
From what I understand, Saloon on Calhoun was early in bringing live music to a club its size in Milwaukee. Did you help make this happen? Also, now that more clubs have added live music, how do you stay a step ahead of the competition?
"Milwaukee has had a live music scene as long as I can remember. I started in 1991; my uncle was part of it in the early 1960s. I've not helped in bringing in live music to the saloon; Dave Dayler does all that. It was all based on Dave's vision. Dave really wanted to do it right from the beginning. Have a place and equipment that people look forward to using and coming to! The biggest change to our music scene since the saloon upped its game is that other venues are understanding the need for great production."
Do you ever get involved in recommending bands to the club's management? Does management give you feedback about the looks on stage?
"From time to time we do discuss bands we see with Dave. Dave does give regular feedback on stage looks as he's been in bands, done production, is able to run sound and lights. So, he is very fluent in his ability to give constructive feedback."
Can you describe how you add lights to the house rig? Is it something where you make a recommendation and management decides yes or no?
"When adding lights or equipment to the saloon it has to be an appropriate size fixture and within budget. With Dave understanding production and he is always out checking new talent, venues and concerts, he may see something or have an idea and we put our heads together and come up with a solution that fits the saloon and the budget."
What do you look for when deciding which fixtures to add to your house rig?
"A name brand quality fixture with a warranty and a company that will stand up to its products; next is picking a fixture that is appropriate for our venue. A one hundred-pound 1000-watt fixture is not appropriate for our size venue."
Are there certain types of fixtures (or certain types of looks) that you would use if you were lighting a music hall or a tour, but you avoid in a house rig?
"Yes, if I was lighting a music hall or tour I'd typically have a larger fixture with larger wattage. If the saloon was a 4000-seat venue I would consider the same philosophy. And I really rather have different fixtures for different looks."
So, what makes a good house rig?
"Having a nice selection of different fixtures so you can obtain different looks, whether it's a wash, spot or beam, making different combinations. Fixtures you don't have to take in for service often."
And what makes a good house LD?
"First and most important is personality. Anyone can have lights and gear, but to be a good house LD you need a can-do attitude! And when there's a guest LD, make them feel comfortable like they were at home."