Fox Broadcasting Impresses With Nexus From CHAUVET Professional
Posted on June 15, 2015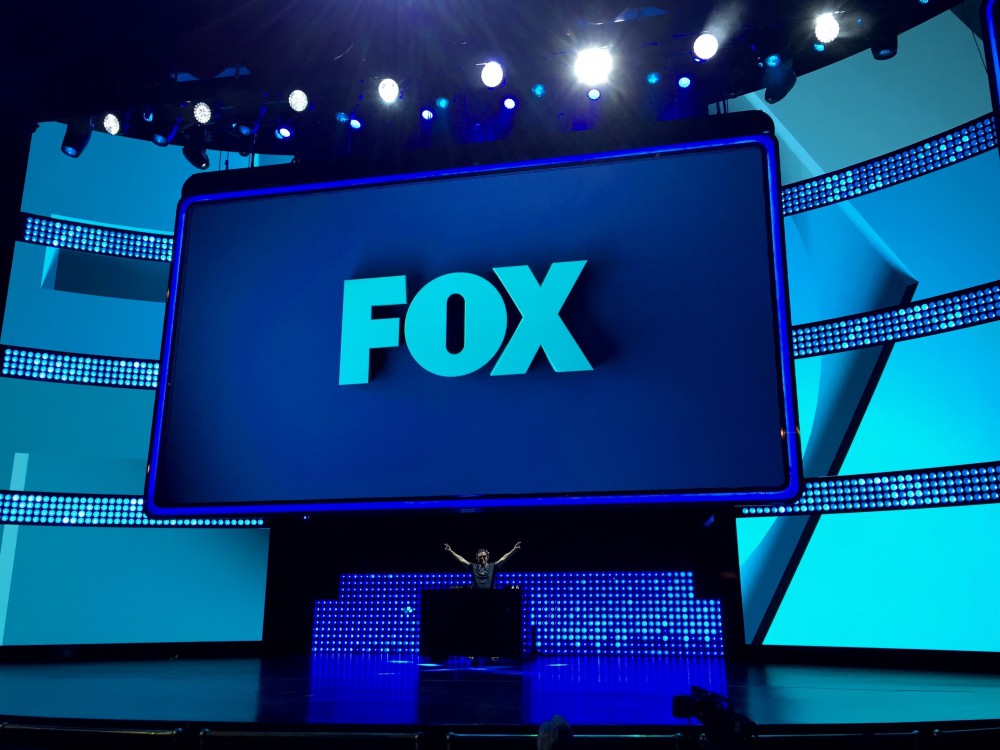 NEW YORK – Standing out is always important in the world of television, but never more so than during Upfront's Week, an annual event that sees networks pitch their upcoming programs to potential sponsors. For the Fox Broadcasting Company this meant renting the historic Beacon Theater on Broadway, and bringing in a bevy of stars like Gillian Anderson and David Duchovny of The X-Files fame, Lea Michele, Jamie Lee Curtis, and a musical performance by the award-winning cast of Empire, Jennifer Hudson and dancers from the cast of Grease Live! to entertain guests. Adding a dramatic visual element to the high-profile proceedings were two giant video screens set off by the striking light of over 60 Nexus 4×4 panels from CHAUVET Professional.
Lighting designers James Schipper and Rachel Miller of Kinetic Lighting (Los Angeles) worked with scenic designer Anton Goss to create the commanding display. "We used the large video walls extensively as scenic backdrops to the stage," said Schipper. "However, with the musical performances during our show, we also wanted to add some sizzle to make the screens stand out more so they weren't just your typical video display. The Nexus panels certainly gave us the means to create this kind of unique visual excitement."
The LDs made a decision to cover the Nexus panels with smoky gray Plexiglas. "Our client was worried that the reflectors in the units would reflect ambient light during low light level video clip looks, so we used Plexiglas to ensure that the fixtures could visually go to black during the large number of video clips in the show," said Miller. "The Plexiglas posed no hindrance at all because of the insane brightness of the Nexus fixtures.  As direct-view units, we rarely ran them above 30% intensity."
In addition to these bands of Nexus fixtures, Schipper and Miller arranged another 45 Nexus 4×4 panels in front of the Empire band riser. Located in this upstage position, the panels created a big stage look for the musical performances.
For added impact, the 60 Nexus panels separating the video walls and the 45 panels on the band riser were coordinated with different colors and breakout images. "The Nexus was a great fixture choice for its distinctive look and its ability to be controlled in a variety of ways, giving us effectively a low-res video screen, which complemented the high-res LED walls beautifully, carrying the look without conflicting visually," said programmer Eric Barth, who controlled the panels via Art-Net through a grandMA2 console.
The panels were also easy to install and take down, which was much appreciated, given the size of the rig. With any installation with a large quantity of fixtures, there are simply challenges due to scale. Working with the scene shop for the event, the Kinetic Lighting team had custom shelves and mounts built to speed up the installation process. "The Nexus panels are very well built; their multiple mounting options and ability to lock together gave me lots of flexibility on site," said production electrician Craig Caccamise. "Also the Nexus proved to be easily programmed, giving some fun, bright eye-candy!"
As for Kinetic Lighting's overall design, it earned great reviews not only from those in attendance, but also from its producers, Fox Broadcasting's Josh Mark said. "The Upfronts are extremely important to our network, so obviously we must put our best foot forward," said the network executive. "I can always rely upon the Kinetic Lighting team to come up with creative ideas. Their choice of the Nexus panels really helped raise the energy level of our presentation and helped convey the message to our audience that we have something really special to offer."