Dynamic Productions USA Sets Stage at the New York City Wine & Food Festival with CHAUVET Professional onAir Panels
Posted on November 12, 2021
NEW YORK —  (For Immediate Release)  —  Imagine the thrill a child experiences visiting Disney's Magic Kingdom for the first time. That's pretty close to what tens of thousands of 21st-century adult foodies must have felt October 14-17 when they entered Hudson River Park's Pier 76 for the Food Network & Cooking Channel New York City Wine & Food Festival presented by Capital One.
There before them, splayed out as if in a gourmand's dream, lay row after row of mouthwatering bites of every kind from around the world as well as free-flowing samples of fine wine, beer, and spirits.
At the center of it all, kind of like Space Mountain in the Magic Kingdom, was the Culinary Demonstration stage presented by Liebherr Appliances at the signature Grand Tasting. Visitors to this attraction, not only got to enjoy a cornucopia of delicious food, but they also witnessed celebrity chefs like Geoffrey Zakarian, Bryan and Michael Voltaggio, Masaharu Morimoto, and others work culinary magic on stage.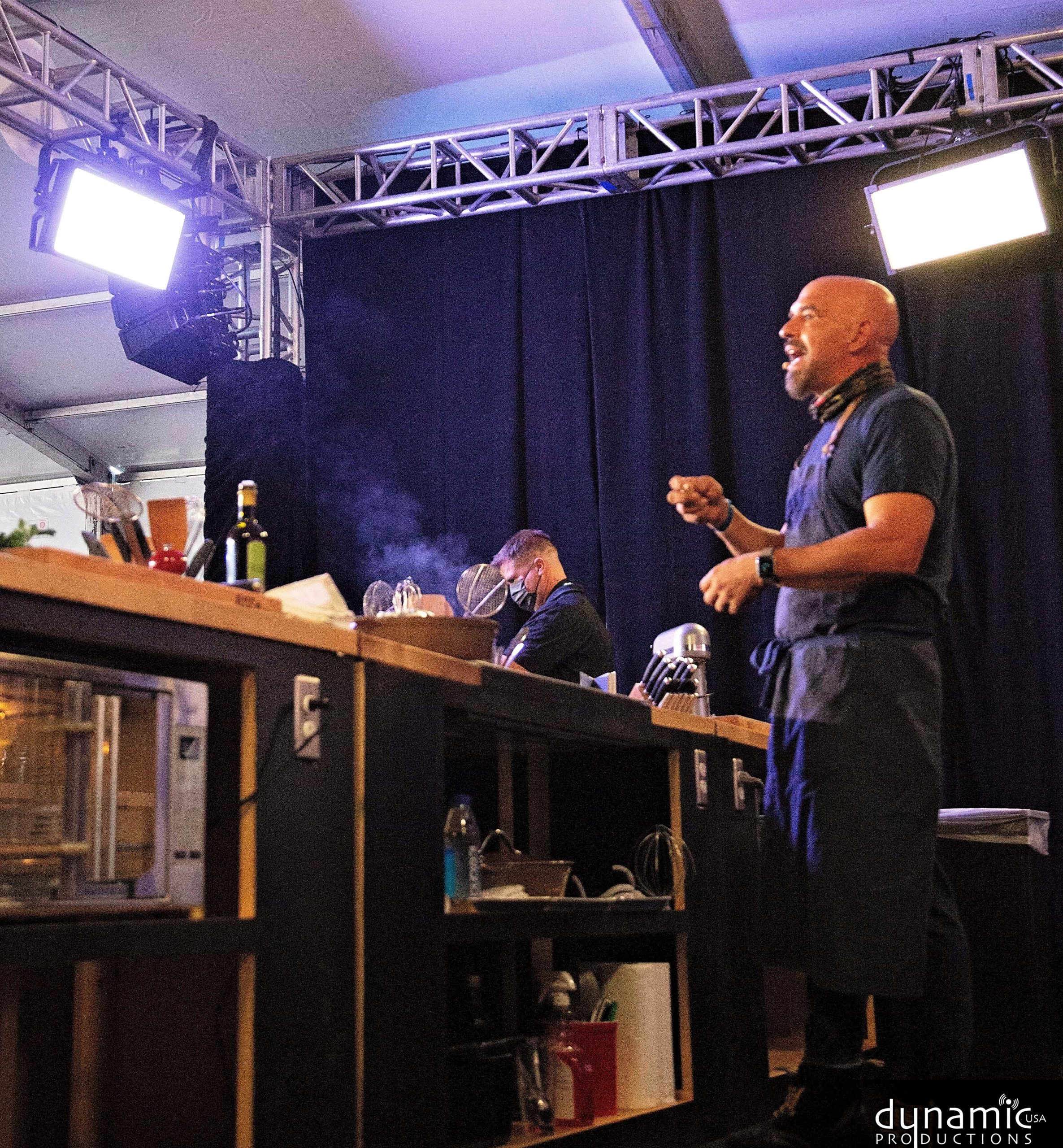 Helping to ensure that the audience had a good view of the master chefs in action, and creating a camera-friendly setting for the plethora of TV crews at the event was a deft lighting design by Dynamic Productions USA that featured CHAUVET Professional fixtures, including the new onAir IP Panel 2.
Highly regarded for its work providing production support for events and concerts in the New York area as well as in the rest of the USA,  Dynamic installed 12 of the soft light LED panels, hanging them from a truss cube to cover the entire stage.
"This was a great venue for the event, but it didn't give us the same height as we had for the previous New York City Wine & Food Festival in 2019," said Dynamic Productions President and VP of Production Brian Rosenblum. (The 2020 event was virtual due to the pandemic.) "With our lighting height being lower, we had to be sure that our fixtures could give us the broad coverage we needed without any drop off in lighting quality. The onAir panels were excellent in this regard."
Adding an extra visual dimension to the demo stage was front washing from eight Ovation E-910FC ellipsoidal fixtures and two 7' x 12' LED video walls created with F2 panels that were used to show IMAG images of the chefs work, as well as messages and sponsor recognition.
In addition to being a celebration of epicurean delights, the New York City Wine & Food Festival has a serious side. The popular event is also a major fundraiser for God's Love We Deliver and Food Bank For New York City. Since its inception, the annual event has raised more than $13.8 million for its charitable causes.
The event also had a glitzy entertainment side. TV chefs like Rachael Ray aren't the only celebrities roaming its spacious ground.  There are also film and Broadway stars as well as notable comedians, dancers, and actors, not to mention over 65 events, including star-studded sit-down dinners and late-night parties.
Given the stature of the New York City Wine & Food Festival, it's natural to wonder if Dynamic Productions USA had any trepidation about using a brand-new fixture to light one of its centerpieces.  "You're always wary of any new product," said John Fitzgerald, the company's Technical Director. "But we have come to trust Chauvet for all of our lighting needs, so there was no hesitation."
"Not only did the onAir give us excellent quality light and amazing color" he continued. "It was also – and most importantly – IP-rated, which is critical for a three-day outdoor event."
Like a great chef, Dynamic Production USA paid careful attention to the "ingredients" it used to make its lighting rig for the New York City Wine & Food Festival – and though the results weren't mouthwatering, they certainly delighted the eye.
# # #