CHAUVET Professional Teams Up To Launch ReSet Fund To Help COVID-19 Impacted Lighting Designers, Technicians
Posted on October 26, 2020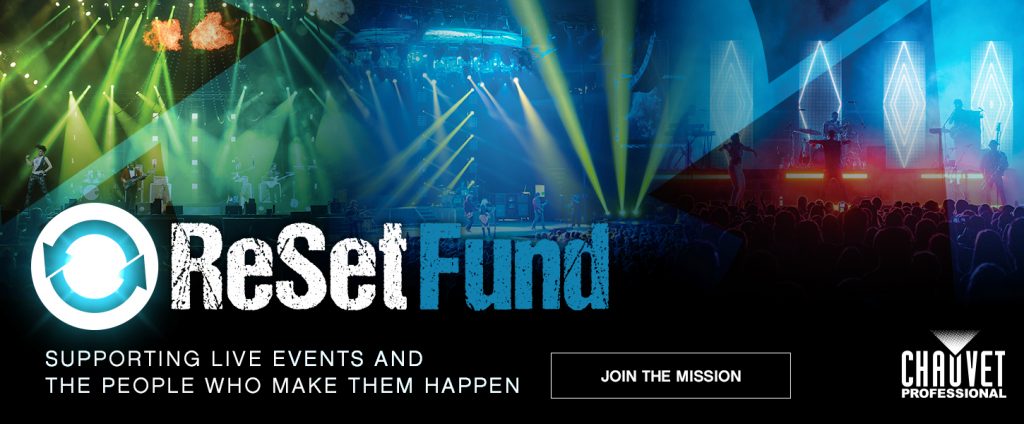 SUNRISE, FL – CHAUVET Professional announced that it will be donating up to $50,000 in funds to help live event industry members impacted by the COVID-19 pandemic. The CHAUVET Professional "ReSet Fund" will help fund grants to industry members through Behind the Scenes, a charity focused on supporting entertainment technology professionals.
CHAUVET Professional is donating $25,000 to start the fund; and will match donations up to an additional $25,000 from participants who buy special fundraising "ReSet" jackets, caps, truss gloves, and other merchandise. All money raised will be used to support entertainment technology members and their immediate dependent family who are seriously ill or injured, and to fund emotional wellness resources and training.
"Like everyone, we have felt the sting of this pandemic," said Albert Chauvet, CEO of Chauvet. "We've watched with admiration, respect and empathy as members from every segment of our industry have struggled bravely during this difficult period. Many of them, are not only customers, but friends, and this is our way of showing them our support now and as we bring back live events together."
Fundraising merchandise will be on sale at the CHAUVET Professional road shows, beginning in Dallas today. Merchandise will also be available through the company's website (https://www.chauvetprofessional.com/resetfund/). The matching challenge will close November 30 with additional activities planned in 2021. More information on BTS resources can be found at btshelp.org. The final donation will be made in December.
"It's always been the mission of Behind the Scenes to bring hope and help in times of need," said Rick Rudolph, Chair of the Behind the Scenes Foundation. "Partners like Chauvet Professional understand this and we are so pleased to have their support. Providing industry members with a lifeline and with tools and resources to help them maintain physical and psychological wellness is critical."
"Our goal is to get these funds into programs that provide hope and support as our industry prepares for the good to come," said Chauvet. "The sun will shine again on our industry — and we want to do all we can to ensure that all the great professionals we have worked with are part of that future. We ask everyone to join in lighting hope."