CHAUVET Professional Lights 27 Heads of State At Seventh Summit of the Americas
Posted on July 14, 2015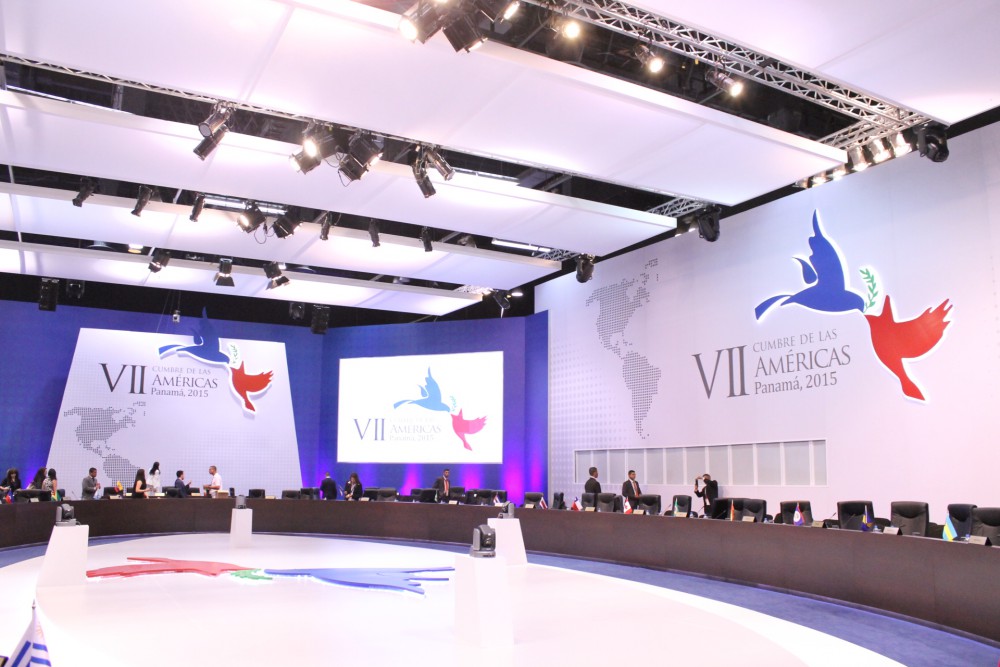 PANAMA CITY, PANAMA – There is no room for error when you're responsible for lighting a conference that involves 27 heads of state and five foreign ministers; includes dignitaries from the United Nations and Organization of American States; and is covered by over 2,000 journalists from around the world. This is especially true when that gathering hosts something as historically significant as the first meeting between the presidents of the United States and Cuba in over 50 years.
So it's understandable that when Humberto Barrera was asked to create the lighting design for the Seventh Summit of the Americas (VII Cumbre de las Américas), he went with fixtures he knew and trusted. For Barrera that meant putting together a lighting rig that included over 100 COLORado and Ovation fixtures from CHAUVET Professional.
"Due to the nature of the Summit, we needed fixtures that would be one-hundred-percent reliable," said Barrera, sales and project manager of Compañía Distribuidora Alfaro Musical. "Also I had to be aware that since many of the lights would be installed in inaccessible areas, any failure would be catastrophic for the continuity of the event."
Having worked with Chauvet fixtures extensively in the past, Barrera felt confident that they would perform flawlessly throughout the two-day Summit. "I always have depended on Chauvet's COLORado series for its reliability," he said. "These fixtures are also easy to control and provide nice color rendering as well as excellent output and DMX operation flexibility."
Barrera positioned ten COLORado 2 Zoom Tour par-style RGBW LED fixtures in the Summit dining room. Making full use of the COLORado fixture's wide zoom range and dimming curves, he used them to highlight specific architectural elements of the room, giving it an extra air of elegance. Other fixtures used in Barrera's rig included 50 COLORado 4 IP linear RGBW LED washes to bathe the walls in rich colors and 30 COLORado 2 IP RGBW LED par-style units to accent other features of the conference facility.
Creating elegant looks at the dining and reception areas was only part of Barrera's lighting mission at the historic Summit. He also wanted to foster a clean, bright relaxing and non-distractive atmosphere at the University of Panama auditorium, where leaders like US President Barack Obama, Panama president Juan Carlos Varela Rodríguez and Cuba's Raúl Castro delivered important addresses and discussed diplomatic, economic and environmental issues.
Barrera called upon 22 CHAUVET Professional Ovation E-190 WW LED ellipsoidal fixtures to help him accomplish this objective. "The Ovation's LED technology allowed us to illuminate the workroom, while maintaining a comfortable temperature," he said. "At the same time we did not have to sacrifice the features and functions provided by conventional ellipsoidal lights. The power and light temperature provided by the Ovation units created a warmth and intensity in the room, which contributed to a relaxed environment for the dignitaries who were working hard to reach important agreements at this Summit."
At the conclusion of the Summit, the consensus among the hemispheric leaders in attendance was that the event was a major success in helping to move the Americas forward toward a brighter future. For his part, Barrera was also very happy with the outcome. "The most important thing for us was to have succeeded in meeting the expectations of Paul Dalia and Rafael de la Fuente and their team at Meeting & Show Technologies as well as the government of Panama," he said. "The support that Chauvet has given us helped make this possible."