CHAUVET Professional Issues Storm Watch For LDI
Posted on December 2, 2022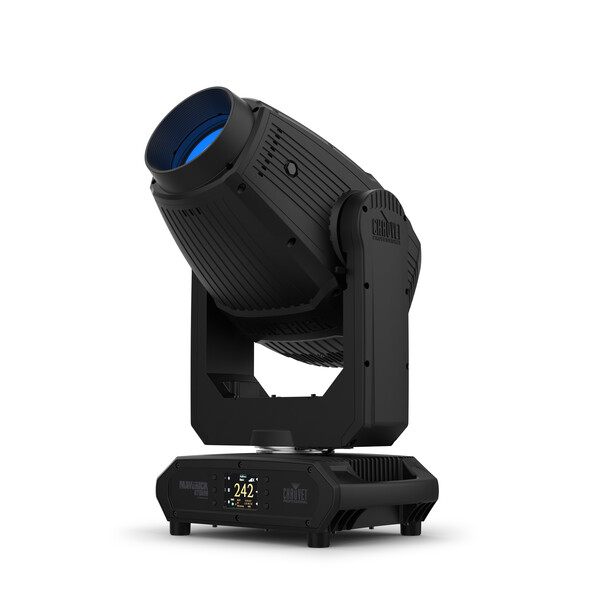 SUNRISE, FL – It's easy to see why CHAUVET Professional went with the word "storm" when naming its series of Maverick moving fixtures. With their IP65 rating and rugged construction, the new Maverick Storm movers are built to stand up to the elements rain or shine. But all storms are not created equal. There are light misty rainfalls, and then there are those storms that create the kinds of thrilling sights in the sky that you remember for the rest of your life. LDI visitors to CHAUVET Professional at booth 2243 will have no trouble figuring out where the latest additions to the Maverick Storm series stand on this continuum when it comes to output and performance.
Making their world debut at LDI this year, the Maverick Storm 4 Profile and Storm 2 Profile leave no doubt about their brightness. With a lumen output of 62,255 and 28,000 respectively, the new fixtures can fill any venue with intensely bright light.  Like their stable mate, the previously introduced Maverick Storm 2 BeamWash, which will also be shown at LDI, the new hard-edged profiles were designed to provide a quieter, more reliable performance in a lighter weight package.
"We have been in the forefront of developing IP65 rated fixtures in response to the demand from our customers who want more versatile products that can be used indoors or out," said Albert Chauvet, CEO of Chauvet. "However, we've always recognized that an IP65 rating alone isn't enough, which is why we've worked to design the best possible  performance features into the Maverick Storm series."
Reflecting this philosophy, the Maverick Storm 4 Profile and Strom 2 Profile are loaded with features like variable CMY and CTP color mixing, a 4-balde framing shutter system with rotation (as well as full black out), a color wheel, 10:1 zoom and dual prisms — two rotating for the Storm 4, one rotating and one static for the Storm 2.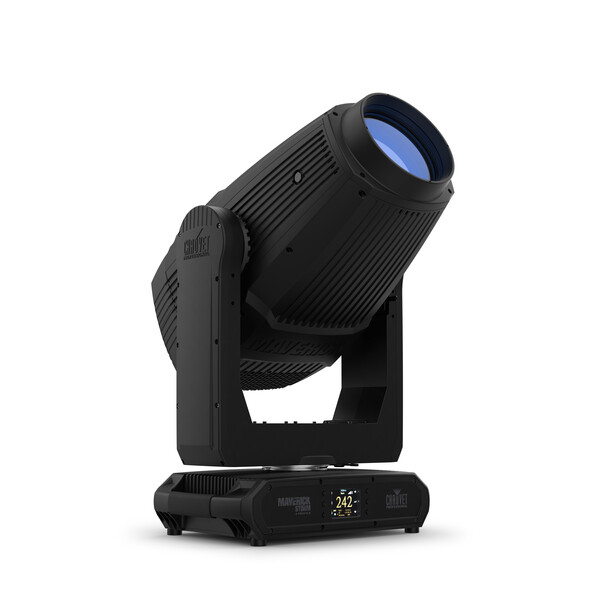 Powered by a 1,250-watt LED, the Maverick Storm 4 Profile has CRI and CTB filters on its color wheel for greater flexibility. Also adding to the fixture's versatility is its animation wheel, which excels at creating kinetic textured effects. Other distinctive features are its iris with  five prisms (one full round, the other linear), 16-bit dimming, and its 6.4ﹾ to 55.4 ﹾ zoom range.
The 580-watt Maverick Strom 2 Profile has a 5.5ﹾ to  56.5ﹾ zoom range to create a variety of beam sizes and a 5-fact prism with frost for precise beam control .  Like the its larger cousin, it also has a sunshield to protect the optical path from sunlight when the fixture isn't on. As user-friendly as they are rugged and powerful, both fixtures also have RDM control over DMX, RDM, sACN, and WDMX, in addition to three setup menu presets as well as preset sync.
Although the new profile fixture will be occupying center stage at LDI, CHAUVET Professional also has other exciting innovations in store for booth visitors, including the Rogue Outcast 2X Wash, which offers IP-65 protection for superior indoor and outdoor performance, while adding only 23.4 lbs to the overall weight.
Another highlight will be the Ovation Rêve E-3 IP, which sets the standard for LED ellipsoidals with its 2800K to 8000K color temperature presets, emulated "red shift" for a tungsten-like look,  four 16-bit dimming curves, and adjustable yoke that makes it easy to mount in a wide range of spaces.
Taken together the products showcased by CHAUVET Professional at LDI add up to a perfect storm, though not of wind and rain, but one of innovative technology that can drive any lighting design to new heights.