CHAUVET Professional Helps The Lighting Design Group At New Year's Eve Times Square Broadcast
Posted on January 5, 2022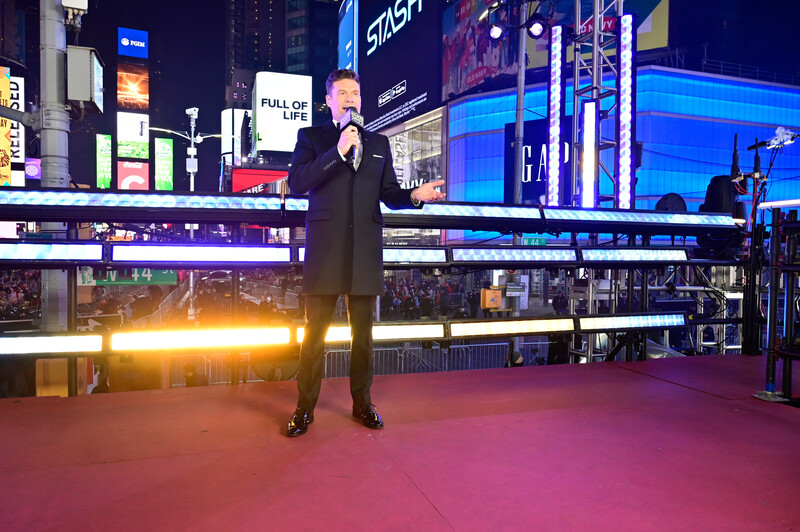 NEW YORK — The millions of viewers around the world who tuned in to ABC's broadcast of Dick Clark's New Year's Rockin' Eve with Ryan Seacrest, enjoyed all the familiar sights of this iconic Times Square event. But for the team responsible for lighting the talent on the standup platforms during the show, ringing in 2022 represented a big departure from tradition.
"This was the first time in the show's 50-year history that host positions weren't lit with HMI fixtures," said Mike Grabowski, lead designer for The Lighting Design Group, which was responsible for lighting the platforms at Military Island, and the Bertelsman building, as well as the Powerball set up for the broadcast.
In place of these fixtures, Grabowski and his team lit host Ryan Seacrest and other talents with 12 CHAUVET Professional onAir IP Panel2 soft light fixtures, which, like the rest of the rig, were supplied by 4Wall Entertainment.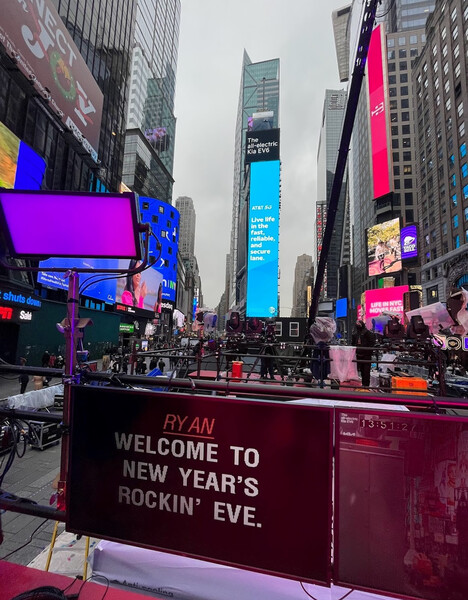 "We need something very bright to get us to a level that could hold its own against the blaring intensity of Times Square's LED screens, but we also needed something soft, flattering, and nimble," said Grabowski. "Thanks to the onAir panels, this was the first time we were able to edit color temperature, without having to run up and swap gel, which was huge. Aside from this, we were also able to run a little less heavy power, which was also great. We also tossed in the intensifiers with the onAir panels to squeeze the beam down a bit, which worked out very well."
In addition to their enhanced performance, the onAir IP Panel 2 units met the criteria established for dealing with the demands of their outdoor location. "Any fixture we selected had to be bulletproof, given the weather conditions," said Grabowski. "The onAir units were the right answer since they are IP rated; plus, they are good down to around 0 degrees Fahrenheit, if I recall correctly. Out there in Times Square, we got both cold and wet, so this was crucial. I always believe in insurance, so we had HMIs in reserve, just in case, but we never needed to break them out."
Also playing a crucial role in lighting the broadcast were the rig's Color STRIKE M fixtures. Among the contributions, these strobe/wash units made was to light the over 3,000-pounds confetti that went hurtling through the air over Broadway when the ball atop One Times Square completed its descent at the stroke of midnight.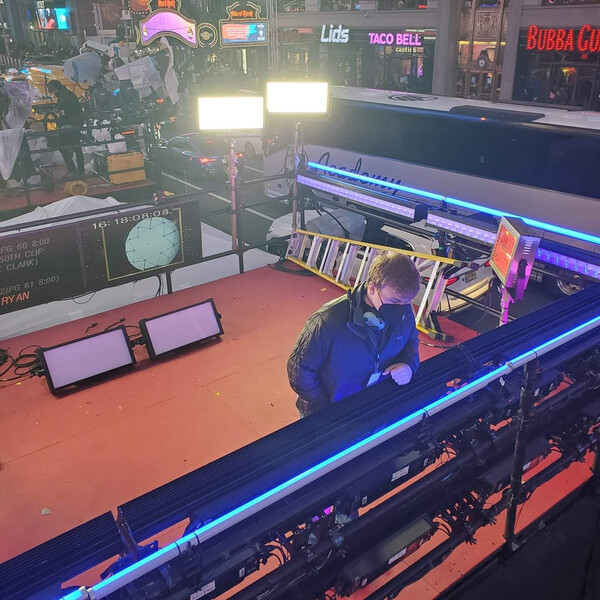 "This was an interesting part of our project because people don't really see the lights themselves, but the effect is breathtaking," said Grabowski. "We have a ton of Strike M's around our military island platform that lit up all of the confetti. Those things are just so darn bright, they helped fill out the air. Also, since they are so dynamic, they did it without pointing straight up. This way, when TV viewers did see them in overhead shots, they saw an interesting, moving, and dynamic fixture."
Before the dramatic confetti moment, Grabowski and his team had to meet a variety of other challenges, in addition to braving the weather, to make the broadcast a success. "Other designers were responsible for other parts of the broadcast. Lee Rose did the LA Party and performances, while Paul Miller did all of the wonderful performances at the Bid Stage," he said. "Part of the challenge in a project like this is to merge a variety of different looks while maintaining a sense of cohesiveness throughout all of them. This way it doesn't look like multiple hands are making a singular broadcast."
Other challenges in the 2021 NYE show included working under strict COVID safety protocols (an "exercise in restraint," according to Grabowski), and managing backgrounds when lighting the open-air platforms. Although they wanted to keep the Times Square atmosphere in their shots, the design team also had to frame the platform stage to minimize distractions and avoid dead spaces in roped-off areas that had no crowds.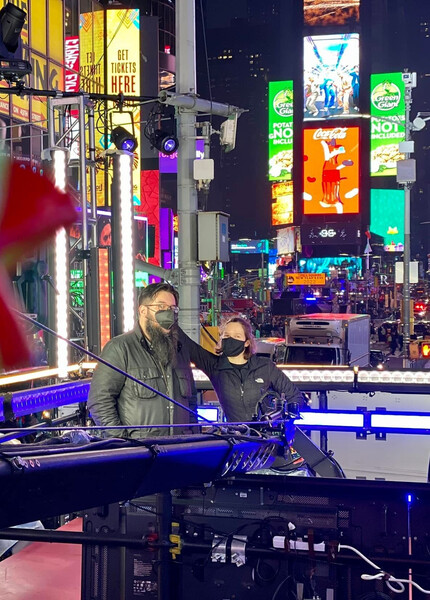 "Our Military Island setup was a good example of how we had to manage the background," said Grabowski. "We had about 15 Colorado Solo Batten fixtures set up along the platform railings to use as eye candy. Part of the trick with our rigs is to allow what the director wants to show, but also provide a bit of masking. There are all sorts of fire lanes and egress in Times Square on the night of this event, and those can look dead since there are no crowds. The COLORados have a different visual that I dig, so having them go through color gradients and dynamic effects help maintain and translate the energy of Times Square, while also being functional masking."
For added depth and texture, Grabowski used a collection of COLORado par-style fixtures for subtle back edge light for the talent on the platform sets. "The pars are tried and true workhorses," he said. "They're hidden away out of sight, but they make a huge difference to the way the broadcast appears to viewers."
Also working behind the scenes to make the broadcast a success was the design team: David Cook, Senior Production Manager for the Lighting Design Group; Declan Moore, associate LD on the Military Platform; Joey Cartagena, gaffer; Henry Meola, best boy; and Ryan Philips, programmer; as well as the Powerball team of Jeremy Domini, Seán Linehan, Teddy Sosna, Immy Fedigan; and the Bertelsman team including Squawky Sarah Jakubasz, Paul Braile, and Cypress Staelin; plus Drew DeCorleto and Tara France of 4Wall Entertainment.
There's a certain magic when a team works together to light a broadcast like Dick Clark's New Year's Rockin' Eve with Ryan Seacrest, as it revolves around lighting images that have embedded themselves in our collective consciousness Although Grabowski appreciates this history, he is happy that, when it came to key lighting talent in this show, there was one tradition that was broken this year.
# # #