CHAUVET Professional Helps EMC Create "Out Of Ordinary Studio"
Posted on January 13, 2015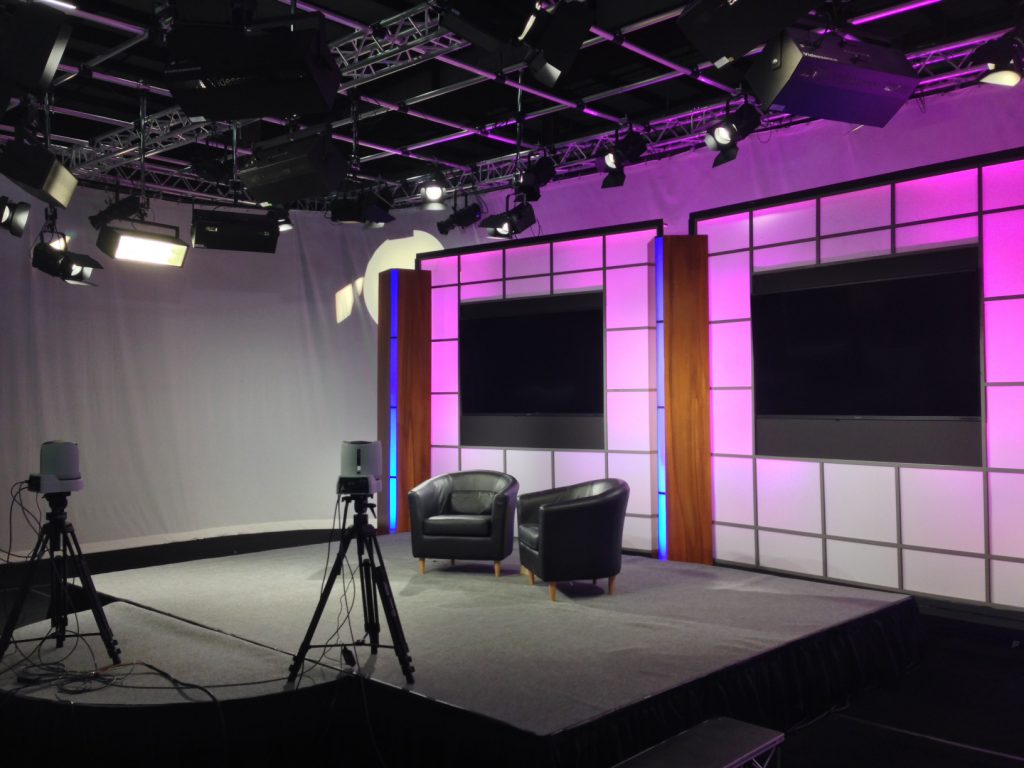 SOUTHBOROUGH, MA – Lighting designer Jonathan Lipsy of Integrated Solutions Group is accustomed to dealing with challenges on projects, but even he acknowledges that the video production studio he recently completed for EMC Corporation was "out of the ordinary."  EMC, the world's largest provider of data storage with 60,000 employees, asked Lipsy to create a free-standing production studio on its campus.
The well-known LD accomplished this in impressive fashion using a collection of fixtures from CHAUVET Professional.  Although there's nothing very unusual about that; the location of the proposed studio did require some fancy footwork on Lipsy's part.
EMC want its video production facility built in a 20,000-square foot-warehouse with a 35-foot ceiling. "Due to the way the space is used in this facility, they needed to build a 45-foot by 30-foot free-standing production studio in the center, unattached to any of the walls or ceiling," recalled Lipsy.  "This in itself caused a few challenges – structural integrity, power distribution, lighting design flexibility and production flexibility, to name a few."
Oh, and by the way, as Lipsy was to learn, all of this had to be accomplished within the parameters of a limited budget. The designer's first task was to build a cost-effective free-standing structure for the studio. He chose aluminum trussing from Chauvet's Trusst division for the job.
"The box truss design of this cost-effective product allowed me to build EMC a structurally sound 45-foot wide by 30-foot deep backbone for the studio with four 15-foot high legs," said Lipsy.  "By mounting Sch-40 aluminum pipe to the top of the structure in a 3-foot by 3-foot pattern, I was able to give it the rigidity it required to handle the rigorous lighting changes that EMC would be doing in the studio on a regular basis."
Power draw was the next challenge facing Lipsy. Since power available to the free-standing studio was limited, the LD had to select lighting fixtures carefully. He elected to limit the studio rig to LED and fluorescent fixtures.  Also, with EMC placing a $2,000 per fixture limit for the studio rig, the products Lipsy chose had to be efficient in terms of cost as well as energy. Finally, and perhaps most importantly, since the ceiling of the freestanding studio was going to be 15-feet high, the lights chosen had to have the output needed to create a throw distance of 15-20 feet.
"Looking for a LED fixture that was powerful, less expensive and had proper quality of light, I chose the Chauvet Ovation line of LED fixtures," said Lipsy.  "The Ovation line offered me the F-95WW Fresnel, the F-165WW Fresnel and the E-190WW ellipsoidal.  So, I was able to find powerful cost-effective luminaires from a single manufacturer that produce a beautiful light.  The Ovation fixtures were easy to use, had fantastic features, offered the necessary throw distance and came in at a price that was very affordable for my client."
Lipsy's EMC lighting package includes 14 Ovation F-165WW Fresnel fixtures, 16 compact Ovation F-95WW Fresnel fixtures and four Ovation E-190WW ellipsoidal fixtures.  "My client couldn't be happier with our choice of fixtures," said Lipsy. "The fixtures deliver a smooth, even field of light, and their output is impressive. In fact, the Ovation Fresnels even had to be dimmed down to about 70 percent, because they're so powerful."
In addition to the Ovation fixtures, Lipsy's EMC rig has nine COLORado Batten 144 Tour LED batten-style wash fixtures that are positioned along the back of the set for color changing.  Another non-Ovation fixture is the SlimPAR QUAD 6 IRC, a low-profile par-style fixture that serves as a truss warmer.
"We use 16 SlimPARs as truss warmers to make our free-standing structure look visibly appealing to anyone who sees it from a distance," said Lipsy. "These fixtures create a glowing effect and allow my client to change the color of the truss structure for different events that take place inside the building that houses the free-standing studio.  They can change the color to match their corporate logo or to match a specific theme.  Overall, it's fair to say EMC has been amazed by the end result of its free-standing studio."
As a company, the New York Stock Exchange-listed EMC Corporation is known globally for setting high standards in its industry, and has routinely appeared on the CNN/Money list of the "World's Most Admired Companies."  Based on its reaction to the new studio, it apparently appreciates excellence too."