András Praksch Relies on CHAUVET Professional at Ujbuda Gyermeknap
Posted on August 27, 2019
BUDAPEST – It's easy to see why all ages have fun at Ujbuda Gyermeknap ("Children's Day"), an annual event held at Bikás park, a tranquil sea of green in the bustling Ujbuda district of the Hungarian capital. Youngsters can spend hours engaged in face painting, rides, a petting zoo and a network of bouncy castles, while the adults can absorb themselves in sports and beauty lessons. There's also an array of musical acts performing on stage, which this year included legendary Hungarian folk-rock singer Miklós Fenyő.
András Praksch of Mobil Audio and Lighting Kft. enjoyed the festivities too, but he had other things on his mind as well during the one day event. Lighting the main stage, he had to create looks for a long list of unfamiliar bands. Even the popular Fenyő came without his LD, which required busking on the part of Praksch. On top of that, since the festival took place during daylight hours, options to create captivating looks were limited.
Still, Praksch met this challenge with flying colors, not to mention some engaging audience lighting and dynamic specials. Helping him accomplish this feat was a collection of CHAUVET Professional Maverick, STRIKE and COLORdash fixtures.
"I have been doing this festival for many years with the event producer JAM Btl," said Praksch, who handles all lighting and electrical issues for the entire Ujbuda Gyermeknap grounds. "This is great fun, but there are challenges lighting bands when you don't know them very well, especially during daylight hours. For example, I love gobos but can't use them when it is so light outside. Luckily the output of my fixtures helped me stand out in the daylight. They also gave me enough options to create different looks for all the acts on stage."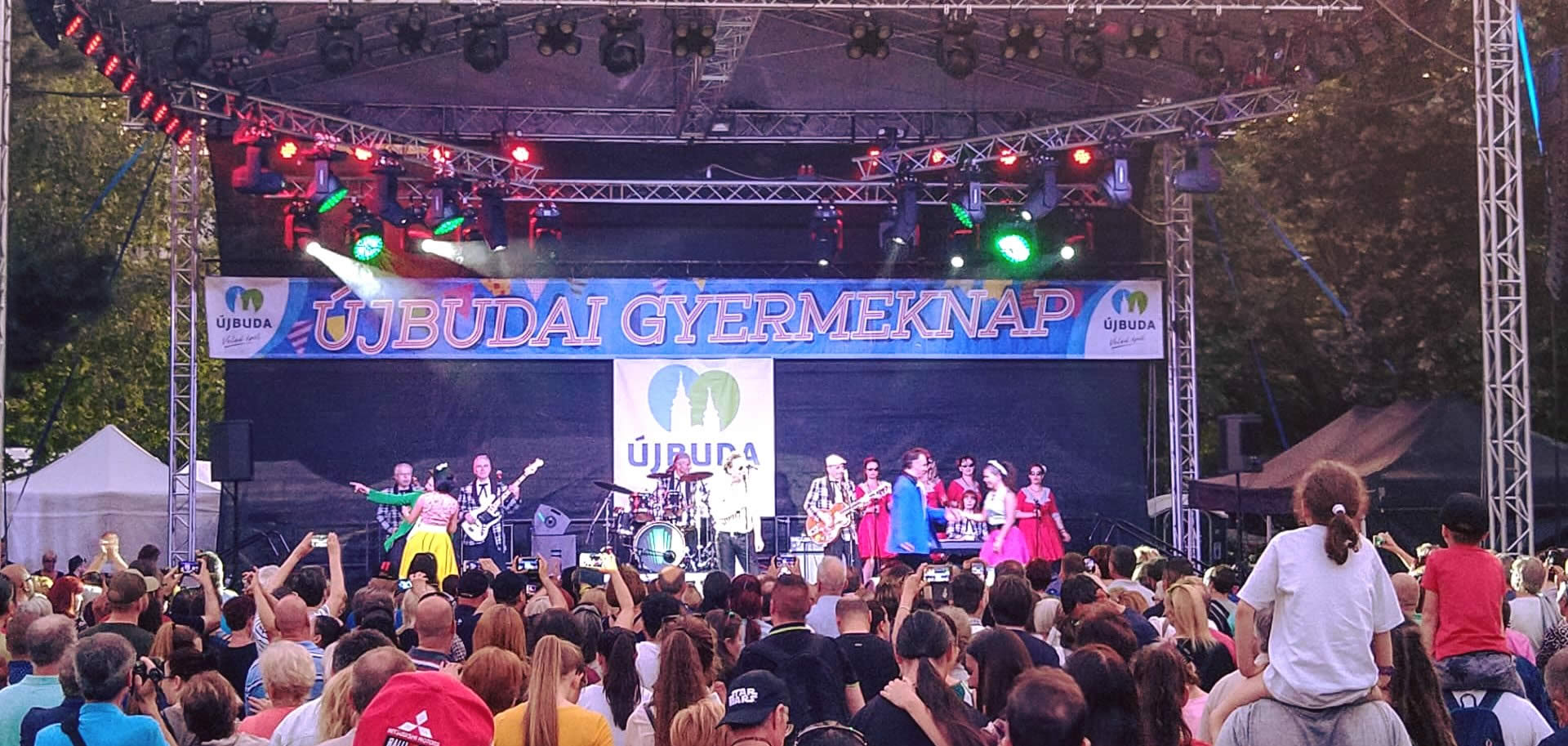 Key to helping Praksch created the looks he wanted on the festival stage were the 12 Maverick MK2 Spot fixtures in his rig. He hung the 440W moving heads on three moveable truss structures, one of which held six fixtures and was kept upstage, while the other two held three Mavericks each and were positioned one apiece stage left and stage right.
From these positions, Praksch was able to hit the stage from a variety of angles to create different looks for each act. Drawing on the fixtures' CMY + CTO color mixing, he conjured up unique palettes for the different performers to better support their music. The Maverick MK2 Spot's 3-facet prism, quick movements, and 13º to 37º zoom range helped him further reflect the music by changing up looks during performances.
To engage the audience, even during the height of the day, Praksch had eight STRIKE 4 fixtures hung on the downstage grid. Used as blinders and for crowd lighting, the high output warm white fixtures were intense enough to standout despite the ambient light.
Also having an impact despite the sunlight were the 24 COLORdash Par-Hex 12 units in the rig. Praksch hung these intensely bright RGBAW+UV LED washes on horizontal rows of truss that ran stage left and stage right. From these positions, the fixtures provided deeply saturated color washes.
Those colors, along with the brightness of the lights, captivated the crowd at the main stage, sweeping them up on this summer's day in the festive atmosphere. It is a mood that defines Ujbuda Gyermeknap for everyone – or at least almost everyone except Praksch and his dedicated production team whose hard behind the scenes work helped make the magic of Children's Day happen.