Todd Roberts – Trussing MAGIC
Posted on April 2, 2015

To say that Todd Roberts knows truss is kind of like saying that Eric Clapton knows how to strum a guitar. Together with his team at Brea, California-based Visions Lighting, Roberts has worked magic with truss setups at festivals like Coachella, as well as at numerous concerts and television events, such as the critically acclaimed Pepsi Grammy Halftime Show.
Spanning the gamut from the sleek horizontal look of the Pepsi show to the towering pyramid that awed fans at last year's Electric Daisy Carnival, Roberts' truss designs do more than simply provide lighting fixtures with a place to hang out.
Time and again, he and his team seem to find new ways of balancing lights and truss in harmonious designs that touch audiences in ways that go beyond what each could do on its own. This balance is achieved whether the lighting array was created by Visions itself or by an outside LD like Steve Lieberman of SJ Lighting, who has often worked with Visions. In either case, lighting and trussing are woven inexorably together in Roberts' view to create a single visual experience.
Roberts took time from his busy schedule to share his insights into the creative partnership between truss and light with CHAUVET Professional. Enjoy.
Before we talk about truss, can you give us a little background about you and the Visions Lighting story?
"My first spark was when I was in junior high and our church was doing an Easter service in a large tent. They had hired West Coast Concert Lighting, and I got to watch them set up the show, and from then on I was hooked. In high school I was a DJ and I started buying DJ lighting for my shows. From there I started to do lighting for raves. Yes, they were called raves back then and not EDM shows.
"Since starting Visions Lighting I am fortunate to say that we have grown each year that we have been in business. I have been doing this for over 25 years now and I was joined in the business 14 years ago by my wife, Kelly. She was a Corporate Event Planner, and has brought a lot of the business sense to the company. We are a good team, as I am the creative-dreamer type and she keeps my ideas and budgets in check."
You've done a lot of phenomenal work with trussing that's gotten widespread acclaim. Can you tell us how you view the role of truss in your design work?
"For most of my work and designs, truss is the back bone of the lighting rig and a support to everything we want to accomplish artistically.   I usually don't work in proper theatre venues that have fly rails, so I get a lot more opportunities to create interesting structures. I love when a client has a vague vision of what they want to accomplish and I get to design a structure and then add lighting and now video to accomplish it. I don't consider truss structures as more or less important than lighting or even video. It is a building block to the whole production. If the structure is designed artistically, it can really add to the overall production. I try not to put the standard roof structure out there anymore. There is just so much you can do to put a better show on for your client.   Having an in-house CAD and design department at Visions has really allowed us to dream up some great things."
You often use Nexus 4 x 4 panels with your massive trussing rigs. Has the growth and development of this kind of ultra-bright set piece changed the way truss is used in concerts, as opposed to when the lighting rig consisted primarily of movers and beams?
"The Nexus fixture is a tool in my tool box. I kind of consider it as a really low resolution video. The trend is moving towards more video on the rigs. What I like is that it is kind of a crossover between video and light, so it is very versatile. I also like to use Nexus as just a standard blinder with extra effects. It gives me the ability to be able to completely get rid of dimmers. If the only need on a show for dimming is for traditional tungsten-halogen fixtures, I can just swap to Nexus fixtures and eliminate the need of a dimmer rack and the additional power needs."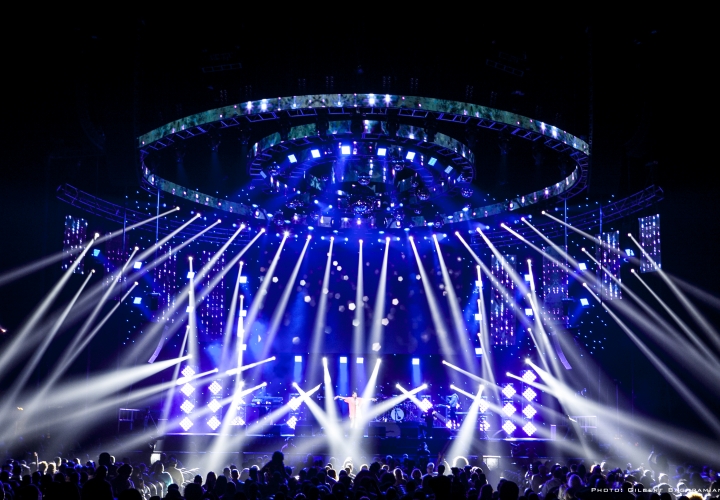 You've done some amazing truss work for Coachella and Electric Daisy Carnival. Are there different things you have to look at when you design truss for an outdoor festival as opposed to an arena concert?
"The most important thing for me when designing outside structures is safety. We are always trying to push the boundary of creativity, which is the fun part, but we have to keep it safe. We not only have to design for high winds, but safely build it, and to meet all the requirements for the different agencies involved with the event.
"I just got off a project last week that had four different engineers on the site. We had the Visions hired engineer, a peer review engineer hired by the promoter, the city engineer, and there was a soils engineer. It's our job to make sure we satisfy all parties involved and provide assurances that we know what we're doing and what we have built is safe and meets code. Building in arenas is definitely a lot simpler in most cases. We don't have to worry about wind loads, and you can usually hang points wherever you want."
When you're setting up truss and working with an LD, how much input does the LD have into the design of the truss?
"I think the LD should have the most input possible. We as a company are there to deliver their vision as close as possible to what their design is. On some of the large structures we build, we will start with a rough vision from the designer and then I will draw up what I think I can build. We then send it back to the LD and get feedback to make sure that we are drawing in the direction they want.
"To be clear, I usually quickly sketch things out on a piece of paper and then our Design Team of Nathan Jones and Brandon Bishop, who are great with Vectorworks, make it look pretty for me! After we get the drawing where it needs to be and the LD approves, we then send it over to the engineer and hopefully they don't laugh at us!
"Somewhere in the middle of this process we are pricing everything to make sure we aren't breaking the bank. When all is said and done, we hopefully have something the LD likes, the client can afford, the engineer will sign off on, and it won't be completely impossible for the Visions team to build in a fair amount of time."
What are your thoughts about incorporating LED video panels into truss design? Do you approach this differently than you approach incorporating lighting fixtures?
"I think they work hand in hand. I use truss in a couple ways. With LED we use it as a mask to create various shapes. Lately, I have been covering the truss with a row of tiles to eliminate the traditional truss look.   I don't like using proper LED screen sizes alone. I like unconventional sizes on weird angles so the video becomes more of a texture, and I will add proper screens when needed on the side of the stage if production makes me add!"
When you design a whole show with a massive truss display, how does the creative process work? Do you think of the truss design first and then fill it in with lights? Or do you look at how you can construct truss to maximize the effect of the lighting?
"We usually get a sketch or rough drawing, then we turn it into a real structural drawing and send it back to the designer to populate with lighting and video, but sometimes they have a complete drawing and we just need to clean it up and get it engineered."
Can truss be over-used on a stage? What advice do you have to protect against that?
"Trussing is probably the most overused thing on stage because it necessary for rigging lights; plus it's generally pretty cheap versus building a huge scenic set. I've been getting very tired of the basic truss look and have been covering it with LED tiles. One of my favorite tricks lately is using 1×2 wood, zip-tied on the back, and then stapling fabric to the truss. It gets rid of the truss look altogether. It gives you a completely different feel and it's fairly inexpensive and disposable too."
You've done so many great truss projects, do any stand out as the most memorable?
"All the EDC projects have been really memorable for me.   Steven Lieberman of SJ Lighting and Insomniac Events have given us great opportunities to build some really fun structures and get paid to do it. We always get to push the envelope at those shows."
Do you see any trends in either the use or design of trussing down the road?
"Hopefully we will continue to see stronger trussing that can withstand greater loads. "