Pixel Mapped ÉPIX Strips "Unify" Lightshow On Luke Bryan Tour
Posted on January 15, 2015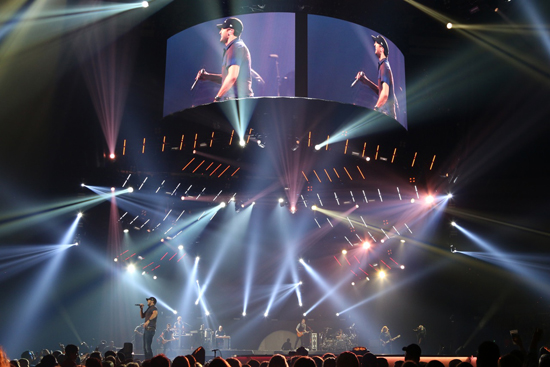 NASHVILLE – From the moment he rose from below the stage on the back of a black pickup truck surrounded by flames, until he closed some two hours later with the provocative hit "Country Girl (Shake It For Me)," Luke Bryan gave the sellout crowds at his That's My Kind Of Night tour everything they expected from the red-hot country superstar. There was the non-stop energy, the down-home rapport with the crowd, the dazzling pearly white smile, the exhilarating dance moves, the hard driving music and, to set an appropriately powerful visual tone for it all — a dynamic lightshow that included 104 ÉPIX Strip 2.0 pixel mapping strips from CHAUVET Professional.
Lighting Designer Justin Kitchenman of Fadeup Design Group wanted the large collection of pixel mapped ÉPIX Strips to serve as a kind of electrifying visual link that tied his power-packed multi-dimensional design together in a single eye-popping package. The strips, which were provided by Elite Multimedia, accomplished this in stunning fashion.
"We had an ÉPIX Strip in the space between every lighting fixture in the rig," said Kitchenman.  "We also had lighting elements that we called 'The Battens.' These were single rung truss units that we hung the ÉPIX Strips on.  The Battens were lightweight and versatile, so we could use them in our full rig or as unique visual elements at smaller festivals or at venues where weight and setup time were factors.
"In all cases, the ÉPIX Strips were spread throughout the rig so we had a unifying video element on stage," continued the LD. "Actually, we were able to stretch the visual elements of this design well beyond the confines of the stage by in essence adding ÉPIX Strips to our lighting fixtures. The ability to map the ÉPIX Strips and LED fixtures together allowed us to work them in unison, which created some very impactful moments. If you've ever seen a Luke Bryan concert, you'll know why impact is so important. This is a very engaging, high-energy artist, so the lightshow has to keep pace."
The ÉPIX Strips were mapped in an Arkaos Media Server via Kling-Net. This server was dedicated specifically for the high-output LED strips, with all programming done on a grandMA2 console.  "We used an Art-Net/DMX merge to map our moving LED fixtures into the Arkaos map," said Kitchenman.  "We could add the fixtures or remove them from the map by utilizing the control channel of the server.  We were also able to search all of our media files to find the perfect match for our lighting and video. Having pixel mapped images running throughout the stage on the strips really helped us convey a story that fit Luke's songs during the concert.  We have large screens as our primary video element, so we used the ÉPIX Strips as a video effect to connect the video to the rest of the lightshow. In this respect, they worked beautifully."
Kitchenman credits Tom Wilson of Elite Multimedia and Luke Bryan's production manager Pete Healey with helping him incorporate the latest technological lighting tools like the ÉPIX Strips into his designs. "Tom has been a constant source of encouragement to me," he said. "He's always the first one to suggest we take a look at new fixtures and he leaves no stone unturned when it comes to supporting us with them."
As for the ÉPIX Strips, Kitchenman was impressed with the way they performed as road warriors as well as pixel mapped lighting elements. "We've used the ÉPIX Strips before and they've been nothing short of great," he said. "They're easily mapped, easily implemented and are very well suited for adding a large element without dinging the budget too much.  We handled the strips on a daily basis during this tour and never had a failure rate. Plus, the hanging bracket design allows us to hang them in a variety of positions."
Looking at his overall show for the American Country Music Awards "Entertainer of the Year," Kitchenman is proud of the final results. "I'm my harshest critic, but I got to say I was very pleased with this show," he said.  "Luke draws sellout crowds wherever he plays, so we want to deliver our best."
Photo Credit: Elite Multimedia