Ovation E-910FC Ellipsoidals Dazzle
At National Portrait Gallery
Posted on March 1, 2016
Walt Whitman called it "that noblest of Washington buildings." The great American poet tended wounded soldiers in the stately Greek Revival style building during The Civil War. President Lincoln celebrated his second inauguration in its Great Hall. Many years later the stately structure was reborn as the National Portrait Gallery. Part of the Smithsonian Institution it houses the only complete collection of US Presidential portraits outside the White House – and at one recent event, its Robert and Arlene Kogod Courtyard glittered with a special radiance courtesy of Ovation E-910FC LED ellipsoidals from CHAUVET Professional.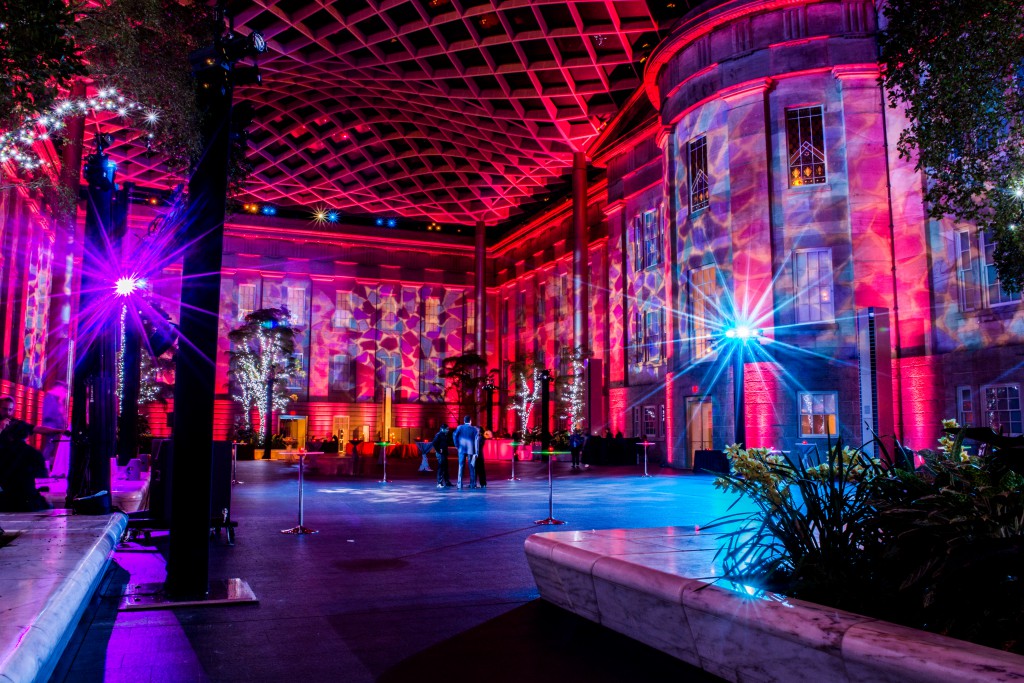 The event marked a debut of sorts for the new RGBA-Lime Color Mixing fixture. John Farr of John Farr Lighting Design, who had recently received shipment of 24 Ovation E-910FCs, became one of the first to place the fixtures at an event. For Farr, there was never any doubt that the new color mixing marvels would be a hit.
"Once I saw the promotional video, I knew we needed it. We knew this fixture was going to be a game changer for us," said Farr, whose company provides event design and production services for events at Washington DC's most prominent venues. A former touring professional who has worked for the likes of ZZ Top, Farr been called upon by prominent venues to establish guidelines for best practices in event production, such as the development of policies specifying the use of LED-based fixtures within the historic Jefferson Building of the Library of Congress.
Farr says he based this assessment of the new Ovation ellipsoidal on two concepts: efficiency and flexibility. "Energy efficiency is going to lead a lot of people to spec LED ellipsoidals," he explains. "Beyond the obvious impact from a sustainability standpoint, we gain a very practical benefit in our ability to put large numbers of fixtures on a rig without needing to tie into the mains. That creates a new level of efficiency when producing the event."
Illustrating his point, Farr described his first project with his new Ovation E-910FC fixtures, an event at the Robert and Arlene Kogod Courtyard. "We placed 24 E-910FC fixtures on truss towers with up to six units per tower to execute a pattern wash on the walls of the room," he explained. "With our previous legacy products, the same design required almost a thousand feet of distribution cable run throughout the venue. The E-910FCs, with their two amp draw, allowed each tower to run off a single circuit, drastically reducing the equipment, time and labor necessary to execute the design."
Going beyond efficiency, Farr expressed his enthusiasm for the design possibilities created by the E-910FC's color mixing capabilities. "This fixture represents the future," he said. "The idea of color mixing LED ellipsoidal fixtures like this makes too much sense to ignore. You change colors instantly with this fixture, without messing with gels or anything else. It opens so many creative possibilities, so yes people are going to embrace it. I've already ordered more."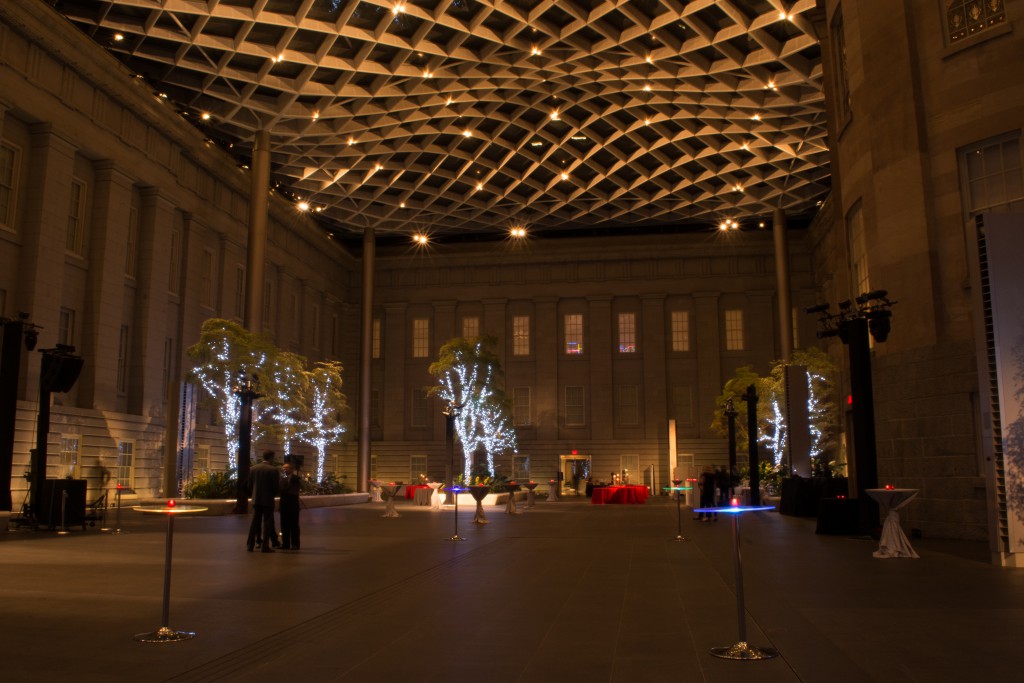 Albert Chauvet, president and founder of Chauvet, shared Farr's enthusiasm and was equally excited about the early projects involving the Ovation E-910FC. "We're very honored that someone of John's experience and stature has shown this faith in our product," said Chauvet. "John's early application of the Ovation E-910FC at events in Washington makes us feel even more excited about this product's future."
Speaking of the future, it's a good bet that people in Washington are going to be seeing more of the Ovation E-910FC. Farr plans to integrate the fixtures into his designs at venues throughout the Washington area, to include the National Air and Space Museum, the Library of Congress, the Steven F. Udvar-Házy Center, and the National Museum of Women in the Arts. More importantly, he believes this technology will open venues with limited power on site to new design possibilities.
"We're just beginning to tap the potential of what we can do with the E-910FC," said Farr. "The efficiency and the LED color mixing give us so much freedom and flexibility – and it's not like we're giving up anything in terms of performance for these advantages. We lined the Ovation LED up against our incandescent fixtures, and the output was as good or better. As far as the colors go, they were unbeatable. They look very natural from being mixed with the lime LED. We see this light as something that will make it very easy for us to do more with our designs going forward."