On The House – Max Blackman Pier 17
Posted on January 5, 2023

Breathtaking views are everywhere you look at Pier 17. Turn one way, and you feel like you can almost reach out and touch the Brooklyn Bridge, turn the another and there's The Statue of Liberty, keep going and you're treated to a breathing taking view of the Manhattan skyline. When the sun goes down, though, all eyes turn to the stage, to see a cross generational galaxy of stars from Billie Eilish and The Strutz, to Gladys Knight and Kings of Leon.
If being the house LD at this magical space sounds like a dream job, it is… just ask Max Blackman, whose filled that role since 2019, a year after the venue opened. A Los Angeles native who spent his teen years in New Jersey and attended college at Rutgers, Blackman was the house LD at the old Lion's Den (now Sullivan Hall) in the West Village and the Brooklyn Bowl.
Eventually, he left the house to tour the world with bands (he still tours occasionally), and worked at clubs in London and Las Vegas before returning home to become house LD at one of NYC's most attractive spots.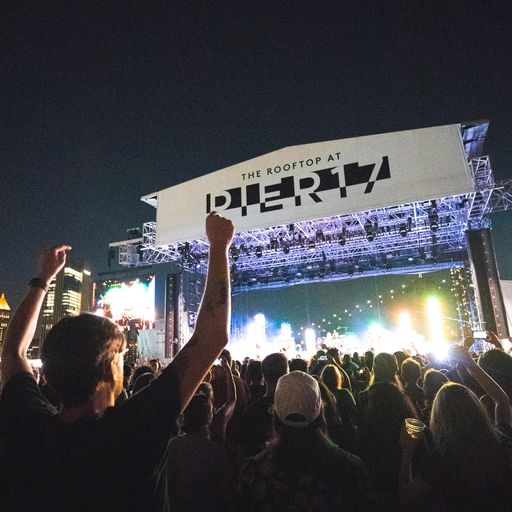 Your venue is in an astoundingly beautiful setting with a spectacular view. Is it a challenge to create exciting lightshows without distracting from these surroundings?
"Not at all. When you first come to the rooftop it's hard not to step back and take in the awesome views of the city. On a beautiful day, it is one of the best places to catch the sunset. You have amazing views of the Manhattan skyline in one direction, a view across the East River over to Dumbo and Downtown Brooklyn, and of course, the Brooklyn Bridge behind the stage, while the band gets to look out at the crowd with the Statue of Liberty in the distance. It's really pretty amazing to take in. But once the music gets going, it really becomes about the show for most fans. The only real challenge involved in creating exciting light shows on a waterfront rooftop is the wind. It is constantly blowing any atmosphere effects or haze away. This makes it much harder to see what the lights are actually doing."
Do you try to incorporate those views in your shows?
"Unfortunately, we can't really incorporate the views into our shows at the pier. If you point lights at surrounding buildings on purpose, the local neighbors get upset — one of the only times I've gotten a hard stop was when I tried to flip the lights around and point them at the bridge! The only other time was when the president landed at the helipad a couple piers down and I was told I had to stop all work and keep the rig dark until the president was on the ground."
How many of your visiting bands bring their own LDs as opposed to you running their shows?
"Because of the size and scale of our venue we attract a lot of national touring acts for our headliners, and they tend to bring their own LDs with them; so, it's rare that I run a headlining act, but it does happen. More so with the private events held on the rooftop, but there are also a small handful of regular shows that I run each season. That said, a lot of the opening bands need a LD so I do get to run a lot of those sets."
Speaking of those visiting LDs, what is the key to having a good relationship with them?
"The key is starting the day off with a good attitude. It may not be my show, but it is my house and we both want the same thing. I want a good show so fans keep coming back to Pier 17 and the visiting LD wants s good show so fans keep coming out to support the artist they tour with. I'm there to help the visiting LD put on the best show they can by getting their touring package operational and then integrating our house system into their show and getting them comfortable with our fixtures. I am really there as a tool for them to use to get everything combined into one great show. So, if they come in with a good attitude, I'm going to do my best to make things as easy as possible for them so they have an easy day, putting on a great show."
Have you learned any tricks of the trade from visiting LDs?
"I'm constantly learning new things. That's one of the things I love about looking at their consoles. So, everyone sets things up differently and I love seeing how everyone else runs their shows. Every now and then something will catch my attention and I'll throw something similar into my file. It may be a specific look, or maybe a programing shortcut, or even the way someone lays out the information on their screens. There is always a different way you can do things and meeting all the visiting LDs you get to learn new ways all the time."
You have an eclectic mix of acts at Pier 17. How do you ensure your rig is versatile enough.
"This is a bit of a challenge. Because we are outdoors, on a rooftop, on the waterfront, we are really exposed to the elements. In the first few years we would lose fixtures because of water damage and we had these ugly plastic rain hoods that would live over the fixtures. Now there are weatherproof IP rated fixtures, so our entire rig is IP rated to stand up to the elements. We have a basic package of washes, LED strobes, and two types of hybrid fixtures so that you have choices of what to use as a spot or beam. Also, because our downstage truss is at the front edge of the roof, which is really over the front edge of the stage, instead of out in front of it, we offer the option of using spotlights."
A lot of acts begin during daylight hours . How do you deal with ambient light?
"You can't really compete with the sun. Those daylight sets you just run your show, knowing you aren't going to see the light anywhere but at its source. Unless someone is looking up at the lights, they really are not going to notice them until the sun sets behind the massive skyscrapers of downtown Manhattan."
Do you have shows on the deck all year long?
"Sadly, the rooftop at Pier 17 is a seasonal venue. This year we opened the second week of May and are staying open thru October 29th, which is our longest season by 2 weeks. This has also been our busiest season with over 60 Live Nation concerts and multiple private events that often include concerts, movie premiers, corporate parties and other activations."
What are the best and worst things about being a house LD?
"Actually, I think it may be the same answer for both. SO MUCH MUSIC! But really, the best thing about being a house LD is getting to help so many great lighting directors, many of whom are friends I've made over the years, put on great shows night in and night out. I love being a part of creating an experience for others and being a house LD lets me do that in new ways all the time. The worst thing about being a house LD may be missing shows I really want to see at other venues because I have shows to cover at my home space. Luckily for me, Stacie George, at Live Nation, crushes our booking calendar and keeps great music coming to the rooftop."