Logic Systems Adds Versatility to The Factory With CHAUVET Professional
Posted on February 22, 2022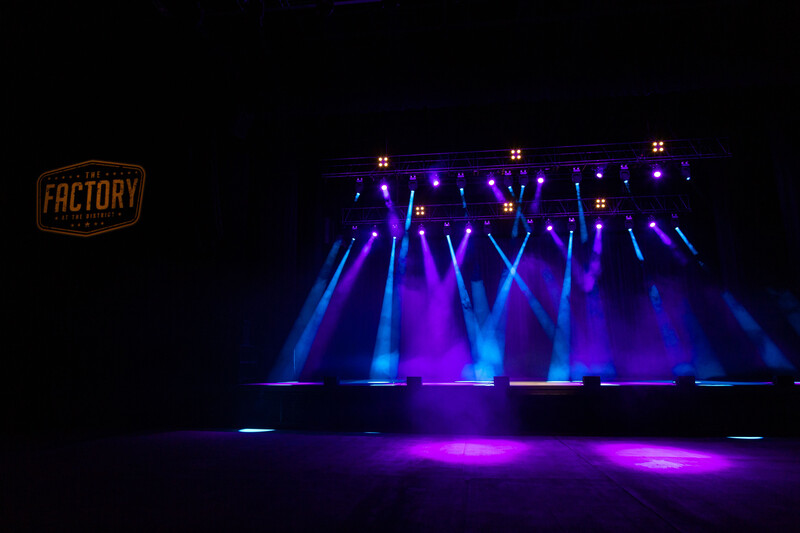 ST. LOUIS– Optimism is always a sign of courage, never more so than when expressed during challenging times. Such was the case on October 21, 2020, when, in the depths of the pandemic, a group of backers unveiled their plans for a new state-of-the-art live entertainment center.
"It's time to put a positive spin out there, to have hope for concerts in St. Louis and for employment," one of them told the press at the time. Less than one year later, their hope and vision were vindicated with the opening of The Factory, a bi-level 52,000 sq. ft. indoor venue with the capacity to serve up to 3,000 fans.
Located in the heart of St. Louis' popular dining and entertainment destination "The District," the new venue is now entertaining fans with a wide variety of shows, following strict safety protocols. Enhancing their experience is a dynamic and flexible lighting rig featuring CHAUVET Professional Maverick, Rogue, and STRIKE fixtures supplied by Logic Systems, which also installed audio, video, and rigging gear and The Factory.
"Doing this as a ground-up design allowed for lots of cool options," said Chip Self of Logic Systems. "One of my main design goals was to keep the systems as flexible as possible."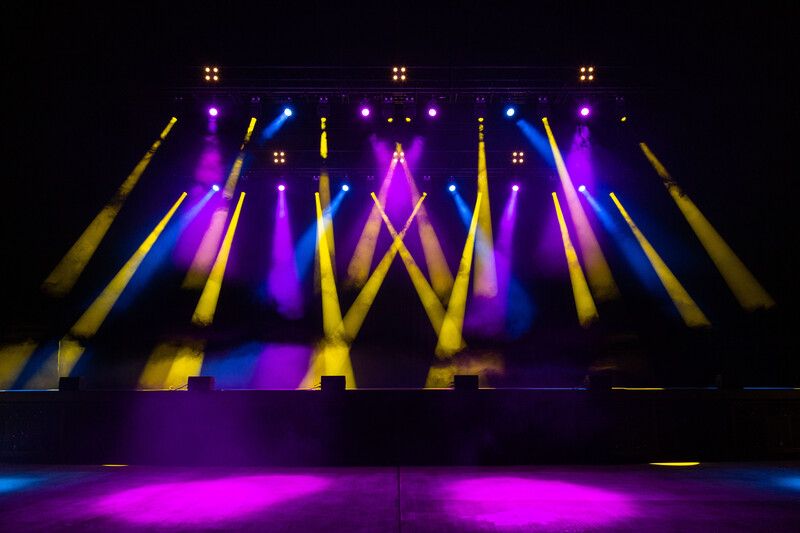 The Factory is located on some of the most valuable real estate in its region, making space inside the venue a precious commodity. This, notes Self, placed a premium on flexibility. "As a roadhouse, we have visiting bands that sometimes want to use their own gear, but we have limited space to store our house PA and lighting when this happens," he remarked. " To address this issue we had to get a little creative.
"I worked with Harrington Hoists to modify an existing trolley motor they build so that it can be operated from a traditional production chain hoist controller, and outfitted them with P14 connections," continued Self. "All four PA hoists, as well as the mid-stage and up-stage lighting trusses are on trolley motors, so they can be trolleyed out of the way of touring production, without having to take them down and store them. Since it was new construction, I was able to design the rigging steel to have the oversized beams, and extra capacity to allow doing this without compromising capacity for the tour systems."
The trolley motors at The Factory operate from the venue's motor controllers, the same as the main hoists. Deep tracks were used to create sliding cable picks for the motor cables, so they can move back and forth with the trolley motors.
Also, saving space, while adding to the flexibility of The Factory is a design that allows the room to be configured in two different ways. There is an airwall that separates the space under the balcony so that it becomes its own bar area. The venue also has the ability to hang drapes to close off the balcony. Additionally, the PA is zoned so the house can mute, or select other sources for those areas for different events.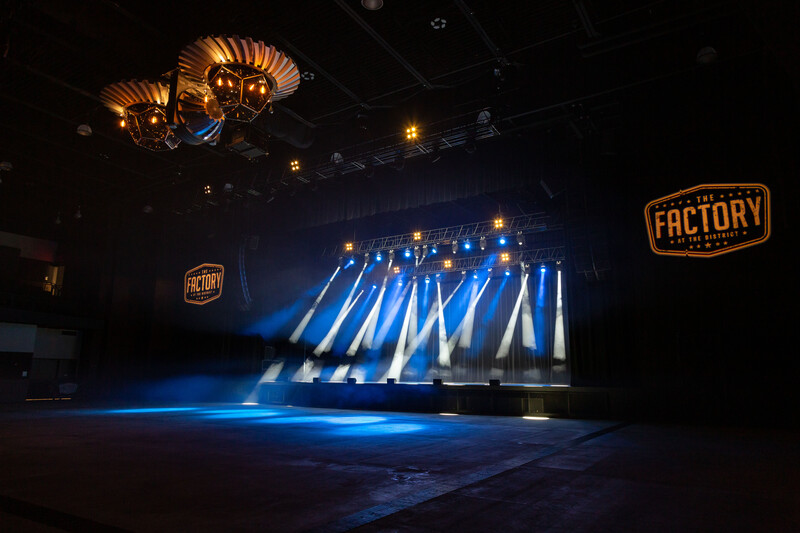 Regardless of how the venue is configured, all seats afford excellent views. "There's genuinely not a bad seat in the house, as there are no obstructions like poles or columns anywhere in the audience area," said Self. "Conduits and fiber were installed to a few camera locations – all running back to a video truck patch panel – to allow for bringing in a camera package to film or stream concerts."
Self also was meticulous in putting together a lighting system that met the demands of this versatile, space-efficient club. "We tested several fixtures in the space to see what worked best, both in terms of performance and budget," said. "I wanted to position our FOH truss off of the show grid so that it's not in the way of touring systems. Because it's on roof trusses instead of the show grid, I had to pay careful attention to weight. The Chauvet units were ideally suited for this. Not only are they compact, but they're also extremely versatile, and they pack a lot of punch."
A collection of 16 Rogue R3X Wash, 16 Maverick Force S Spot, and six STRIKE 4 fixtures were ultimately selected for the project. The mid-stage and upstage trusses each have 8 Force S Spots, 8 Rogue R2 Wash, and 3 STIKE 4 Units
"There was a huge amount of design intention and attention was put into making the entire audience space a great seat, and lighting was a big part of it," said Self, who gives much of the credit to the project's team, notably Brian Carp of The Factory and Kris Trgovich from Logic Systems.
"This was the product of hard work and teamwork," he said… That, plus a lot of forward-looking vision by a group of optimistic people will make things happen every time, even during a pandemic.