Anatomy of a Rig – Abbas Ritscher and Jamrock Reggae Cruise
Posted on February 7, 2023

It was a magical journey for the thousands of fans who spent five days cruising on The Royal Caribbean Freedom and taking in live performances by the likes of Damian and Stephen Marley, Burning Spear, Ding Dong and Shabba Ranks. Underlying the carefree fun however, was an intense, carefully planned, and well-executed effort on the part of Abbas Ritscher and his team at The Design Oasis who did the production and set up the lighting rig for the Welcome to Jamrock Reggae Cruise.
Their work began long before the cruise set sail, beginning with a close collaboration with lighting designer Nesta Garrick to put together a rig that could not only stand up to weather conditions at sea, but could also deliver power-packed looks on a customized stage, scaled to fit the cramped quarters of a pool deck.
Things that productions crews can take for granted on land often have to be approached differently at sea. And, of course, there is less margin for error – you can't call for spare parts when you're hundreds of miles out into the Atlantic! Ritscher gave us an inside look into navigating the demands of lighting a floating festival.
How long did it take you to set up the lighting rig?
"The Lighting Rig has to be setup really fast, We show up at 7am but didn't get our equipment onboard until about 11am and had to be show ready by 6pm."
So, is it different setting up a rig on a cruise ship compared to a venue on dry land?
"There is a lot of hurry up and wait. Just to get onto the boat and then to start sending equipment onto the boat and get it up the elevators and to the pool deck and other stages. There is a lot of gear coming on and no loading docks or freight elevator. There's also customs and a lot of little extra steps before you can even start building anything.
"Another big difference involved our stage on the ship. We had a custom built stage that really worked well for this event and this particular ship. There were a lot different factors that went into planning this stage. In order have this custom stage, we had to have the staging crew get onboard the ship during the previous cruise and build overnight on the last day before it returned to port.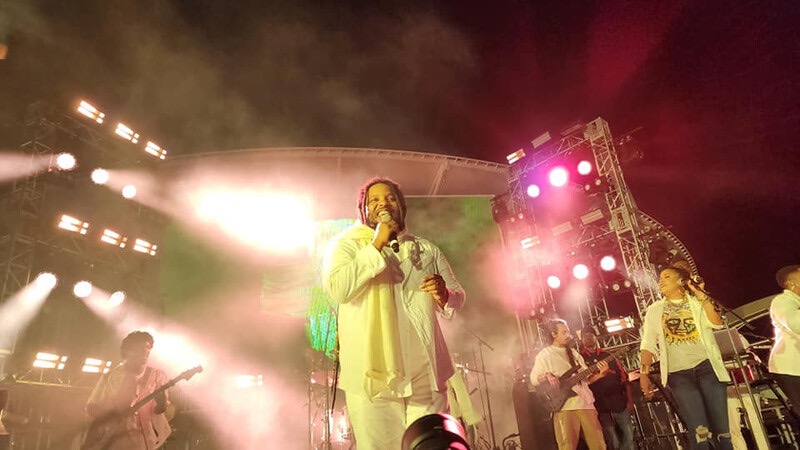 When completed, our custom stage was positioned to take advantage of the built-in video wall on the ship. The way things worked out that video wall looked like it was part of our setup. Overall, the stage was very open and made for a clear view from the balcony. Because we had the theater as a backup venue, we were able to do this awesome open design. If we used a mobile stage, it would have made setup easy, but it would have require a large area to land it and a very large crane on the dock to get it in place. '
Your stage seemed rather narrow, but you built your rig high. Is that true?
"Space is definitely at a premium on this one, Everyone wants to be at the pool deck for the shows, so any area we take takes away from the amount of people we can fit in the venue. Nesta Garrick did a great job of working with that and not taking up space but instead going tall and framing out the video walls with the lighting rig."
You had to rope up some of your wash fixtures into position. Can you explain why and how you met the challenge of doing this?
"All of the fixtures on the stage had to be roped up and down, because of the logistics involved in working on a ship. So, it was import to have fixtures that are compact and lite and have a lot of impact."
How did you deal with the challenges presented by the weather?
"With all the IP fixtures all we had to do when weather came in was make sure the consoles and distro's where covered. Made it very easy for us."
Nesta Garrick visited you at The Design Oasis and you worked on putting together the rig. What were the important features in the fixtures you recommended?
"We both wanted to make everything IP rated. I made sure that the fixtures were compact and lightweight, so that we could rope them up. Given that space was at a premium, we also wanted versatile fixtures that could do more than one thing so we could get more done with fewer units. And given the dynamism of the music and performers on stage, we wanted fixtures that would pop with plenty of brightness and bold colors."