John Farr Lighting Design Colorizes Pac-Man Themed Event With CHAUVET Professional
Posted on January 12, 2018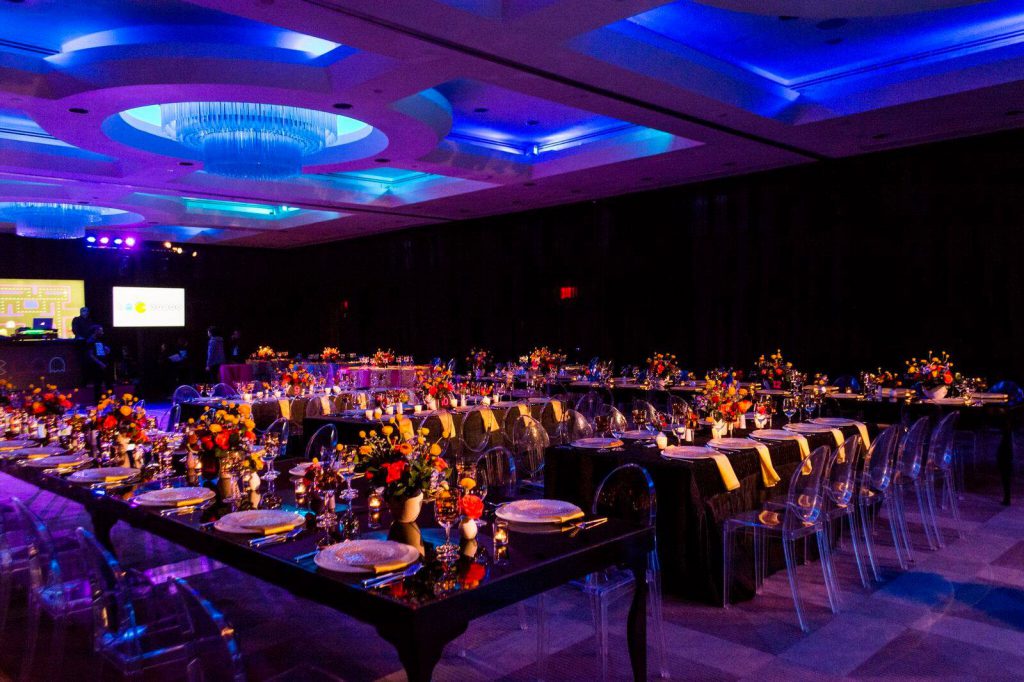 WASHINGTON – When the young man who celebrated his bar mitzvah at Georgetown's upscale Park Hyatt was born in 2004, Pac-Man was about to celebrate its 25th anniversary. Such is the staying power of the iconic video game invented by Toru Iwatani, that the youngster opted to build his reception around a Pac-Man theme. Digital wall images of the yellow circular figure with the gaping mouth adorned the reception area, as did representations of the game's famous labyrinth.
To create a classic video arcade atmosphere in the reception area and accentuate the digital Pac-Man images that decorated it, the event organizers draped the walls in black. This created a stunning effect, but it also made it challenging to colorize the room's dining tables. Eric Hertsch of John Farr Lighting Design successfully met this challenge with the help of CHAUVET Professional Ovation E-910FC ellipsoidal fixtures.
Hertsch positioned eight of the RGBA-Lime color-mixing fixtures on 12' truss towers located throughout the room and used them to wash its long rectangular tables in warm appealing colors. In addition to engendering an inviting atmosphere, the saturated light from the Ovation fixtures created a balanced look against the room's dark walls.
"The colors made the tables stand out aesthetically as part of the décor," said Hertsch. "We selected the Ovations specifically for the color-changing capability of their RGBA-Lime color-mixing engine. We also like their tight zoom, since it allowed us to frame the tables in colorful light without spilling over. We were able to preserve the dark video atmosphere while still lending a festive touch to the tables. Another thing we liked about these fixtures was their low power requirements."
Having the walls draped in black also created a challenge when it came to lighting the room's architectural features. Hertsch solved this issue by positioning CHAUVET DJ Freedom Par Hex-4 fixtures on the underside of arches and overhanging borders. "Traditional uplighting was out of the question because of the black draped walls," he said. "So I came up with the idea of placing the Freedom Pars in the soffits to get some vibrant color in the room."
Hertsch used 48 Freedom Par Hex-4 fixtures in the reception area to colorize the soffits. An additional 36 units were arranged through the foyer for more traditional uplighting. In both cases, the Freedom Par units were used to create rich vibrant colors evocative of Pac-Man.
"We wanted really bold colors to go with a 1980s-style look," said Hertsch. "A very strong and very original theme ran throughout this event. We did our best to support it with some original lighting solutions."