I'm With The Band…Tim Farquhar and Magic Beans
Posted on July 3, 2018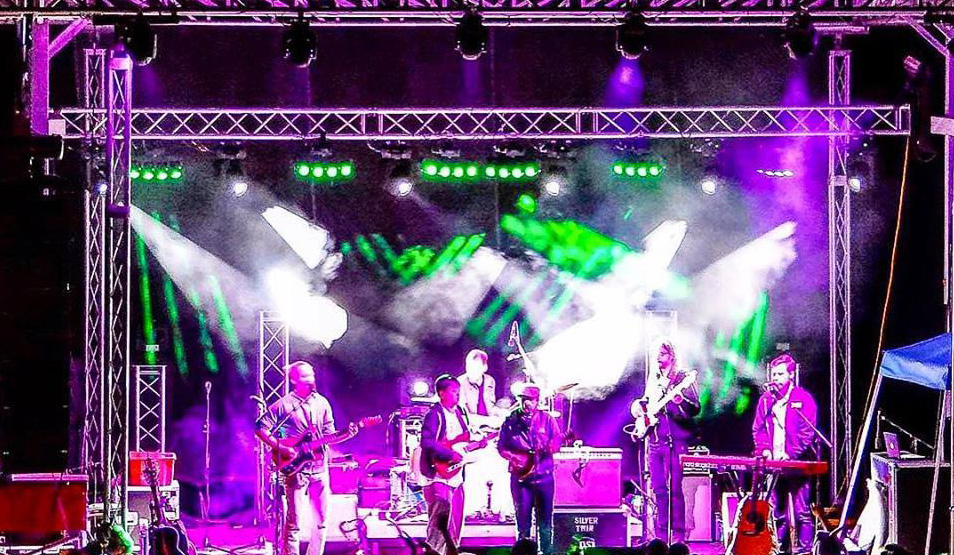 They say a picture is worth a thousand words. For lighting designer Tim Farquhar, it's value has proven to be far greater. Back in 2012, Farquhar saw the popular jam band Magic Beans performing at Eldora Mountain in Colorado. Overwhelmed by the band' eclectic freewheeling performance he took photos of them and shared his work on social media.
Seeing his photos, the band contacted him. One thing led to another and before too long, Farquhar was sitting on the Magic Beans' touring bus as it crisscrossed America from music hall to music hall and festival to festival. It was a marriage made in heaven. Farquhar's adventurous, ebullient style of lighting design fit the group's upbeat improvisational music like a glove as it skipped from genre to genre, all with a jam band twist.
We hooked up with Farquhar to interview him for this "I'm With The Band" column. It was a rare time between shows. He was warm, upbeat, enthusiastic and (not surprisingly) eager to get back on the road and live the dream.
How did hook up with Magic Beans?
"I saw a show that the band played, and I was instantly HOOOOKED! I took a few pictures at the show, and posted them on social media. From there I got a response from the band, saying how they loved the pictures. So, I reached out to try and help out the band in any way I could. The relationship developed nicely, and this was at a point in my life where I was wanting a career change. I started going to their shows, helping load out and do whatever I could to help."
When you started did you imagine the relationship would be last this long?
"I could never imagine that it would last this long, but it sure as hell felt right from the start! These fellas have become my brothers, my family! Colorado has my heart, as well as the Magic Beans. I feel like I am living in a dream world; running lights for my favorite band, surrounded by my friends and family while traveling all around the world. I have to pinch myself sometimes to make sure I know that this truly is the world that I have created for myself."
Magic Beans does some incredible improve, so do you punt a lot? Does it help that you feel their music when you do this?
"At this point in my career, most of my stuff is punting. Now that I have been with the Magic Beans for quite some time, I am starting to hone in on lighting directed towards each song. Understanding how to create layouts, and properly use the equipment I have has taken some serious time. I personally like the feeling of punting, because it makes the lighting compliment to the music, and it is also very interpretative.
"I don't always know what direction the show might take, so I try to avoid getting sucked into too much pre-programmed material that might not fit the mood for the moment. For myself personally, the Magic Beans is literally my favorite music to listen to. It encompasses so many elements from so many different genres, while focusing on the funk, which let's be honest…is the genre of music that constantly keeps people moving with a smile on their face."
How would you describe a Magic Beans concert? How does your lighting contribute to this?
"That's an open ended question right there if you ask me! A Magic Beans show for me is paradise. The Colorado Team Bean family runs thick through these mountains. I'd say a Beans show consists of a nice balance of young and old, guys and girls, from cities to mountain tops.
"As for the concert, it will consist of usually two sets of music, ranging from 10-15 songs total maybe, including a cover or two. The backbone of the Magic Beans music is funk. However, we regularly dive into elements of rock, jazz, electronic, folk, etc…you name it."
So how does your lighting keep up with this eclectic mix?
My lighting contributes in a way, where I have lots of time to think about what I want to do. The Beans slowly build their jams, and it gives my brain time to think about where we are going to go. Knowing the songs, and analyzing the set list, I am able to create a set list of sorts of my own for lighting."
What is the most rewarding thing about lighting Magic Beans?
"I am in control, I am in some sense, the master puppeteer. I have always been a very creative person. I used to build things as a child, also was very into being artistic at a young age. When I am lighting the Beans, I am in my happy place. I have been listening to their music for the past seven years, so I'd say I know it pretty well. Probably the most rewarding thing to see is the smiles on people's faces, and the beautiful collection of energy that comes together for these intimate nights. Music brings people together, from near and far, high and wide…no matter what you do with your time outside of the concert."
What is the most challenging thing?
"The most challenging thing I'd say is not unveiling all your tricks at once! As for my lighting shows, I like to slowly introduce fixtures into the action. I will take my time, almost making the fans constantly wanting more until it comes! I like to slowly build up the energy in the room, much like the crowd is doing. As a lighting designer, you always want to be able to pull out that ace card when you need to take up the intensity even more."
How many miles have you traveled with Magic Beans? Or looked at another way, how many show have you done?
"I have traveled all over the country with this band. I'd say to at least 40 states at this point. I have been operating the lights since the beginning of 2016 as their full time LD. I'd say I've lit up almost 200 Magic Beans shows. I have been helping the band out since 2012 when we threw a crazy house party at my house with the band after a Disco Biscuits show in Boulder. I have been slowly getting to know the band over the years, and they have entrusted me with helping out more and more, learning as I go! As for mileage, who knows — And the journey is now only just beginning!
Do you feel like you're part of the band?
"Yes, 1000 percent! We are all brothers in arms. We live in a van together, on the road for weeks at a time. It can be a rollercoaster at times, but isn't that life! I have asserted myself as a band member. And when we eventually add a sound engineer, he will be considered the same. We all have to be on the same page. And when everything clicks, it just works.
How receptive is the band when you want to add new equipment?
"I'd say it's a happy medium. Of course, more lights mean more loading and unloading and more time to build. My bass player, Chris Duffy, is also a lighting designer, so he is a huge help in building the rig. I can give him a task, and he knows what to do, which is huge help for me since we don't have any road hands. We are about to add some lights to our package, which will be exciting. As far as I'm concerned, if we want to be a top tier band, we have to bring the full package.
How has your long-term relationship and familiarity with Magic Beans helped your design when you are designing for clients other than the band?
"It has allowed me to become comfortable doing what I'm doing. The Beans have given me free reign to "make it rain" in some sense with their shows. That has given me a lot of confidence, and I can take that confidence anywhere. Of course, when lighting other bands and different genres, a different approach must be taken when you are in the act of lighting. That's when it becomes fun."
What advice would you have for other LDs who want to build a long-term relation with a band?
"It's really all about just taking the plunge, diving head first into it and knowing that you must give it everything you got. You have the opportunity to set the mood for your band, night in and night out. That is a unique opportunity that not many people will get. I speak for myself when I say that I bleed Beans. I have fully embraced the Magic Beans family that we call Team Bean.
"I have taken the time to meet as many fans as possible, to try and connect with all of the beautiful souls that come out to support our vision and experience. Music is a truly special gift, one that nobody will ever be able to take away. It will be here until the end of existence. Many people may not realize how important and influential music is to our society and well-being as "human beans" on this planet. We need music to help spread good love in this beautiful place we call earth. It helps and allows people to connect with each other, and put their differences aside, for a show or a festival or a tour, and hopefully implement what we've learned from each other in our everyday lives. Music is truly a beautiful form of communication that we can all learn a lot from!"