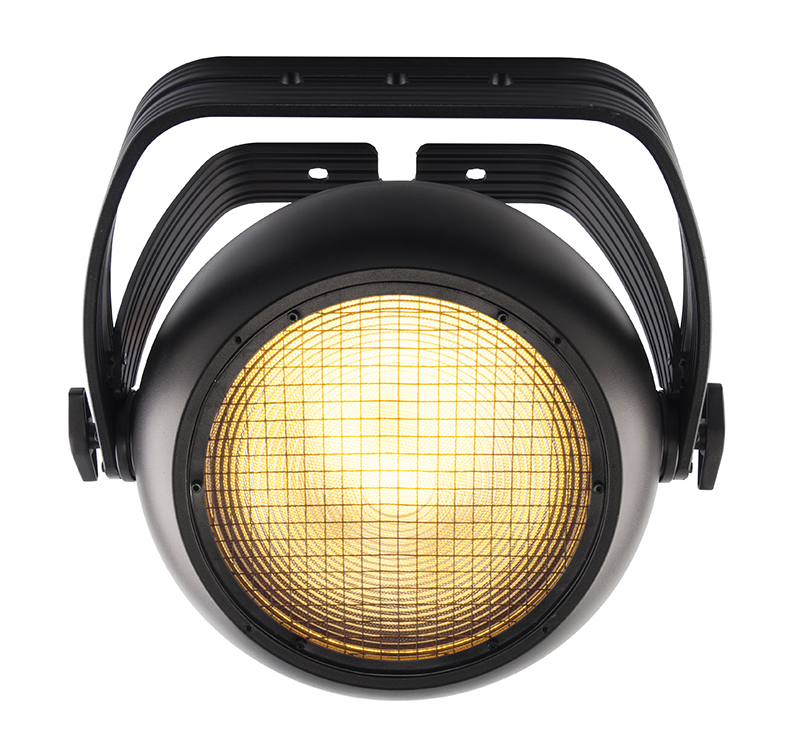 by Nook Schoenfeld, PLSN
Ever since I saw a Police reunion show a few years ago, I have had visions of moles on steroids. They had giant 9-lite moles that looked like they had par 56 bulbs in them as opposed to the normal par 36 bulbs we see in blinders. I thought to myself ten years ago, "Why doesn't someone just make a "Build your own Blinder kit?"
Perhaps manufacturers were waiting for LEDs to get bright enough. Perhaps nobody but the folks at Chauvet thought about this. Either way, this is one happy designer to have a new toy in his toolbox. I can make giant 9 liters, L- shapes, T-shapes like crosses. I can blind my audience however I want – and not need a separate 400-amp service to do it. And I could care less about hanging these things in the rain.


The Physical Fixture
I take what appears to be the equivalent of a black bowling ball out of the box. This fixture is heavier than I thought it would be, weighing in at 18.8 pounds, but when you see the large lens that spits out that white light, you can guess why. Its sleek, rounded cast-aluminum head is thick and ready for road use. The black powder coating doesn't scratch off, and this puppy will not dent without some extreme abuse. It's flat in the back where users can plug in their AC and 5-pin DMX ins and outs. These panel mount connectors have rubber waterproof covers that fit snugly over any unused connectors, ensuring its IP65 rating. The auto ranging power supply is fed AC through a Seetronic Powerkon A connector, which has an Edison connector on the male end. A waterproof fan takes air in and dispenses it out of side ducts. You can pour a beer in the fan, and it won't harm the light.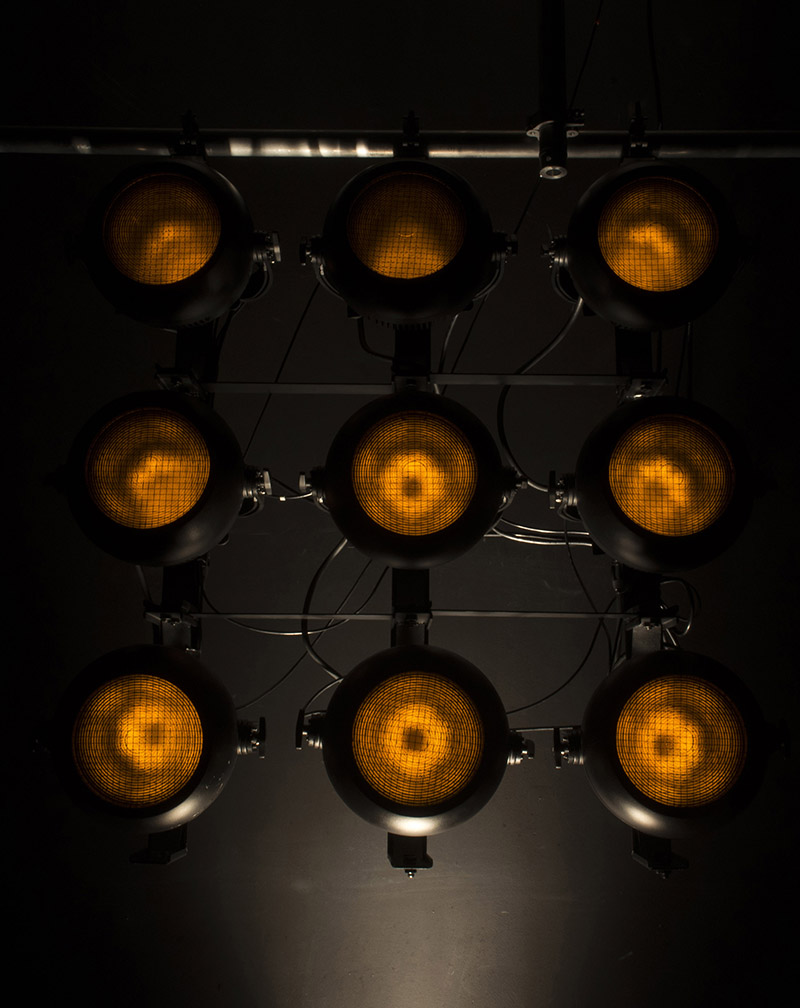 The front circular 8.75-inch-diameter lens is a Fresnel style diffuser that softens the beam. The fixture comes with gel clips (and a frame) that you can screw into the fixture. It is a standard size that will allow existing barn doors to attach to it should beam spread be an issue. Covering the plastic lens is a wire mesh that appears to be a safety, but it is only there for aesthetic purposes. (Chauvet uses a similar mesh with this fixture's little brother, the STRIKE 4.
Attached to the side of the fixture is a double yoke for using as a floor stand, attaching a clamp or as part of the Build-a-Mole assembly. It is so well engineered that I doubt the T-handles will ever strip out. I could stand on this light and it will hold my weight. Besides the yoke, each fixture comes with an additional metal Multi-Bracket that allows the user to couple two fixtures easily on top of each other with some spacers. The user can hang up to four fixtures vertically with these clamps. There is an additional Spacer-Bar that allows for the sideways connection of the fixtures. This bar ensures that the lights are separated perfectly, for any pixel mapping applications.
The Lamp Source
The STRIKE 1 emits white light through a 230W warm white square COB source in the middle of the fixture. It is surrounded by eight 2W amber LEDs that help create what Chauvet is calling The Red Shift (more on that in a sec.) The great thing about this light is that the 30° beam spread (51° field angle) is a bit directional. I can shine it on a wall 100 feet away and see a circular hotspot that's about 30 feet in diameter. There is plenty of spill on either side of the spot, so audience coverage is simple.
At full intensity, the fixture has a CRI of 93. From five meters away, I measure an output of 1,100 lux. From 20 meters away, it drops down to 265. The beauty of this fixture is it can light a room like a bunch of soft lights. Everything is lit up well, but the audience will not be visually blinded with forearms across their foreheads protecting their eyes.
There is not a variable CTO filter or way to shift the color temperature other than turning on the function labeled "Red Shift." It is a single DMX channel that activates the amber LEDs to warm up the beam to more of a tungsten color. The change in color temperature is noticeable to the eye, but adding the amber LEDs doesn't really add to the lumens output. Where it is very noticeable is when you dim the white LED's down, the amber LEDs enable the beam to emulate a tungsten lamp fading. This it does very impressively.
Fixture Control
At 110 volts, I am able to daisy-chain the power for six of these fixtures. I can add more as the voltage increases (i.e., 11 can be linked at 230V). The user has the option of linking multiple fixtures in master/slave mode. The slave will always copy the demands of the master fixture it is linked with. To control the fixtures from my desk, I fed them straight DMX thru 5-pin XLRs, but they are equipped for RDM use as well.
Each fixture can be controlled via 3, 4, 5 or 7 channel modes. The basic 3-channel mode gives the user an 8-bit dimmer and on/off control of the red shift function and the ability to adjust the dimmer curve. Other modes offer additional channels for 16 bit dimming, strobing, dimmer curve and auto-program effects. The strobe is a sync strobe that offers various rates. It does not offer a random strobe function, but what blinder really needs that? The auto effects include on/off effects, some with pulsing and various decay times and ramp up speeds.
There are three different personality modes for dimmer curves one can work with, and they can be set on the actual fixture. Chauvet has added a DMX channel to allow the user to choose the dimmer curve they want at any time. This DMX channel just makes programming that much easier. In mode 1, the fixture fades in and out instantly like any LED bulb. The dimmer curve is flat, and the fadeouts are clean. In mode 2, the fixture has a one-second decay time when the fixture is doused, just like a DWE bulb in a mole fey. The last mode has an extended two-second decay.
The PWM frequency for this fixture can be adjusted between 600Hz and 25KHz at various increments, for flicker free camera operation. The fan modes can be adjusted or turned off for silence. There is an internal temperature gauge that shows you the heat at the circuit board. I left the fixture on at full, face down on a piece of cardboard for 20 minutes. When I came back, the cardboard had browned from heat and the face of the fixture was too hot to touch. The outside of the fixture was barely warm and could be hand carried easily. The thermometer measured 44° C at this time. After five minutes of cooling it read a mere 27° C. The fixture can be safely hung at any angle. The small LCD screen is easy to maneuver for addressing, etc.
I am extremely impressed with the various attack and decay rates I achieve just using the chase settings on my console. This is a very smart, well-thought-out fixture to control. The STRIKE 1 fits a niche in our business, as nobody else is manufacturing anything similar that I have seen. If you are tired of the same old 8-Liters you see at every concert this may be that something new and cool that differentiates your show from others.
At a Glance
Build-Your-Own Blinder Shapes
CHAUVET Professional's STRIKE 1 fixture is a well-thought-out unit that gives lighting designers the tool they need to temporarily blind the audience in creative ways – in "9-lite" squares or in L-shapes, T-shapes or patterns like crosses. The STRIKE 1 has a rugged, tour-ready design with yoke and metal multi-brackets that help space the fixtures with uniformity, which can help with pixel-mapping applications. "Red shift" with amber LEDs lets the fixture mimic the look of a fading conventional tungsten fixture, with color temperature warming as the fixture intensity fades.
CHAUVET Professional STRIKE 1
PROS: Bright single beam with nice spread. Build-your-own-size blinder options. Tungsten emulation through "Red Shift" effect. Good choice of personalities for dimming. IP65-rated.
CONS: None.
FEATURES:
230W white LED light source
8 2W amber LEDs
LEDs rated for 50,000 hours of use
Color Temperature: 2,688K (full), 1,941K (10%)
CRI: 93
Beam/Field Angle: 30°/51°
IP 65 rated for outdoor use
Black aluminum die-cast housing
16-bit dimming for smooth fades
Multi-brackets help users create multi-fixture designs
OLED display is easy to read and use
Adjustable PWM for flicker-free use
RDM control option
Accessory Holder/Gel Frame (8.87")
SPECS:
Size: 15" x 7.4" x 14.6"
Weight: 18.8 pounds
Wattage: 260W
MSRP: $1,229
Manufacturer: CHAUVET Professional