Roxy's Downtown Goes Full-Speed CHAUVET Professional!
Posted on June 19, 2015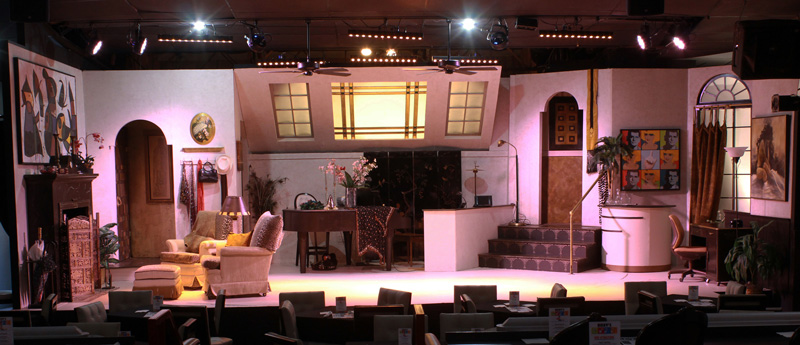 Like a proverbial cat, the stately building on 412.5 Douglas in Kansas' largest city has gone through many lives. Starting out as a movie theater, it later morphed into a penny arcade, pool hall, recording studio and cocktail lounge, before becoming a cabaret that featured theatrical performances for 22 years until closing its doors. Now as Roxy's Downtown, the building is back for an encore as a theatrical venue, this time with a plan to attract a broader audience thanks in part to an all- LED lighting rig featuring fixtures from CHAUVET Professional.
"This old venue, which was called Cabaret Old Town, was a fixture among theater lovers," said Sean Roberson, who remembers sneaking away as a high school student to see shows at the building. "We missed it when it closed, so when John Hammer reopened the building as Roxy's Downtown, all of us who grew up with theater were pulling for him to succeed."
Roberson did much more than wish the new venture well; he was able to contribute to its success, when, as project manager of Theatrical Services, Inc., he helped convince Hammer to go with the Chauvet Professional and CHAUVET DJ LED stage lighting rig.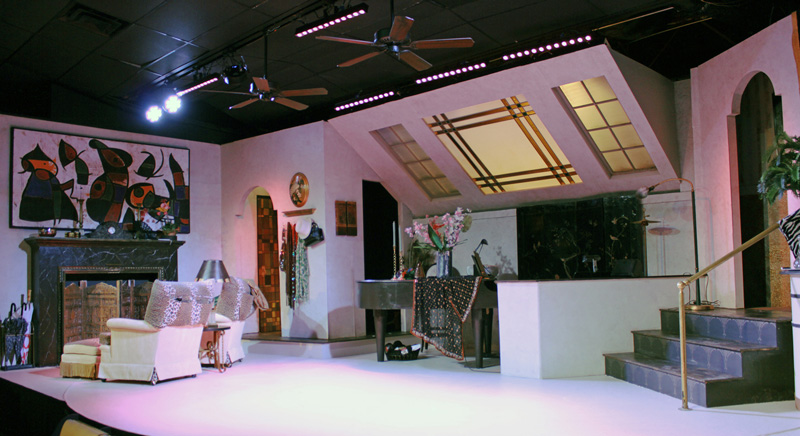 "The old lighting system was a hodgepodge of all different things, none of which were very functional," said Roberson. "We demoed the Chauvet gear to John and explained the advantages it offered. He agree to rent the rig for the first production at Roxy's Downtown, Plaid Tidings, the holiday version of Forever Plaid."
Apparently the Chauvet LED rig made a powerful impression on the Roxy's Downtown audience and owner. "The crowd loved the lighting and commented on it," said Roberson. "At that point John was committed to having us install the rig permanently."
The rig that Theatrical Services installed at Roxy's Downtown includes four COLORado 1-Quad Zoom Tour RGBW par style fixtures with a wide zoom range of 16-48 degrees, six COLORdash Batten-Quad 12 RGBA linear fixtures, six COLORdash Par-Hex 12 120-watt hex-colored RGBAW+UV par style fixtures and one Followspot 75ST from CHAUVET Professional's sister company CHAUVET DJ.
"There's an excellent fit between this rig and the needs of Roxy's Downtown," said Roberson. "Being that it's all LED, it's great in terms of power draw. We didn't need to have an electrician. Everything was plug and play."
Then there was the value proposition offered by the lighting rig. "In this type of project, budget is always an issue, "said Roberson. "We were able to provide the theater with a very capable and versatile stage lighting system without incurring a huge expense. As a company, Theatrical Services has had an excellent experience with Chauvet fixtures, but this was the first time we used the COLORdash. And wow, yes – I was very impressed with its intensity and color quality. Plus I liked that it could be hung with a single clamp."
All fixtures in the Roxy's Downtown rig are positioned overhead on house pipe. "There's a lot of dancing in the performances here and this isn't a big stage (24' wide by 16' deep), so we don't want anything floor mounted," said Roberson, who mounted he four COLORado 1-Quad Zoom Tours on pipe about 10' from the stage. "This is a great distance to go from washing to tight zooms," he said.
The COLORdash Batten-Quad 12 fixtures are used for back lighting, and the COLORdash Par-Hex 12 fixtures are mounted on either side of the stage. Typically 150 to 200 cues are created for a show, producing multi-dimensional looks that resonate with today's audiences.
"A great thing about this system is its versatility," said Roberson. "It allows us to create the kinds of looks that people expect in a theatrical production, which creates a better experience for audiences. Since we can create so many colors and looks with this system, it makes us more attractive for corporate events during the early part of the week when we don't have theatrical performances."
The user-friendly rig is also nice for LDs working at Roxy's Downtown, according to Roberson. He ought to know, since he's been the lighting director for many of the theater's productions. "It's funny, I have been working as an LD in this area all of my adult life, but I never worked in this building before, even though I saw performances here quite often as a kid. Now that I'm working here it's a nice full circle experience."
# # #
For more, check out Theatrical Services Inc.