Meghan Trainor ROCKS Nexus 4×4 and NXT-1!
Posted on June 13, 2015
Next NXT-1 and Nexus 4×4 Step Up Energy Level For Meghan Trainor On Today Show!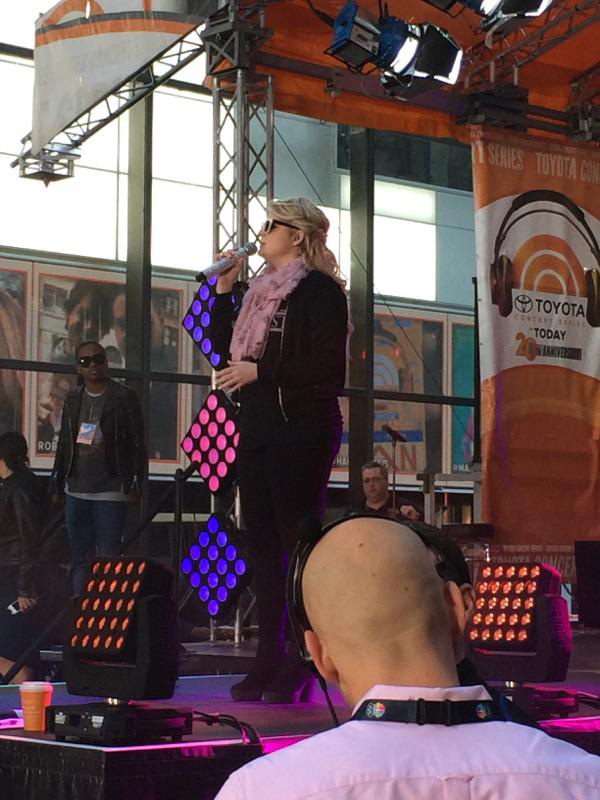 NEW YORK – Grammy-nominated singer Meghan Trainor has been making waves ever since she burst on the music scene. It's not just her highly resonant voice and distinctive blend of blue eyed soul, doo-wop and pop that make this effervescent star stand out, it's also the confident, carefree way she defies expectations about body types and sets an example for 21st century women to define their own standards. Trainor's independent exuberance was on full display during her recent appearance before millions of viewers on The Today Show, supported by an appropriately dynamic lightshow featuring a collection of CHAUVET Professional Next NXT-1 and Nexus 4×4 LED panels provided by WorldStage.
Lighting designer Peter Greenbaum used the Next NXT-1 and Nexus 4×4 to create a seamless look on The Today Show's Summer Concert Series Stage. "I wanted the lighting to pull everything together on stage, so we got this free-flowing ambience that caught viewers up in Meghan's performance," he said. "Meghan's songs are so lively and full of fun, we couldn't create a lightshow that was anything less."
Greenbaum used 20 Next NXT-1 panels in his design. All of the panels were placed on the stage deck, six lining the 12' runway and 14 masking the upstage musician's riser. The LD placed these panels as close together as possible to create a unified look on the runway. Complementing these panels were 12 Nexus 4×4 units, three on each of the stage's four upright truss structures.
Arranged in diamond patterns, the Nexus panels were oriented toward the bottom section of the downstage truss and top section of the upstage truss, helping to create a multi-dimensional textured look. "We used the Nexus panels as diamonds rather than squares," said Greenbaum "This configuration added an extra element of fun to the design, which was fitting given the nature of the performance."
Taking advantage of the color rendering capabilities of the Next NXT-1 and Nexus 4×4, Greenbaum created a rich variety of pastel hues on stage to match the mood of Trainor's music. Also adding to the upbeat mood of the lighting design was the interplay between the LED light sources of the Next NXT-1 and Nexus 4×4.
"I love the look of the individual cells on both units," said Greenbaum. "The smaller cells on the NXT-1 and the larger ones on the Nexus really work well together. This is especially so when you add the movement of the NXT-1 panels. So you have smaller beams and large ones, moving beams and static ones, plus all the changing patterns and colors. It all adds up to excitement and fun."
Greenbaum relied primarily on preprogrammed patterns in the CHAUVET Professional units for the Meghan Trainor lightshow. "Given the nature of our production schedule at The Today Show, we have very little time for programming," he said. "However our programmer Mike "Googs" Gugliotti and outside LD Phil Grosso did an excellent job pulling everything together. Between them and Drew DeCorleto and the team at WorldStage, we accomplished some pretty impressive things. Anytime you have an artist like Meghan who has so many dimensions to her performance, you want to create lighting that does more than just sit there on stage. Based the feedback we've gotten, I'd say we created a lightshow that stepped up for a very energetic performer, and that feels very good."
# # #
For more information on WorldStage visit: www.worldstage.com