COLORado 2 Quad Zoom Tours at HOME at Centerpoint Church!
Posted on June 7, 2015
Centerpoint Church in Arvada, Colorado recently went CHAUVET Professional!  COLORado 2 Quad Zoom Tours are now giving the Arvada-based congregation new color, new light, and a new atmosphere!  Check it out!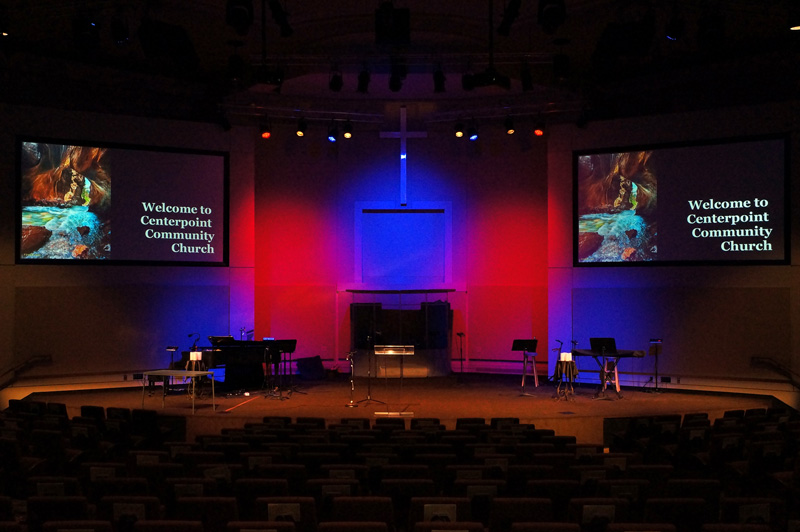 ARVADA, CO – Stroll down Grant Place or Webster Street in Old Towne Arvada and you might find it hard to believe that you're less than a half hour away from Denver. Although this picturesque village, which traces its roots back to the 1850 Colorado gold rush, has grown into a sizable commuting suburb, it's managed to retain much of its old-fashioned hometown feeling. This is evident in Arvada's many homegrown festivals; and it's also plain to see in the warm attitude that prevails at the city's Centerpoint Community Church, which welcomes visitors with refreshments before services every Sunday morning.
As deeply rooted as it is in tradition, however, Centerpoint is also committed to creating an engaging worship environment for modern sensibilities. With this in mind, church leaders contacted Roland Dutzmann of AcousTech (Franktown, CO) to give their 500-seat house of worship a major remodel that includes new backdrops and scenic elements, an updated audio and video system, HD cameras and a largely LED lighting rig that features nine COLORado 2-Quad Zoom Tour par-style powerhouse fixtures from CHAUVET Professional.
"The church basically jumped ahead 30 years with the remodeling, and the new LED lighting system was a big part of this leap," said Dutzmann. "Prior to the remodel, the church just blasted the stage with light. There was no backlighting, no subtle side lighting. There was a realization within the church that to reach people today, they would need to create an environment that was visually more engaging."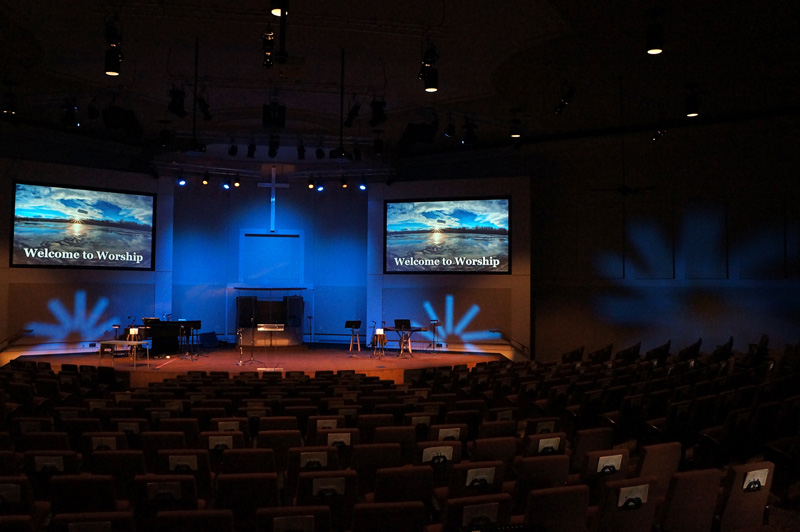 Essential to creating this type of environment was the ability to introduce more color to the church's stage during services. This made the COLORado 2-Quad Zoom Tour fixtures an easy choice for the remodeling project. With fourteen 15-watt Quad-Color RGBW LEDs, a zoom range of 11°-43° and nine dimming curves, the COLORado fixture is capable of creating an endless variety of color combinations and patterns to accent church services.
Dutzmann positioned five of the fixtures on overhead truss in the mid-stage area. The light from these fixtures is used to colorize the wall behind the stage, as well as the corner of the baptistery and the space around the video screens.
The four other COLORado 2-Quad Zoom Tour units at Centerpoint are truss mounted for downlighting the stage. "The Chauvet fixtures have tremendous output on all colors," said Dutzmann. "The light gives you a very solid color wash with very little spill. Directing four of them onto the stage, we're able to cover the area with some rich evocative colors that enhance the services without blinding the people in the pews."
Dutzmann also praised the versatility of the COLORado 2-Quad Zoom Tour. "Beyond the color rendering capability of this light, the zoom feature is a very nice addition," he said. "You can use that feature to get very creative with the patterns and give the stage different looks to highlight different points in the service.
"I also think it's very good that the fixture's field angle isn't that much bigger than the beam angle," continued Dutzmann. "This feature really makes the COLORado ideal for the kind of short beam projections you need in a church of this size."
In addition to the nine COLORado units, the Centerpointe lighting system includes a collection of LED moving head and par fixtures as well as incandescent ellipsoidal units. Run by the church's volunteer staff, the lighting system has been well received by worshippers who appreciate that Centerpoint has been able to create a new look while remaining true to its traditional values.
# # #
For more information on AcousTech visit: www.acoustech.com