The Weekly Rig from CHAUVET Professional and TRUSST – Soul Mirrors!
Posted on March 21, 2014
It's time for the third installment of CHAUVET Professional and Trusst's weekly series, The Weekly Rig!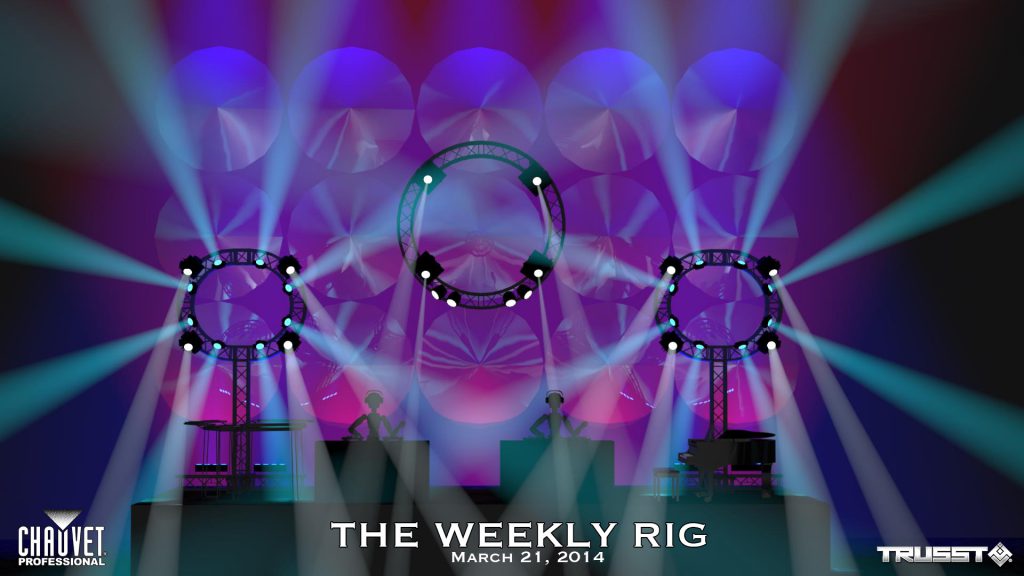 This week we feature a larger design that includes a scenic element of mirror-finished conical discs hanging behind the act, which in this application is an EDM-style design.  With TRUSST arcs compiled into circle lighting positions, this design is created to make the best use out of music in the electronic style!
Keep in mind that it's always a good idea to sandbag the rear ends of any structure that has a front-heavy load.  This helps ballast the pieces and add additional safety to standing pieces on stage.
This week's design, which we're calling Soul Mirrors, features Trusst 1.5m and 3m arcs, 1m, 2.5m, and 3m straight sections, and Trusst 6-way corners to make the connections where needed.  On the CHAUVET Professional fixture front, Soul Mirrors features Legend 330 SR Spots, Legend 230SR Beam fixtures, Legend 412Z wash heads, the venerable COLORado Batten 144 Tour, and the bright and punchy COLORado 4 IP units.
Check it out, and please share with your fellow lighting communities!