The Making of a Legendary Infectious Booth
Posted on November 3, 2011
Written by Mike Graham, product manager for CHAUVET Professional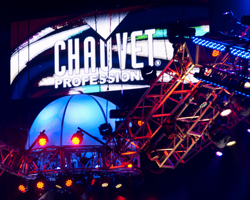 It took four days for our CHAUVET team to set up a giant spider and create a booth that amazed and infected hundreds of attendees with light at LDI 2011 in Orlando. We worked day and night installing 46 pieces of truss, 31 motors and ran about 2,000 feet of cable. Overall we rigged approximately 17,000 pounds of gear. We also had a custom-built motor control and used seven universes of control. Our efforts paid off when CHAUVET was announced the winner in the Best Large Booth category.
We interlocked about 300 hypnotizing MVP video panels into a large-scale wall that framed the booth on three sides. It was impossible to miss the addictive light show  projected by the giant truss spider lingering above the 1,800-square-feet booth. The truss spider held over 200 fixtures, including the COLORado Zoom Tour static wash lights and Legend 412 moving yokes. At the floor level, we built a runway  flanked by Q-Wash 260-LED moving heads and the new Épix Bar and Épix Strip, pixel mapping fixtures run by ArKaos Kling-Net protocol. We also added lights from the COLORado series, the WELL and a Followspot 1200 into the booth space.
We enlisted the help of lighting designer Chris Lisle, who was most recently involved in the Miranda Lambert tour, and Scott Chmielewski, president of Digital Media Designs. Chmielewski helmed the controls and video integration while Lisle spent more than 12 hours programming a show that featured 57 cues controlling 17 different CHAUVET fixtures.
Even though everything ran smoothly, we decided to go above and beyond to make the booth even more infectious. The spider's legs were initially designed to be tighter towards the center, but we adjusted them to go above the video walls, adding more dimension to the entire setting. We decided to add layers because it makes everything more dynamic and gives a lot of perspective. We ran outside the booth and outside the box – literally.
And since we had everything coordinated so well, breaking down the booth only took 12 hours total. We have gone through months of preparation and brainstorming to create something so unique, and LDI passed by like a flashing beam of light. But it was all worth it, because we knew we made history.