Anthony Hamilton Gets Funky Onstage with the Q-Wash 560Z LED!
Posted on May 28, 2014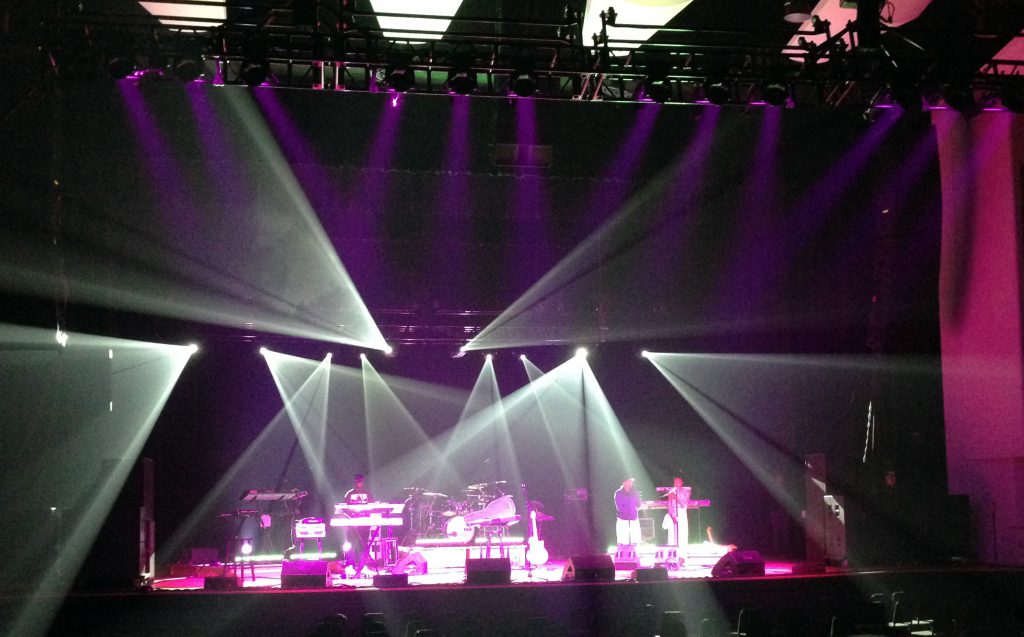 WOW!  Have you seen Anthony Hamilton onstage lately?  
The voice, the power, the feeling that is Anthony Hamilton is just as ever-present as it was back in the day!  Brandon Thomas of Audio Visual Services recently lit Anthony Hamilton's show using the Q-Wash 560Z LED in place of the typical 60 piece 1kW PAR rig, and the results were magic for all involved!  Check it out!
ALBANY, GA – Grammy winner Anthony Hamilton is thought by many to be the coolest man in R&B thanks to his natty attire, deft moves on stage and seemingly effortless way he can breeze through long winding vocal runs that go from vulnerable highs to gritty lows and everything in between. The multi-platinum artist, whose song "Freedom" was featured in the soundtrack from Django Unchained, found it easier to keep his trademark cool recently at the Savannah Civic Center in Georgia and Florence Civic Center in South Carolina, thanks to a new lighting rig set up by Audio Visual Services of Macon, GA.
Brandon Thomas, lighting designer for Audio Visual Services, replaced the 60 1000-watt pars that the company had been using in its touring rig with 12 Q-Wash 560Z-LED moving yoke washes from CHAUVET Professional.  Featuring 91 high intensity calibrated LEDs (22 red, 23 green, 22 blue, 12 white, 12 amber), the Q-Wash 560Z puts out an impressive 13,100 lux at 5 meters. This output allowed Thomas to achieve the brightness and color rendering he had been getting with his par setup while generating far less heat and consuming far less electricity.
Prior to adding the 12 Q-Wash 560Z fixtures to his downstage rig, Thomas used the 1000W pars in groups of 10 to 15 to create different colors on stage. Now, the Q-Wash 560Z allows him to create colors using fewer lower wattage fixtures.
"I fell in love with the Q-Wash 560Z as soon as I saw it because of its brightness, which is greater than anything I've encountered at this level of the market," said Thomas. "We can use it for something like the Anthony Hamilton concert and draw much less power and generate much less heat on stage, which is something the performers really like."
Another thing performers tend to appreciate about the Q-Wash 560Z is its amber output. "Most of them want amber, because it makes them look better," said Thomas. "The zoom angle and color blending are other features that we put to good use when designing this lightshow."
The Q-Wash 560Z also saved Thomas time creating colors for the Anthony Hamilton concert.  "When we had the 1000-watt pars, we had to take the time to gel and focus six different colors," he said. "Now that the color rendering is done inside the fixture, we don't have to focus different gels; we just daisy chain the units and we're good to go. I should also tell you that the Q-Wash 560Z cut our set up time in half."
Thomas positioned the Q-Wash 560Z fixtures downstage truss to wash the performance area. He also used six CHAUVET Professional Batten Tour-72 LED fixtures to wash the stage with added colors, and eight Legend 230 SR Beam moving fixtures to provide intensely bright (96,000 lux at 15 meters) beams effects for the concert.
Hamilton, who won a 2009 Best Traditional R&B Vocal Performance Grammy for his collaboration on "You've Got the Love I Need" with soul legend Al Green, has earned nine Grammy nominations, including ones for Best R&B Song and Best R&B Album, making him one of the hottest acts in this genre. However for two performances in Georgia and South Carolina the crooner remained incredibly cool despite being immersed in an intense lightshow thanks to Brandon Thomas' new rig.
Thomas credits Jamey Brock of Creative Stage Lighting, (North Creek, NY). for helping him discover the potential of the Q-Wash 560Z. "Everyone was very happy with the Q-Wash 560Z," said the LD. "The way it performed at this concert has made us rethink how we wash the stage."