Parker Genoway and Will Chandler Give Bob Moses Tour Unique Dimension With CHAUVET Professional
Posted on November 12, 2018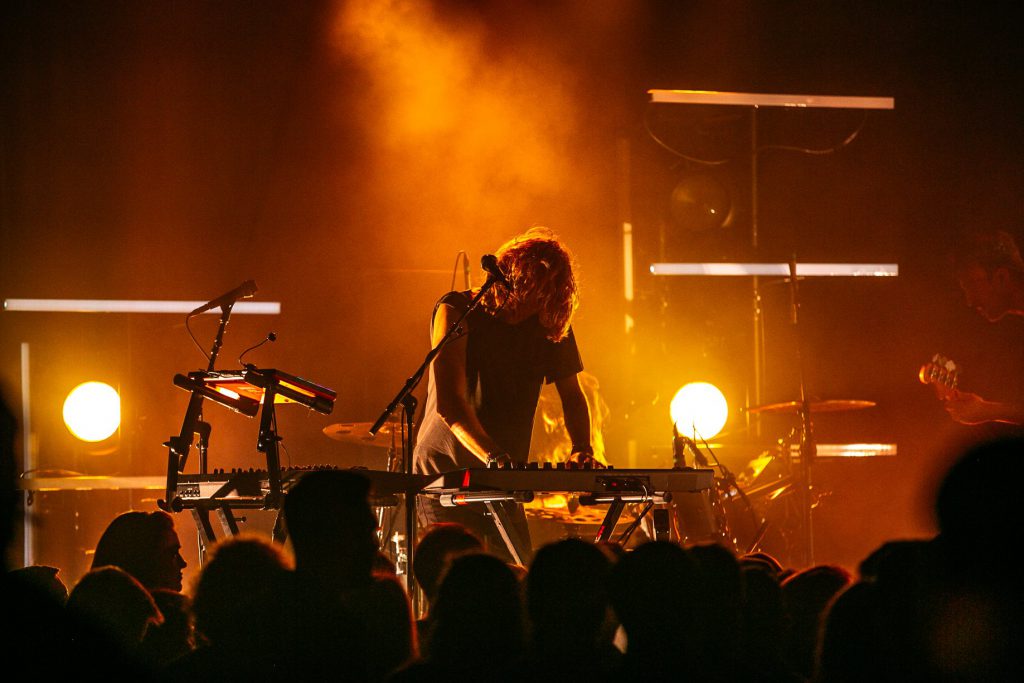 NEW YORK – Bob Moses is on a roll. The Canadian duo of Tom Howie and Jimmy Vallance followed up their Grammy-winning debut Days Gone By with the release of their Battle Lines LP on September 14, and quickly saw it jump to No.3 on Billboard's Dance/Electronic chart. Blending industrial rock undertones with signature Bob Moses electronic music, the album represented an expansion of the duo's sound.
Fittingly, Bob Moses wanted to support the tour for their new album with a bold, fresh look on stage. With this in mind, they asked lighting designer Parker Genoway to join with their lighting director of two years Will Chandler to create a lightshow that defies expectations. The result is a visual creation that blows predictability to pieces with help from CHAUVET Professional Épix and STRIKE fixtures.
"We create some very unique neon-like looks by using custom lenses on the Épix units," said Chandler, owner of Envizion Entertainment. "The Épix's were pixel mapped, but Parker really didn't want to see pixels in the strips, so we created a custom lens that fits over them. This sacrificed a little bit of output, but it really blends the pixels together to create this smooth neon look. The design incorporates a more rock-and-roll tungsten vibe, so having visible LEDs wouldn't really fit that look. But the neon effect with the Épix works very well. The ability to create subtle pixel mapping effects on a neon looking strip is a huge bonus."
A total of 20 Épix Strip Tour fixtures are used on the touring rig. These fixtures are positioned on four pre-rigged rolling carts, with four units on each of the outer carts and six on the two inner carts. Forming an arch around the artists, the fixtures focus attention on the stage while endowing it with an added sense of depth. Some of the strips are arranged vertically, while others are placed horizontally. In addition to creating an immersive matrix effect, having the smooth neon-like lights oriented in different directions allows the show to incorporate a stunning variety of unique looks.
Also included in the rig and contributing to its tungsten feel are six STRIKE 1 fixtures. Positioned upstage and facing directly toward the audience. These units are used as both blinders and warm white washes.
"As a production house, we've been looking at LED alternatives for par cans and blinders for a while," said Chandler. "There are a few LED products that offer efficiency and extra features like strobe functions that you can't find in a tungsten fixture. However, the STRIKE 1 is the first of these fixtures that has really impressed us to the point of being a viable alternative to a tungsten.
"Especially at low intensity levels, the STRIKE 1 emulates a traditional tungsten light source very well, and all without having to bring in a dimmer rack," continued Chandler.
"Power in some of the venues on our tour has been limited, and in these situations the STRIKE 1s have proven to be very useful. It excels in situations where traditional pars and a dimmer rack just aren't feasible."
The Battle Lines tour, which kicked off with an appearance on the Ellen DeGeneres Show, is stopping at live music venues like Brooklyn Steel and the Hollywood Palladium. Along the way, it's encountering a wide variety of stage configurations. Thanks to its rolling cart design, the tour rig can be easily adjusted to accommodate different venues.
"With everything being LED, our cable looms are minimal compared to running dimming channels etcetera, so scaling the rig for different venues, or moving it from show to show, is relatively easy," said Chandler. "This is a bus and trailer tour, which means the whole rig plus audio and backline has to fit in one trailer. Thankfully the strips pack down very economically into a single road case, and because we're all LED we have no dimmer racks. The whole rig can run on six 20A circuits, so very little space is needed for a feeder and distro."
Chandler describes the rolling rig as "ideal from a practical standpoint." As for the rig's artistic merits? The looks it's creating are going miles outside the box to match the unique blend of music on stage, note for innovative note.