CHAUVET Sets the Stage For The Wizard Of Oz
Posted on August 8, 2016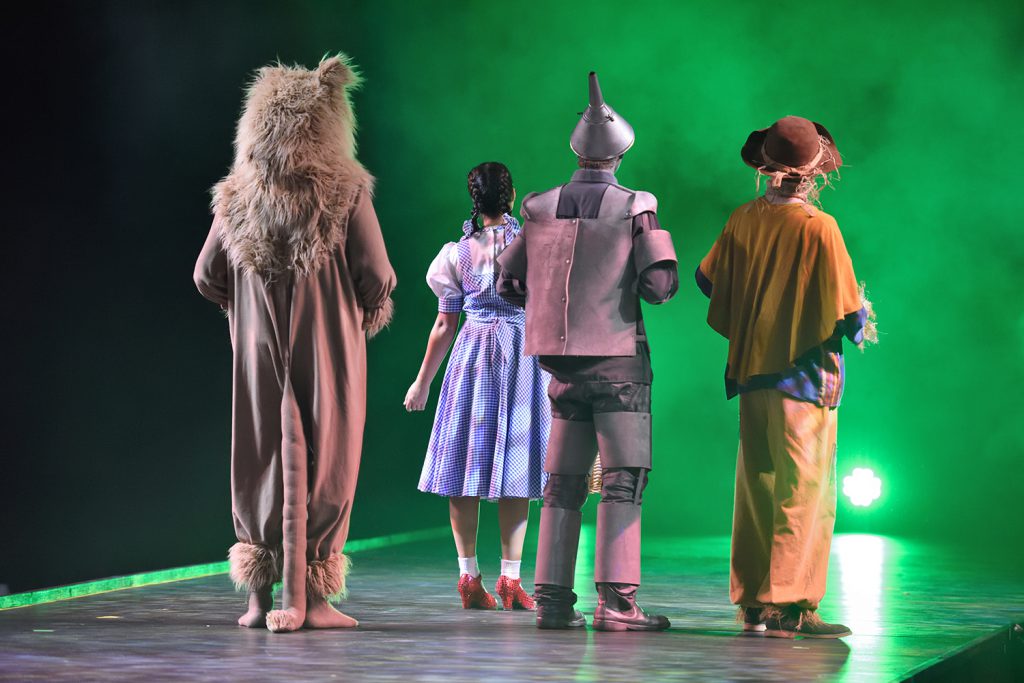 SYDNEY, AUSTRALIA – Not even the Wicked Witch of the West could scare away the crowds at the recent theatrical run of the Wizard of Oz, staged to sold-out audiences at the 2,000-seat Thomas Hassall Anglican College in Middleton Grange, Australia. To give the school production a professional stage look, technical supplier Showtools Australia specified a host of CHAUVET Professional fixtures, including 12 Rogue R1 Spots, 24 x COLORdash Par-Hex 12s, 24 x COLORdash Batten- Hex 8s and 2 x Vesuvio RGBAs to create maximum dimension and atmosphere on stage.
"It was vital for us that the production of the Wizard of Oz look professional in every sense of the word," commented Production Designer Michael Clisdell. "Each individual element of the CHAUVET Professional lighting rig enabled us to really step beyond the realm of the typical school production, and elevate the experience for the audience to that of a genuine theatrical outing."
Together with second Production Designer Peter Ford and Lighting Operator Dale Edginton, the production crew flew the 12 Rogue R1 Spots from above stage truss. "The R1 Spot was the star of the show," proclaimed Edginton. "The output of these compact fixtures is simply stunning. The sharpness and power of the spots elevated the entire production, giving the actors on stage the confidence they needed to really shine."
The Rogues performed several functions, including spot lighting various characters on stage, and providing atmospheric aerial effects projected onto the stage. The range of the Rogue's effects came under specific praise from Edginton. "Not only did the R1s tick all the boxes with regards to output, the stunning rotating aerial effects were brilliant," he said. "We were able to get the most out of the various gobo and prism combinations, often utilising our customised pre-programmed looks to signal and initiate changes in scene and mood."
An additional 24 x COLORdash Par-Hex 12s and 24 x COLORdash Batten- Hex 8s were positioned at steady intervals on above stage and side stage truss to provide colour fills and wash for the stage.
"The COLORdash fixtures delivered deep saturated colours," commented Edginton. Thanks to the RGBA LEDs outputting various whites as well as richly saturated colors, the COLORdash fixtures were able to fill in the gaps between the R1 Spots on stage. "The mix of Pars and Battens enabled us to wash the entire surface of the stage, with the entire scenic props and backdrops covered with an even field of light. They worked great as a counterpoint to the Rogues."
The Vesuvio RGBA fixtures also provided illuminated fog effects to add to the dynamic of the show. "The Vesuvios provided stunning plumes of thick illuminated fog," added Edington. "We were able to utilise the LED light source within the Vesuvio in order to accentuate and add a whole different level of suspense to particular scenes; for example, during the Wicked Witch of the West scenes, the Vesuvio truly heightened the sinister atmosphere with intense green fog!"
Thanks to the selection of Showtools-supplied CHAUVET Professional fixtures, the Wizard of Oz performances were awarded with the sort of professional looks normally associated with larger productions. "The lighting allowed the talented students to bring the iconic movie to life on stage in spectacularly convincing fashion," concluded Edginton: "We are just thrilled with the show. I am very proud of our whole College Community and especially our wonderful students."