The Weekly Rig from CHAUVET Professional and Trusst – EL DIABLO!
Posted on March 31, 2014
The Weekly Rig is here!  This week, the fourth week in the series, we call EL DIABLO — a rig of Trusst and CHAUVET Professional fixtures that gives your production a new look to bring big, bold, in your face design to wherever you play!
EL DIABLO uses several pieces of Trusst trussing, from the 3m Arc sections to the 1m straight sticks and a few bits in between.  The structure itself leads itself to being able to position a drummer, percussionist, or other specialist right directly under the main rig, which supports itself via its unique legging structure.
Full parts and equipment list for EL DIABLO:
TRUSST Trussing:
2 x 3m Arc section, CT290-430CIR-90
2 x 1.5m straight section, CT290-415S
2 x 3m straight section, CT290-430S
10 x 1m straight section, CT290-410S
8 x 6-Way Corner Block, CT290-6WAYC
CHAUVET Professional Fixtures:
4 x Legend 330 SR Spot
4 x Legend 230 SR Beam
8 x Rogue R2 Spot
7 x COLORado Batten 72 Tour
Ready?  Check it out!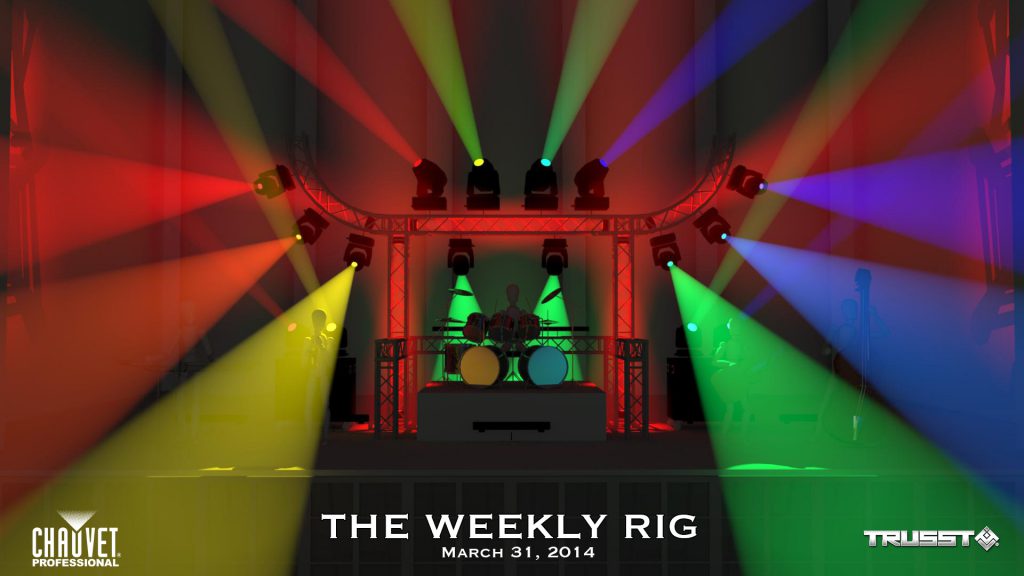 Take this image to your dealer to get this week's Weekly Rig into your hands!