REND COLLECTIVE ROCKING THE NEXUS
Posted on May 1, 2015
REND COLLECTIVE, rocking with NEXUS 4x4s!  Check it out!
SUNRISE, FL – When lighting designer Tyler Santangelo decided that floating diamonds would look better than squares on the stage for the Irish Christian experimental group Rend Collective, he simply adjusted the Nexus panels on his rig and created a new look. This was the first (but certainly not the last) time that Santangelo got to appreciate the versatility of the intense COB LED panels from CHAUVET Professional.
As the LD on the Rend Collective tour, which has crisscrossed the globe from Sioux Falls to West Sussex and Manhattan to Budapest, Santangelo has frequently called on the Nexus panels to create new looks to fit different venues and keep pace with spontaneous flow of the group's performance.
Rend Collective, which reached the top of the Billboard Christian Album charts (and number 13 overall) in 2014, has played in venues ranging from small churches to large arenas. "At the start of the tour, I knew that given the wide variety of stage sizes we'd be dealing with, we would need a lighting rig that was not only road worthy, but also very flexible," said Santangelo. "The Nashville office at 4Wall Entertainment worked closely with me to put together a rig that was simple, easy to transport and very flexible. Nexus panels were at its center from day one."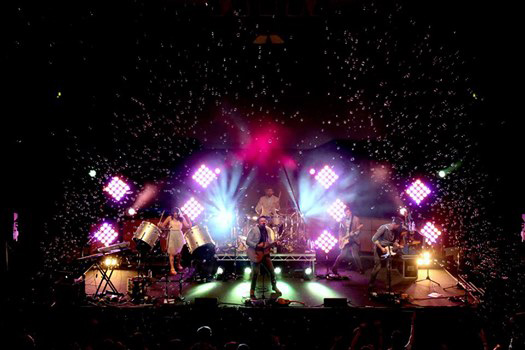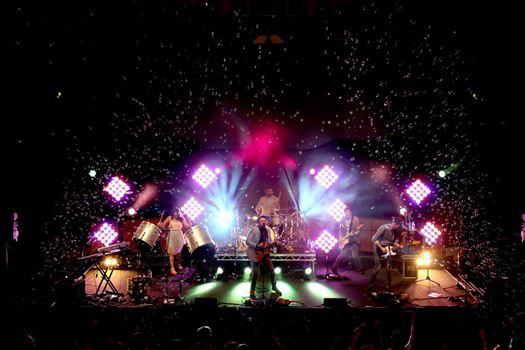 Santangelo makes frequent use of his rig's flexibility as the tour stops at its widely varied mix of venues. "At most stops we use 10 Nexus 4×4 panels on four towers, which really fills out the stage nicely," said the LD. "However, we're often in a position where we have to use only half or fewer of the Nexus panels. Yet we're still able to create an interesting looking show, because of the output and versatility of the Nexus panels make the stage look full – plus we have full 53-channel control, which gives us the capability to match our design to Rend's songs. We use a Martin M1 Console, and other additions included TMB 4-lite Punch Lites, Leprecon ULD-360 Dimmers, and Lex Distros with the ability to switch between single and three phase to program the rig."
The color rendering capabilities of the Nexus panels also create an engaging look on stage through various venues. "We've used the full spectrum of colors, but we've tried to stick mainly with warm colors such as amber and CTC," said Santangelo. "I've been amazed by the colors from the Nexus. None of the colors were off from some of my other LED fixtures on stage. It was nice to have matching reds and blues."
The low power draw of the Nexus was also critical to the versatility of the touring rig. "I had to make sure the show could go on whether we had lots of power or were plugging into a couple of sockets in a wall," said Santangelo. "The Nexus panels allowed me to fill a lot of space on stage using low amounts of power — not to mention, they can get so bright! It was nice to have so much color on stage."
A dynamic six-member group that seems to be constantly moving on stage, changing positions relative to one another and engaging the audience with unexpected actions, Rend Collective also created a special set of demands that called for a flexible lighting rig. As anyone who's ever been to one of the group's concerts will attest, these are artists who believe in their message and relish the opportunity to engage the audience with spontaneous actions.
This exuberant spontaneity provides audiences with a memorable experience, but it also creates challenges for a lighting designer. "It's incredibly fun and rewarding to be involved in this tour, and part of the reason is that it does present some cool creative challenges," said Santangelo. "Right from the start, I knew we needed a lot of versatility on this tour. This is where the Nexus panels came in handy. Whether I used a single light on a panel or all 16 lights, I was able to do so many different things with the Nexus. I could make the fixture look identical to a blinder in one of Rend's songs, then turn it into a vertical LED strip for another number."
The intense output of the Nexus panel added to its versatility, according to Santangelo.
"At full output, this fixture is stunning," said the LD. "I saved 100% as a cool effect such as when there were sudden pops or a Capella blinder type moment. If the band was in a standalone calm moment, I ran the fixture anywhere from 5%-20%. This allowed me to keep the focus off of the fixtures but still wash the stage with some amazing colors.
"Then, when the band did a more upbeat song, I ran the panels anywhere from 40%-75%, which still kept them in background, but delivered a powerful impact to the stage," continued Santangelo. "If you ask me to describe what the Nexus does, I couldn't give you a simple answer, because it does so much – it's as limitless as your creativity. When you want a small rig for a band that has a large personality and an extensive musical repertoire, the Nexus can be your best friend."
For more information on 4Wall Entertainment visit www.4wall.com
For more information on Tyler Santangelo visit www.tylersantangelo.com
For more information on Rend Collective visit www.rendcollective.com