Time and Place – Matthieu Larivée and Egypt's Pyramids
Posted on June 1, 2021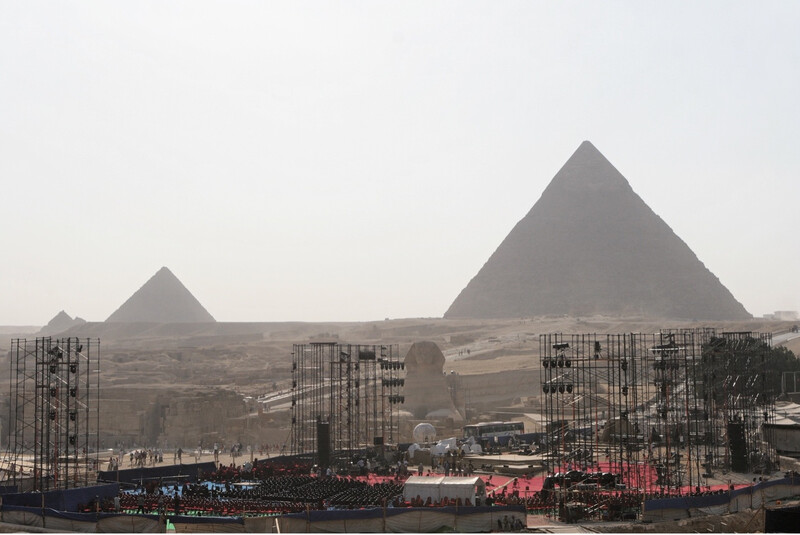 It was hard for Matthieu Larivée to believe the words he was hearing from Chantal Chamandy when she called one day in 2007. Larivée had created lightshows for a few theatre concerts by the Egyptian-born Québécois singer, and now on the other end of the line, there she was asking him to design a show she was planning at the pyramids.
As improbable as it seemed, the offer was real…. and later that year, Larivée was off to Egypt to light Chamandy's show with the Cairo Symphonic Orchestra for broadcast on television, including PBS in the USA.
Unlike other shows before it, this one would not be performed with the pyramids in the background; instead, it would take place at the actual site of the historic structures and the sphinx.
Set up was a challenge. The heat was stifling and the red tape daunting. Power at the remote site had to be supplied by 15 large generator trucks, which always seemed to be needing more fuel. Equipment supplies were inconsistent and the massive lights that did arrive had to be hauled into position manually by local body builders.
Yet for all these tribulations, Larivée wouldn't trade the experience for the world, as he explains in this interview.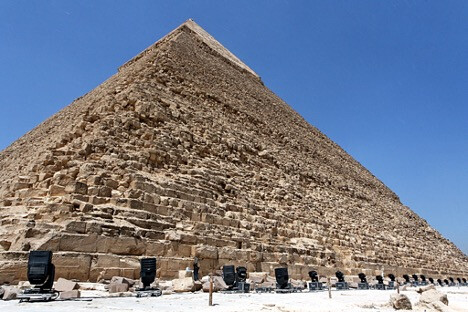 You must have been very excited when you learned you were going to be lighting the pyramids. How did he experience of actually being there differ from your expectations?
"It was unreal. So many projects that are discussed, never happen, I thought it would been of these, but no –it happened. I spent a lot of time preparing this gig, I did some scooting on the site, worked with a local provider, visited manufacturer to find the right fixture. It was a first show in Middle East and there was a lot of missing information prior to fly for the show.
"So, I was prepared for everything . I had a really good team, two great lighting assistants, plus a great crew from Montreal and Europe. The main thing is the scale of this site. There is a mile between the smallest pyramid and the big one (Keops) The bottom of Keops is like 3 football fields. There is nothing similar to regular show lighting."
Where did your client perform?
"For stage, she performed on a diamond shaped deck with no roof nor background. Therefore, only four scaffolding structures were used for the lighting rig. Again, you don t know how the haze will behave — and you don't know how the pyramids, bright or not, will look on tv.
So, how did the pyramids wind up looking?
"Surprisingly, the pyramids looked so close. They felt like a set piece."
This was a stunning setting, but were there any special challenges created when you had to light a show there?
"Remember, this happened back in 2007. It was a challenge having a precise plot. We used Google Earth. Driving with pickups into the desert to transport the massive lights was a huge challenge. The stagehands were body builders because of the massive road cases.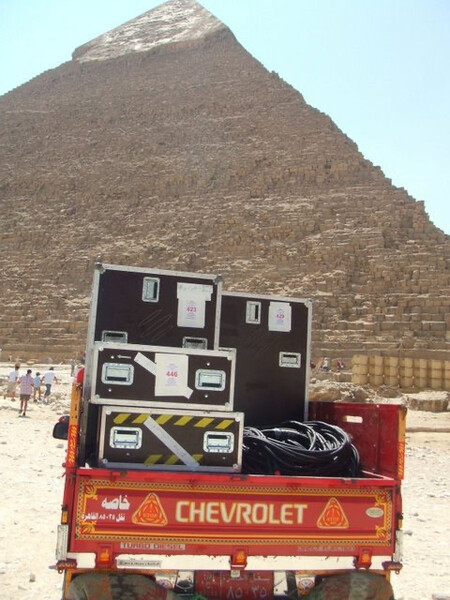 "This was on a sacred land so there were a lot of negotiations s to do on site. The power of all the lights we used had to be supplied by lights was 15 generator trucks. They had to be refueled very often over this huge site. The heat was a huge challenge for all of us too. The programming schedule was from midnight to 5am for a week. We did get all the system working at once, we had to program part of what was ready and we had only two nights to oversee everything.
What's the one word that comes to mind when you think of this experience?
"Pride."
Did the presence of the pyramids change the concept of the lighting design? Were things done differently to accentuate the presence of the pyramids?
"Yes. I wanted to find a way to light them differently than a ground wash. A lot of test were done on site to achieve the final show. It is impossible to plan ahead. The sphinx is also a big part of the background. It is smaller so I was able to have fixture behind to silhouette it. I was not able to do that with the pyramids."
How many times have you been to the pyramids? Do you plan to return?
"Twice. I plan to go back with my son because this is where I met my wife."
Do you ever dream about that time you spent lighting the pyramids?
Yes ! With all the technology that we have now, with the performing LEDs and with my experience, I'd love to do it again. It is one of the seven wonders of the world!"