Squeek Lights Puts Car Photo Sessions In Gear With CHAUVET Professional
Posted on September 29, 2020
MIDDLESEX, NJ – "If you're going to build a time machine into a car, why not do it with some style," Doc Brown told Marty McFLy in Back To The Future. Who could argue? Chic and smart with its gull wing doors, and sleek brushed steel body, the DeLorean DMC-12 that starred in the 1985 pop classic, had an unmistakable flair for turning heads.
The stunning looks of this long-gone classic were on full display recently at Squeek Lights' new warehouse, where they were made even more dramatic by something Doc Brown couldn't have imagined back in the day when he looked to the future — vividly saturated LED colored lighting.
Victor Zeiser and the team at Squeek Lights accentuated every bold line of the DeLorean on their warehouse's Ruby Stage for a photo shoot by washing it with 42 CHAUVET Professional Rogue R1 BeamWash fixtures from the company's inventory.
Directed at the low-profile car from a variety of angles, the colorful light made the DeLorean's daring Giorgetto Giugiaro-designed body even more vibrant, as if the vehicle were about to zoom off on a journey every bit as wonderous as the one Doc Brown had in mind.
For Squeek Lights, the DeLorean on the Ruby Stage did indeed represent the early steps in a new journey of sorts. With lockdown restrictions bringing a halt to the company's traditional touring dates, Zeiser has been using his new Ruby Stage and its well-appointed rig, to generate new business, such as livestreams, and now, automobile photography sessions.
"Due the craziness that is 2020, we have been looking for different ways to put our skillset and toolbox to use," said Zeiser. "One of the ideas we have come up with is providing a unique experience for car enthusiasts. My partner Ben Jarrett first came up with the idea to give his Mazda Speed 3 the "Top Gear" treatment and bring it into the space to get some shots of it in front of our rig."
After seeing the results of that initial session, and understanding the depth of the love affair that many in the USA have with their cars, the Squeek Lights crew realized they may be on to a genuine lockdown lighting opportunity. David Delman, "a real-life mad scientist" who convert an old DeLorean into an electric vehicle, brought his car in for a photo shoot — and the new service was underway.
Using photos and videos from the DeLorean shoot as marketing material, Zeiser and his team are selling 20-minute photo sessions on the Ruby Stage for $99. By lighting cars in vivid colors and adding dramatic touches like fog and haze, they are able to offer car buffs a unique service.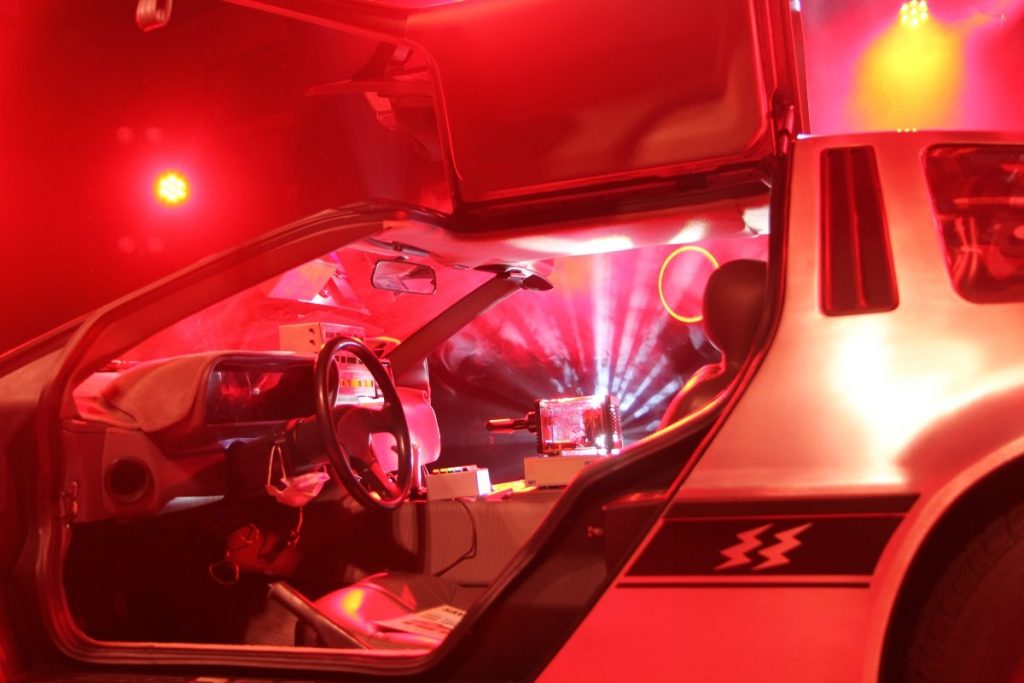 "We have a level of lighting here that a photo studio would have a hard time matching," said Zeiser. " The Rogues do an excellent job for us. Their small size allows us to fit a bunch of them in tight spaces. Then there's the wide zoom and all the flexibility it gives us. We can use them as a wash to light up the subject, or zoom them all the way down and add a new dimension to backgrounds with beams. Cars are an important part of life for many people, so we want to show them in special settings."
The car-driver relationship that Squeek Lights is appealing to has grown even stronger during the lockdown, as people spend more time in their vehicles during drive-up shopping trips, as well as on rides that simply get them out of the house for a safe, socially distant break.
Years from now, when they want to remember the things that got them through 2020, they'll be able to look at one of the images from a Squeek Lights photo shoot. Not as dramatic perhaps as strapping into Doc Brown's time machine, but likely to be a nice way to remember.