On The House: Alan Hamilton French Lick Resort
Posted on September 28, 2018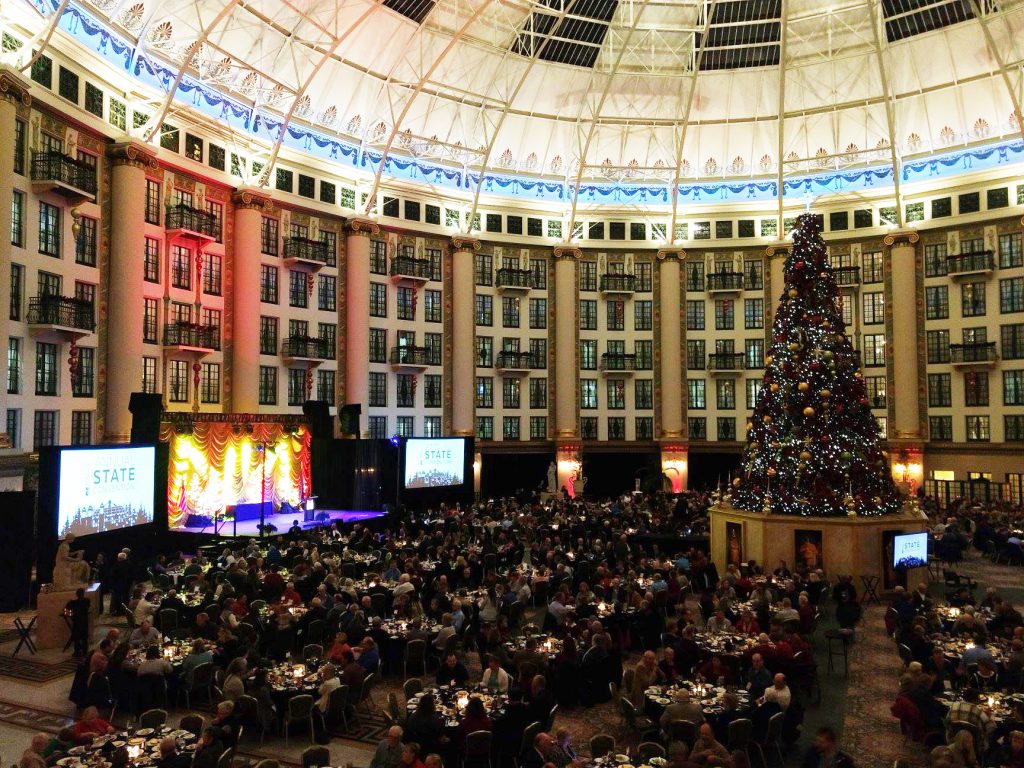 The nearest airport is located in Louisville almost 90 miles away. No professional sports team is closer than 100 miles to the north in Indianapolis. If you get the feeling that French Lick, Indiana (pop. 1769) is a remote small town, you're absolutely right. Yet, celebrities as diverse as Willie Nelson, Joan Jett, Styx and Eddie Money have journeyed to this beautiful corner of Indiana to play at the French Lick Resort, a stunning hotel, casino and entertainment complex that started out as a health spa and blossomed into a celebrity magnet early in the 20th century.
House LD Alan Hamilton has been lighting the entertainment at French Lick's 2000 capacity Hoosier Ballroom as well as smaller corporate meetings since the 1990s. Over the course of his career, working on thousands of shows at the iconic venue, he has strived to keep his approach to lighting fresh and original, making it a point to avoid "getting trapped inside the box."
Working with a steady stream of visiting LDs that come to the resort with "big name artists" have helped him keep his perspective fresh. At the same time, having to tear down each show and deal with a myriad of installation issues has honed his practical skills. He talked to us about how he achieves this balance as the house LD at one of America's most attractive venues.
We've been struck by the wide range of events you light at French Lick, from smaller corporate meetings, to rock concerts in your Hoosier Ballroom. So, you don't only need a versatile lighting rig, you also have to take a flexible approach to your work. Do you adjust the way you prepare for a project depending on the type of show you're lighting?
"Most definitely. Usually, Jeremy Hopkins and I will discuss the event and its parameters and design something to meet client expectations and needs. It's always different since we have to consider IMAG for many events, sometimes there's a band- sometimes not, sometimes there'll just be a solitary presenter downstage center and other times there could be things happening all over the deck. You don't necessarily want flash and trash, but most definitely need a level of visual excitement, so you're not left with just a functional look."
Do have a favorite type of show or event to light?
"Really no, I like the variety and challenges of different events. Concerts are always fun though."
Do you have your lighting rig permanently installed in the Hoosier Ballroom, or do you move it around to meet the various demands of your work?
"It moves around. Before the Hoosier was built the concerts were in the Windsor Ballroom and in that case the upstage and midstage fixtures could stay in place and tuck away just by taking it up a little higher. The way the room was designed the US and MS would be basically hidden until show and event days. The Hoosier doesn't have an ability to hide any of the rig and it's a multiple purpose room so it breaks down after each show."
When you light concerts at French Lick do you try to replicate a touring look as much as possible, or do you scale things back, because the show is taking place at a resort? In other words, are there things you wouldn't do at French Lick that you would do if you were lighting the same show on your own at a different venue?
"It's different. Trim height can be a little limiting so I don't get to play with layers as much as I would like to. We typically trim the MS truss at its maximum height but the US height can vary for different looks. But sometimes set pieces and floor packages or banners will dictate the US truss be trimmed at maximum height as well.
"Many of the acts we get carry floor packages. In those cases, they often don't want any other fixtures on the floor. And I understand that! They want the backline to be set up like it's always set up, cable paths like always, and no surprise fixtures in the way. But given my preference I like adding some type of floor package for a variety of looks. If nothing else then to at least wash the back curtain.
"So, to answer your question, it's a little bit of both, trying to replicate concert looks, but understanding some things will be different in a ballroom setting versus an auditorium for example."
How long have you been at French Lick and how did you hook up?
"I was working shows there as a vendor prior to the change in ownership and remodel so that would put me there 20 years ago or so. So, my name was in the hat so to speak and I've always had a good relationship with the hotel staff over the years."
You get some big name acts at French Lick, do they always travel with their own LD?
"I've not really done the math but I'd guess it's something like 75%-80% that are carrying an LD."
Do they always have their own floor packages?
"It really depends on the act. With LED lighting it really makes it much more practical for even small tours to carry some type of floor package. We definitely see more floor packages these days than a few years ago. Some are more elaborate than others, and not just vertical trusses, but set pieces, lighted risers, custom designed lighting carts, video panels, etc.
Whereas a few years ago, acts might have needed to carry feeder and a dedicated distro for their packages, these days most just request we provide a few dedicated 20A circuits and a spare DMX line for them in the DMX snake. But, as I said above, if the act isn't carrying a floor package, a lot of times that means they don't want one."
On the subject of visiting LDs, what's the secret to collaborating with them?
"We try to be flexible and accommodating. We also strive to make sure everything is kept in good working order and there are no surprises for them. Advancing is important and I try to have a detailed spec sheet emailed to everyone well in advance of the show. I like to make sure they have photos of the venue so they know what to expect when they arrive as well. And not just the rig, but load in details for them as well. And it's important to have a good crew that is experienced and understands how to professionally load a show in, get them on the deck, and get them out at the end of the night. And to do it efficiently.
And of course the resort does a wonderful job with accommodations, meals, and that end of things to make them comfortable when they get off the bus. Everyone wants them to have a good day there."
How involved are you in choosing fixtures for your lighting rig?
"Very. The concert package is almost 100% my decision."
You also have to deal with a lot of event planners and scenic designers at French Lick. What's the key to making that relationship successful?
"Billy Stone, Jason Melvin, and Jeremy Hopkins on our staff do a lot of preplanning and work through client needs and expectations, and then we all get together to make it a reality."
"The answer to those two questions might be similar. Knowing what's available and possible, and being able to plan upgrades and changes and all the flexibility that allows is great. But then that also means keeping track of all of that and not getting trapped into thinking too much inside the box."