Massive Productions and CHAUVET Professional Connect Burna Boy to Fans in Curaçao
Posted on December 2, 2022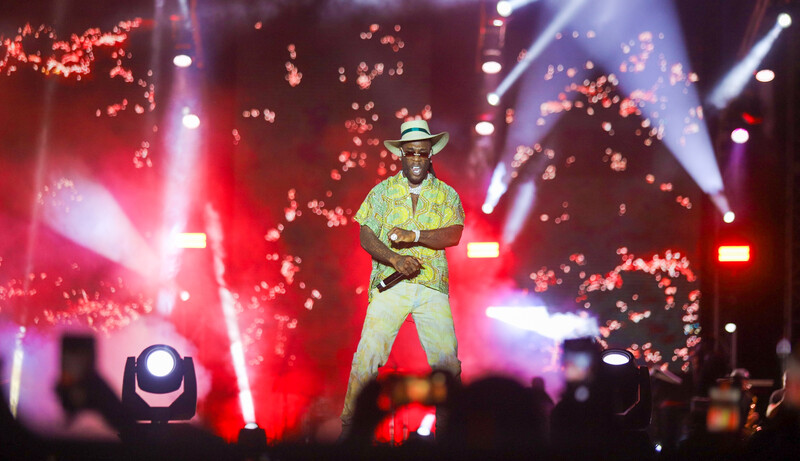 Willemstad, Curaçao – Fans from Aruba, Bonaire, and as far away as Suriname came to see Grammy winning singer Burna Boy at the Curaçao Festival Center on Friday October 28, but they would have missed much of his supercharged performance if they kept their eyes fixed solely on the stage.  World-famous for his rapport with fans, the Nigerian superstar wasn't on the main stage that often, as he spent most of his time on the long catwalk, roaming among them during his 90-minute show.
Shirt off, jumping, clapping, and gesturing to the happy, sellout crowd, this musical giant, made the concert, which was in support of his latest album Love, Damini, feel like one big party among friends. Setting the tone for this connection was a lightshow rich in audience lighting by Massive Productions led by project manager Jimmy Lo-A-Njoe  that drew on the power of 90 CHAUVET Professional fixtures from Massive Productions and its partner, Aruba Elite Productions.
"Burna Boy did not travel here with a LD, so one of our LD's Ramon Ramiz stepped in and did a did an amazing job," said Lo-A-Njoe.   "They also did not have a light plot. Instead, they left it all to us with just a few basic instructions. We had a great team of workers  and support from the event's organizers, Unique Productions, Key Caribe, and  Sunsplash, to get the job done well."
Among those instructions given to the design team was a request to provide plenty of audience light. "This is a very interactive artist," said Lo-A-Njoe. "He spent probably 90-percent of the time on the catwalk rather than the stage so he could be close to people. We wanted him to see the people — and given that the crowd is so large, we needed high impact lighting."
The design team used a carefully selected mix of fixtures to generate the impact they were after. Serving as the workhorse of the rig were its 16 Maverick MK1 Hybrid fixtures.  Positioned on vertically oriented stage left and stage right truss, the 440W fixtures, provided intense aerial effects, while also illuminating the crowd when angled low to direct beams just above their heads.
"Our Maverick Hybrids were power houses," said Lo-A-Njoe. "They punched through everything even our strobes and the huge Led screen. We had a lot of intense lighting extending from the middle of the stage out over the catwalk and crowd, but we could always cut through it all with our hybrids. You can see that clearly looking at all the social media posts."
Generating the lighting excitement over the stage were 12 Rogue R2 Spot, eight Rogue R3 Spot, and 14 Rogue R2 Beam fixtures. Most of these units were on four rows of raked vertical truss that rose as it moved from upstate to downstage. There were also16 Rogue R2X Beam units positioned on stage deck and on the cat walk.
Additional audience lighting was provided by 12 STRIKE P38 fixtures, which were flown in a straight line on truss that ran over the upstage deck.  The fixtures not only illuminated the crowd, they also lit the catwalk. "We wanted to keep a lot of lighting on every area when Burna Boy roamed," said Lo-A-Njoe. "This was important not only because we wanted the crowd to see him; we also needed to do this so his video crew would have enough light."
A collection of  12 COLORado 1 Tri IP RGB wash fixtures were flown over the stage. Working with the Rogue fixtures, they  were used to create immersive color backdrops. When the rig wasn't lighting Burna Boy and the audience in white light, it was used to create vividly color vistas dominated by reds.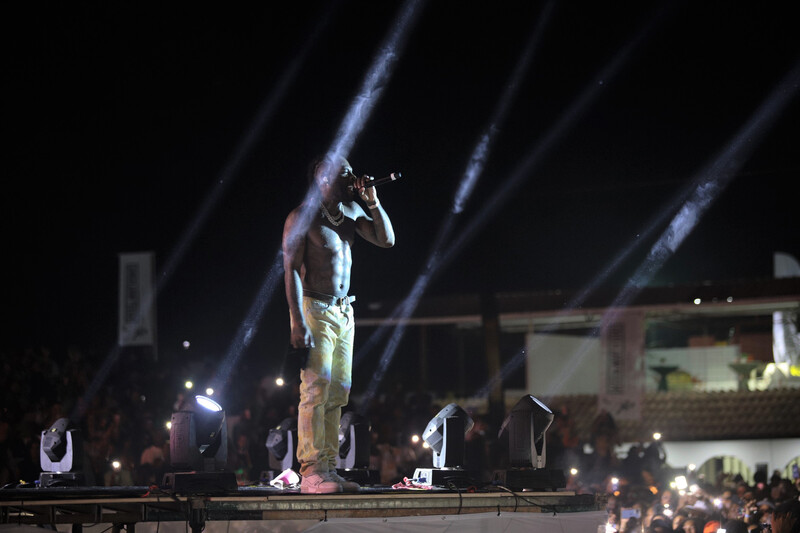 "Burna Boy's team wanted this color scheme so we were happy to oblige," said Lo-A-Njoe. "We accent the reds with white light and also some fog. It really looked good."
However, Lo-A-Njoe didn't have much time to appreciate how the color scheme or anything else looked in real time during the show. Being responsible for the full logistical production, he was too busy to enjoy the show. Looking back a few days later, though, he got a full appreciation of what the design team accomplished.
"It was great when I got to look back at all the pictures and videos," he said. "I really enjoyed seeing Burna Boy on the  catwalk with a huge smile on his face and everybody swaying and dancing with him. It was everything you would want this concert to be all about."