Kinetic Lighting Celebrates NYE With CHAUVET Professional
Posted on January 9, 2015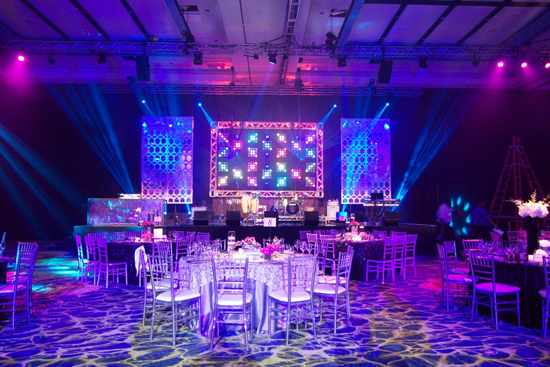 PARADISE ISLAND, BAHAMAS – New Year's Eve revelers often have cold weather and sometimes snow to content with when they celebrate. Not so for guests who welcomed 2015 at the Atlantis, Paradise Island, Bahamas. Surround by crystal blue waters, clear skies and a NYE temperature in the comfortable 70s, Paradise Island more than lives up to its name. Still, Atlantis Resort didn't become world-famous just because of its natural amenities; the popular destination also offers an array of activities, dining and entertainment options, which on New Year's Eve included a stellar party that featured a high-impact lightshow designed by Kinetic Lighting.
Lighting Designer James Schipper of Kinetic Lighting (Glendale, CA) used 22 Nexus 4×4 LED panels from CHAUVET Professional to create an impressive downstage array that served as a backdrop for a live show that include dancing, acrobatic and musical performances. The Nexus panels were programmed to display intense light in chase sequences set to the performances on stage.
Schipper positioned 12 Legend 412 moving wash fixtures around the square-framed Nexus array to focus light on the stage and add an extra dynamic effect to different performance elements. "The Nexus and Legend worked extremely well together, because both have a very intense output," said the LD. "Plus the speed of the Legend's pan and tilt movements played off very well against the flashing of the Nexus panels. The choreography and costumes on stage were intended to dazzle, so we wanted to match that with a forceful intense lightshow."
In addition to the stage lighting, Schipper colorized the massive and elegant party room with 120 COLORado 1-Tri Tour par-style fixtures, also from CHAUVET Professional.  Positioned on overhead truss bars, the COLORado fixtures provided scenic lighting and washed various key areas of the room.
"The event designer Damon Drescher of Angel City Designs does impressive work creating uniquely elegant and festive looks in a room," said Schipper. "Working with Damon and Angel City Designs, which created the Atlantis, Paradise Island, Bahamas New Year's Eve party, I've come to appreciate what they envision for an event design. They have a good understanding of what lighting can do to augment a design, whether it's on stage with the Nexus, or throughout the room with fixtures like the COLORado 1-Tri Tours."
Schipper praised the color rendering capabilities of the COLORado fixtures. "Given the setting of Atlantis, Paradise Island, Bahamas and the overall look of this property, guests expect there to be a level of vibrancy and color wherever they look," said the LD. "This is especially true at something as special as a New Year's Eve party. The lush colors we got out of the COLORados, together with the overall design of the room, met these expectations."