Erich Meitzner Sets Scene For Wet With CHAUVET Professional
Posted on November 8, 2016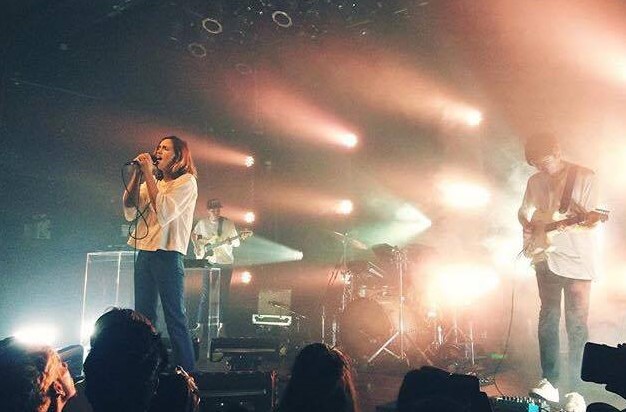 NEW YORK – Few indie bands have broken through the buzz like Wet has. The Brooklyn-based synth pop trio had its self-titled debut EP streamed 928,000 times on Soundcloud, saw one of its songs "Don't Want to Be Your Girl" streamed 20 million times on Spotify, and toured to sellout crowds.  Described by Billboard as "the toast of the tastemakers," the group was pursued by a plethora of major record labels, sparking a highly publicized bidding war, before ultimately signing with Columbia.
Recently, Wet embarked on a national tour in support of its highly anticipated debut album "Don't You." Lighting designer Erich Meitzner created an appropriately ethereal lightshow for the group's hypnotic heart pulling sound by serving up some intense backlighting with Legend 412Z RGBW wash fixtures from CHAUVET Professional, supplied by Michael Brammer of Special Event Services.
Working with creative director James Bailey, Meitzner is creating an other-worldly visual effect that harmonizes perfectly with the sonic blanket the group unfolds during its performance. In part, he's doing this by running the CHAUVET Professional fixtures full blast.
"Wet is really a very evocative band with an uplifting sound," said Meitzner. "It's not the kind of act where you want a lot of flash or eye candy. I wanted to keep the rig simple, but at the same time I wanted to reflect the intensity behind this group's music. Backing the group with the brilliant light from the Legends was the ideal way to get the look I wanted."
Wet had this to say: "The lights are really effective in both reflecting and amplifying the emotion and tone of our music. It's really powerful to have a lighting rig that's capable of creating such dynamic moods.  Working with Erich has been a great. He has an in-depth and intuitive knowledge of lighting, which has allowed us to really fine-tune all the looks and moments of our set and use the fixtures to a maximum effect."
Controlling his rig with a grandMA2 Lite, Meitzner is keeping things simple. He's using 12 of the Legend 412 moving fixtures and an equal number of LED linear bars.  The fixtures are all being mounted three each on four upstage truss structures. A Legend fixture is being positioned on top of each truss stick, with a linear LED bar placed below it.  Below that are alternating Legend fixtures and linear units.
At key points during the performance, intense light from the Legend fixtures is unleashed, enveloping the band in a bright glow. The net effect is to make the band and its music look as if both are being transported to the stage by light.
The national "Don't You" tour is stopping at a variety of venues, from the Fonda Theatre in Hollywood, to Lincoln Hall in Chicago, to Webster Hall in New York City.  Meitzner's elemental design offers the advantage of being easy to adjust to different-sized stages. "The rig is easy to load in," he said, "but the real benefit is that it captures this band's very unique sound so well."