Darran Webb – Lighting Reality
Posted on January 6, 2015
There is a certain poetic justice to the fact that Darran Webb has won international acclaim as a reality television lighting designer. Webb, who counts American Idol, The X Factor, America's Got Talent and Last Comic Standing to his credit, didn't enter the entertainment lighting industry until the age of 32, when he got a job as a prop maker on the Batman and Robin movie.
Perhaps because he had so much "real world" experience before he ever picked up a par can, Webb possesses an uncanny ability to remain steady and focused even during the most trying moments of reality TV location shooting. This calmness also serves him well when he jumps into new and unproven lighting technologies; something he's done quite often, most notably when, as lighting director on American Idol, he and his mentor LD Kieran Healy became among the first to use LED fixtures as primary lights on the set of a network television program.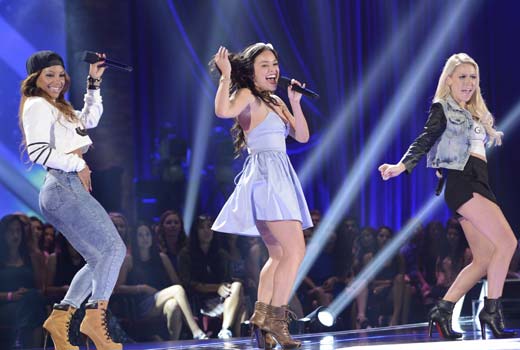 Perhaps it's because he started at a relatively late age – or maybe it's the result of his eagerness to embrace new ideas – but for whatever reason, Webb exhibits an irrepressible enthusiasm for lighting. This much is evident in his designs with their vivacious use of colors, as well as in his philosophy of treating whatever project he's currently working on as the most important and fun one of his career. Life and lighting are a fantastic journey for Darran Webb; we're thankful that for a brief time he took us along for the ride. Enjoy…
You've had very influential and productive career, can you tell us how it got started? Did you always want to be an LD?
"Believe it or not, I never had any desire to be an LD until a few years ago. I had many varied jobs before entering this industry at the age of 32. I started relatively late compared to most lighting designers. I began as a prop maker on Batman and Robin. I was part of the crew that built the Freeze gun that had to fire lightning strikes remotely at 50 frames per second at same time as the camera shutter opened. That was my first lighting gig, I suppose, even though I wasn't working in lighting. From there I went to work at the ABC Prospect TV lighting shop and I got my first lucky break when I met Jerry Nashelenas, the legendary gaffer who worked on the Oscars thirty years, plus the Olympics, Super Bowl and just about every major award show. I eventually became Jerry's assistant and that's when I really started to cut my teeth in the lighting world."
That's quite a start; what happened after that?
"Then I met Kieran Healy and my path to becoming an LD started in earnest. Kieran was instrumental in getting me started as an LD. He would have me light backstage interviews and eventually I took over the lighting for anything not on the stage for shows like American Idol, AGT and Last Comic Standing. Before that I never thought of myself as having much of an eye for the artistic side of the industry, but little by little I found I had an understanding of how to bring an artistic element to TV lighting. In addition to Kieran, I've been lucky enough to work with some of the best in the field: people such as Allen Branton, Greg Brunton, Jerry Watson and all the guys at Full Flood. I learned from these guys every day I walked into the venue."
Do you think starting at a relatively late age has given you a different perspective as a lighting designer?
"If anything it's made me realize how lucky I am to do this for a living. I worked for 10 years in the real world so I know how great this job is. I can honestly say at 49 years old that I enjoy going to work every day. The previous work experience gave me a great set of tools, which also was a bonus."
So at this point what do you regard as the highlights of your career?
"Oh that's a hard one. I've been so lucky to have worked with some incredible people on so many amazing projects over the years. I would guess the one I'm most proud of as a lighting designer would be X Factor 4 Chair Challenge at the Shrine Auditorium. We shot that show in the round 48 hours after getting access to the building. Crag Caserta (programmer/LD) and Don Winters (gaffer) did an amazing job getting that ready to shoot. The most fun show was my last one. It's always my 'last one' until I start the next one.
Think about it: how many people out there have the fun we do at work?"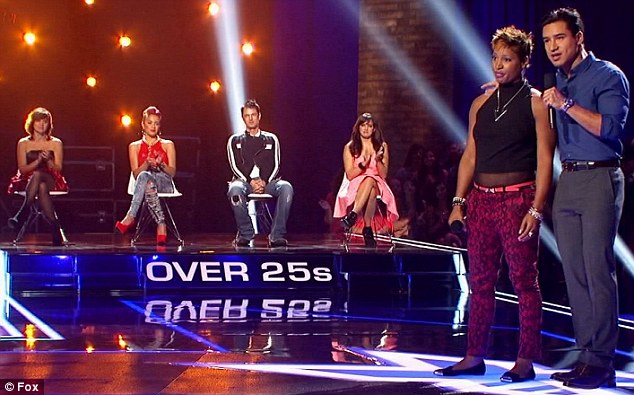 You were among the small group of lighting professionals who led the way introducing the usage of LED fixtures in broadcast applications when you were working on The X Factor. Can you recount what happened during that period?
"Actually the first show I used an LED rig on was America's Got Talent when Kieran let me use LED fixtures to light the Green Room. The biggest challenge was the green shift when using color correction and the different color temps produced by different LEDs. . This issue was solved when the technology was created to ensure consistent color temperatures."
Was there a lot of push back regarding the use of LEDs on the set?
"Oh yeah – at first there was some push back with LEDs, but we started using them on the back stage first and developed techniques for integrating this new tech into our existing rigs. Now LED lights account for at least 50% of our typical rig."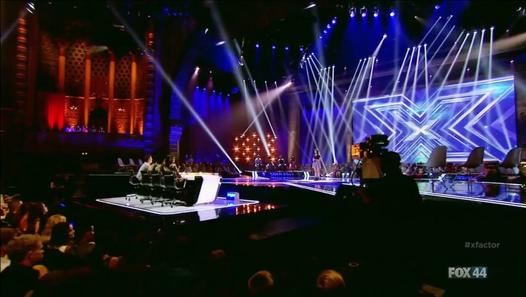 When new technology like LEDs or pixel mapping comes along, how do you as an LD get to know it? Do you give it a baptism of fire; or do you spend a lot of time thinking about how you're going to use it before you pull the trigger?
"I personally like to just jump in and play with it. It's not until you use something new and see how far you can push it do you get to know what can be achieved. If it's a technology that needs a specialist operator I try and get the best one out there and learn all I can from them."
What are the big advantages of using LEDs in broadcast applications from a pure lighting color rendering standpoint, beyond the cool temperature and quiet operation?
"The great advantage from a color rendering standpoint is you can set a look and let it burn for months with zero shift. No more having to change the gels or globes."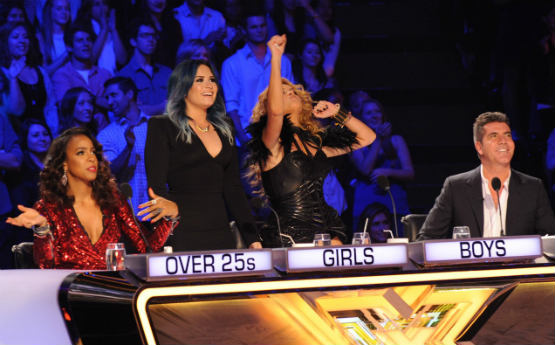 You've done great work on Cirque du Soleil as well as a number of varied projects, but it seems like you've really been making your mark of late in reality TV. What are the big challenges working in that genre?
"We'll the work I did on the Cirque 3d movie I was part of a great lighting team that enhanced the already amazing lighting that the shows had. The biggest challenge in a lot of the reality TV shows isn't so much the stage but the remote locations. Every location has a unique set of issues that need to be solved fast. We normally shoot the first camera rehearsal so you need be very flexible on focus and rigging locations. For example on the challenge rounds of Last Comic Standing this year, most days I had two crews working two different venues -­‐‑-­‐‑ a challenge event and then a head-to-head at a comedy club at night. These rigs had to have speed of install and flexibility built into them as there is normally very little time to make fixes.
"If it's a reality show that is on location there are so many issues that can slow down an install. You are generally in an environment that wasn't built for show rigging. You have to get very creative on how the lights can be rigged with no damage to the building, which can range from an elegant mansion or country club to a working restaurant or a court house that is now a museum. There is always the issue of power in these remote locations. It's not just lighting that has to be accounted for, as we need to build a complete studio, sometimes for a day, sometimes for weeks or months. This requires a lot of planning (if we are lucky to have the time) or we design on the fly. The power issue has been greatly helped with the advances in LED light fixtures."
Most reality TV stages are relatively void of scenic elements, how does this affect your work as an LD?
"The scenic elements in reality show stage shows these days tend to be the lighting and video rig. So as the LD you tend to be driven by the screen's content. There has to be good communication between the LD and screen's producer."
Speaking of communication, you've acquired a great reputation for pulling together a lot of creative and talented people in a TV production, what's the key to doing this?
"I've always had the attitude that you're only as good as your crew. I'm blessed to work with so many talented guys and gals. We work very long hours and I like to try and keep some humor going. The crew is my other family. In reality I see way more of the crew than my family."
How about comparing TV lighting in general to reality TV lighting; aside from getting the key lighting right, which is obviously of paramount importance, what is the most critical thing that you think lighting can bring to a reality program?
"Well as the other designers you've interviewed in the Chauvet Lighting Insights Series have already mentioned, the primary purpose of lighting for TV is to give a 2D medium depth.
"There are really two types of reality television: one that has huge stage sets that are primarily a mix of LED screen, projection and lighting arrays; and the other that takes place in existing structures that weren't built specifically for television."
"The second group is actually old school TV lighting. We tend to have rooms to light much like a set with walls, but we have a far larger set of lighting instruments to play with now. The advent of LEDs has given us the ability to build a far more complex rig per dollar. I regularly control remote locations and house lighting rigs off an iPad now via a WiFi DMX hub."
Are there special challenges using moving heads on TV, since they do move so much and are hard to capture on camera?
"That requires great communication with the programmers (lights and screens) and the director. When the camera shot and the lighting and screens rig are in synch, the effect is stunning."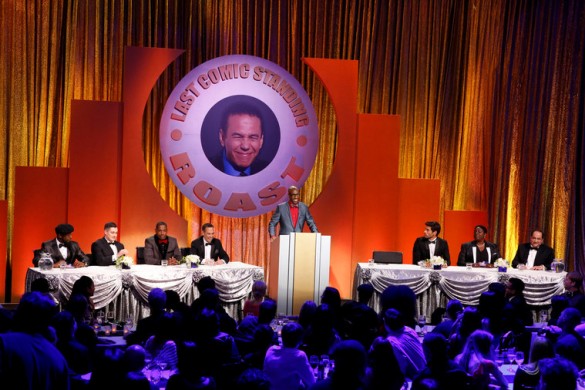 Can you have dark spaces in a TV lighting design, or does every inch of a set have to be illuminated?
"I like to have complete coverage of a set, but have no problem turning lights off if the look calls for it."
Do you have a favorite color that you like to incorporate in your lighting designs? Also, is there a color that's most challenging?
"I don't think I have a favorite color, but I do have a preference for the more saturated colors. This is another area where LED fixtures have an advantage; they produce the deeper blues, magenta, ambers etc. at a higher intensity than tradition fixtures with gel. The color doesn't fade as it does with a traditional fixture because the gel doesn't burn through. Green is probably the toughest color to integrate into a look, as it doesn't do any favors to skin tones.
Where does the design process start for you? Where do you get your inspiration from? "I think I'm always designing something in my head. I get inspiration from everywhere. I love to try something new and different though. I think because I come from an engineering background, I tend to break everything down into very small problems that are easy to manage no matter how daunting the challenge is. ."
What do you do your designs in?
"If it's a stage show I use Vector Works, which I'm still the world's slowest at but I know some of the best VW guys so they get to clean it up. Then, if it's a reality house show, the design is in my head. These tend to be a more organic evolution. I find that these have to be done on site in the rooms one by one."
Looking at the long history of television, is there any program from a different era that you wish you had the opportunity to light?
"Monty Pythons Flying Circus. It would have been a fun ride getting there with that cast. They lit that show with some big static lights. I don't think I'd really change the look too much, but just being there when some of the most quoted comedy sketches ever were being developed would have been amazing."
How would you like to be remembered as a lighting designer?
"I'd like to be remembered as someone who never let a problem beat him, while keeping a smile on his face."