Daniel Thibault – Lighting A New Road
Posted on October 5, 2020

The days are long, sometimes lasting 20 hours, and the work is tough, setting up and taking down a concert rig in one day, often with no real power tie-ins or FOH positions. When it's all done, the overnight accommodations are usually modest small-town motels with nothing in the way of extras.
Still, this North Carolina-based lighting designer and his regular crew of four aren't complaining. Instead, they're thankful every single day that they've been able to stay busy during a period when many of their friends and colleagues in the event industry are looking for work.
For Thibault and his team, lighting drive-in concerts isn't just an occasional project, but a new way of doing business in the pandemic era. Since March, they've been doing multiple "No Parking on the Dancefloor" concerts a month, every month, at drive-in theatres throughout the south.
The co-owner of Life Is Art Studios in Raleigh, NC, with partner Soup Williamson, Thibault had been lighting shows and festivals for Disco Productions for eight years when COVID-19 brought live shows to a screeching halt. When his client responded by taking DJ shows on the road to drive-ins, Thibault stepped in to do the lighting and audio. In the process, he created a steady stream of work for himself and his team.
Although he never before dreamed of drive-in shows, Thibault has found them to be an invaluable source of work in a world of lockdowns and social distancing. He spoke to us about his new reimagined business model and explained why drive-ins might still have a place in the live entertainment landscape even after the pandemic has passed.
No Parking on the Dancefloor has shows spread out over several states. So, does traveling for Drive-in shows differ than traveling for festivals or traditional live venue shows?
"Like most parts of our industry nothing is quite the same as it was before March. I'd say the biggest difference is that these drive-in theatres are not down the street from a 4-star hotel, or even a 3-star one! We are typically working in very small towns and communities that are not used to hosting events like ours, where you get so many people all at once.
"The responses we've gotten from the communities has been very mixed. Some are happy that money is being brought into their small town, but others see us as a 'invading force' of crazy young people who are taking over the town. Often we find that we're the only ones in the hotel that are not throwing an after party."
How is setup different at a drive-in?
"Basically, every drive-in is a small festival. The difference is there is no day before to do load in and do your programing overnight. Everything comes in and out the day of the show. These venues are still acting as movie theaters through all this lockdown, so almost all of our shows have to be on weeknights to avoid conflicting with the standard movie crowds they have on weekends.
"The other challenge is that these drive-in theatres are not built to provide things we are used to seeing in venues. Things like real power tie-ins and FOH chase pipes, which we rely on in a normal venue, do not exist in these places. We're constantly pulling apart a power panel to do hard tie-ins and we're running thousands of feet of cable ramps to get signals to projectors and FM transmitters."
You've been maintaining a busy drive-in schedule. Have you learned anything new about lighting a drive-in show now that you have done so many?
"One of the things we've spent the most time on is integrating our camera systems and making sure the light onstage is sufficient for the IMAG shots we need for the big screen. With everyone in cars and spread out these images are the backbone of the show for a large part of the audience. We've found that keeping these shots up and clean helps keep people at their cars and not wondering around to get a better view."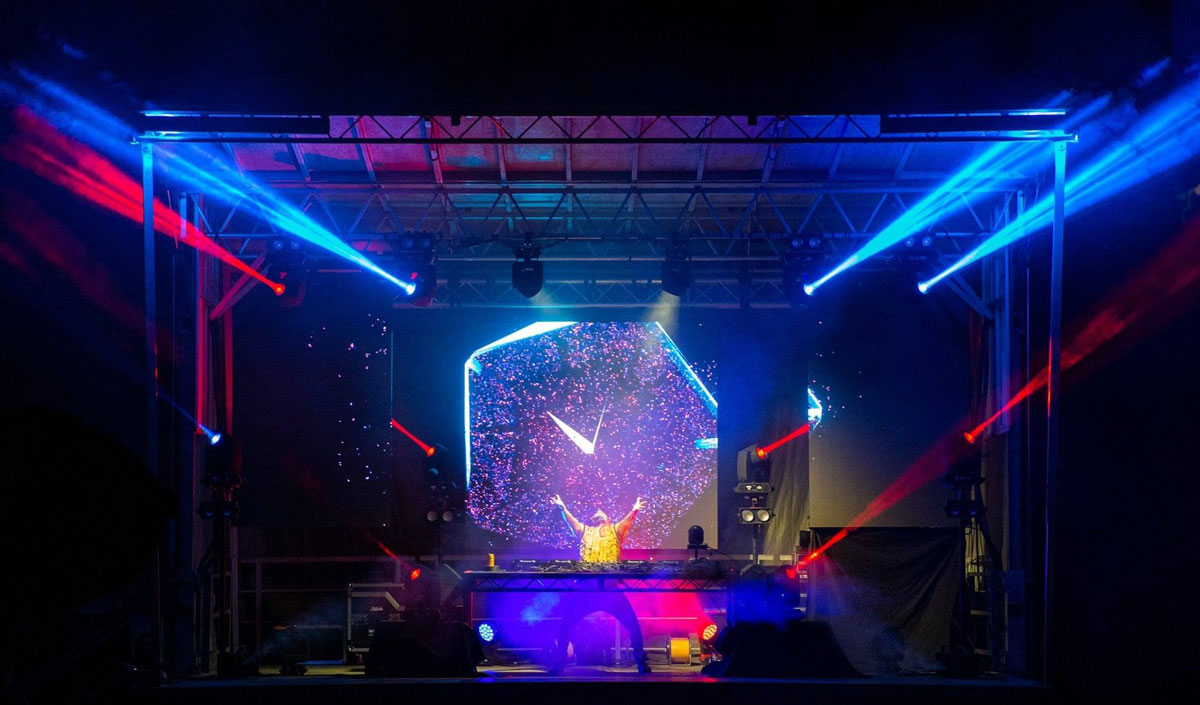 What's surprised you most about drive-in shows?
"Probably how much it feels like a real show. When we first started doing these, we worried we wouldn't get the vibes at all. We didn't even use a real OA. So, there is no amplified sound in the field other than the monitors onstage for the DJ. All the sounds are coming out of car radios. So, keeping people near their vehicles and creating a vibe that can be felt from all over the field has been key."
You have a smaller crew at these drive-ins has this changed the interpersonal dynamics on these shows?
"We have a core team of five that work all these shows. All of us have been together since the start of the pandemic; and half of us all live on the farm where our studio is. Because of isolation rules, we have kept all of these builds to just us with zero over hires or locals for the build.
"We're a small company and have worked together for a while now, so we work off each other really well. I split the crew into two groups: one for video, one for lighting. I bounce between the two, making sure things are powered when they need to be for testing and helping with any troubleshooting that comes up. I am super proud of our small crew and what they have been able to pull off during these days, which are averaging 18-20 hours onsite. They do it all with a smile and a great attitude. Honestly, we would do twice the work with a smile on our face if we had to. We're some of the few people lucky enough to be still doing what we love in this crazy time."
How about the performers who play your shows? What reaction have you seen from them to the drive-in concept?
"Most of the artists we've had onstage this summer are having their first show back since March. These are people who are used to playing 3-5 live sets a week and haven't gotten to flex their musical muscles in months. We've seen lots of smiling eyes, hard to see with masks on, and even some tears, just like us the artists are thankful to once again get to do what they love to do."
We're heading into fall and winter. Will you be able to continue doing drive-ins when it gets colder? Will you be limiting yourself to the southern states?
"We are scheduling as far ahead as November right now. The cold doesn't scare us at all. We will certainly be keeping these going through at least the fall, as long as we feel like people will still come, we will do the work no matter the conditions. Our market is mostly in the southeast, but we will go wherever the show takes us."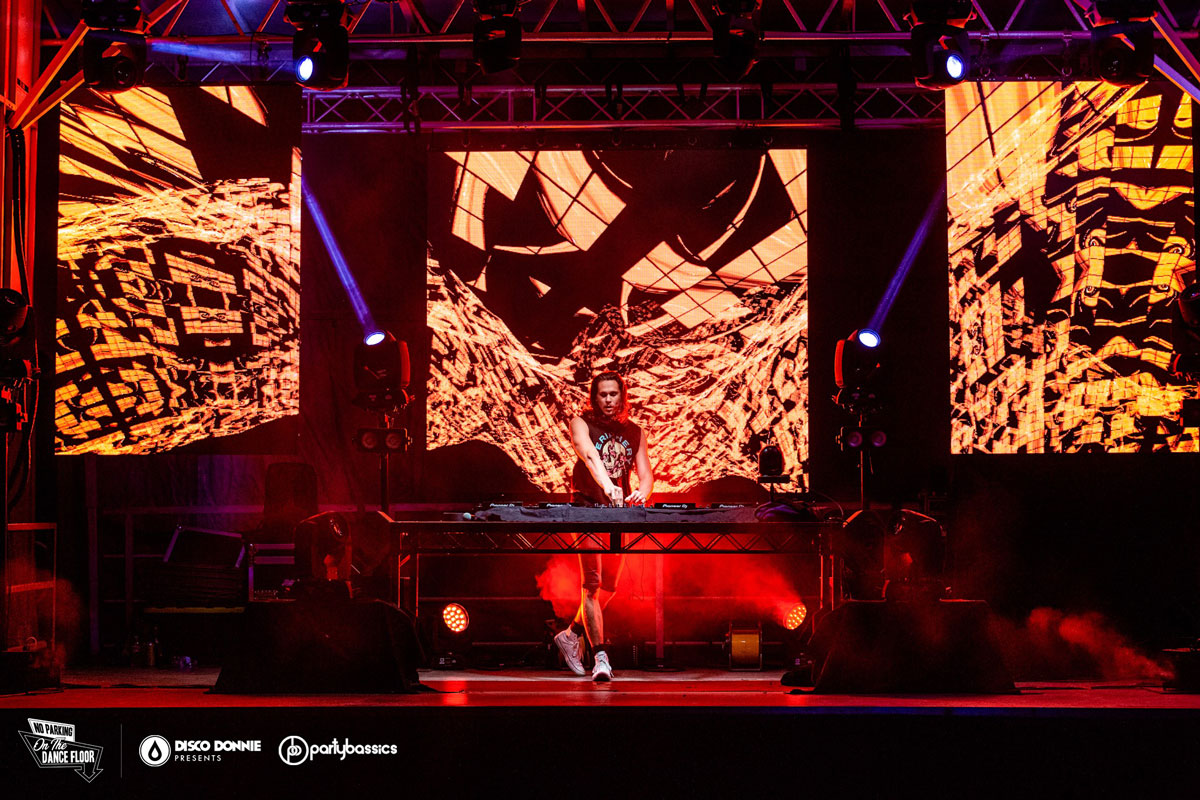 Is there anything about drive-ins that you'll miss when the pandemic is over?
"I honestly think this may be a side of the industry that hangs out for a while after the pandemic. A lot of the theatre owners have been shown a new form of revenue since these shows are taking place in areas without real outdoor concert spaces. I can see them continuing to use theatres for this purpose even once people can get out and wander between cars. I can see a car camping fest in front of one of these screens happening for sure."