CHAUVET Professional Maverick and Rogue Provide Atmospheric Visuals For 2raumwohnung
Posted on November 2, 2018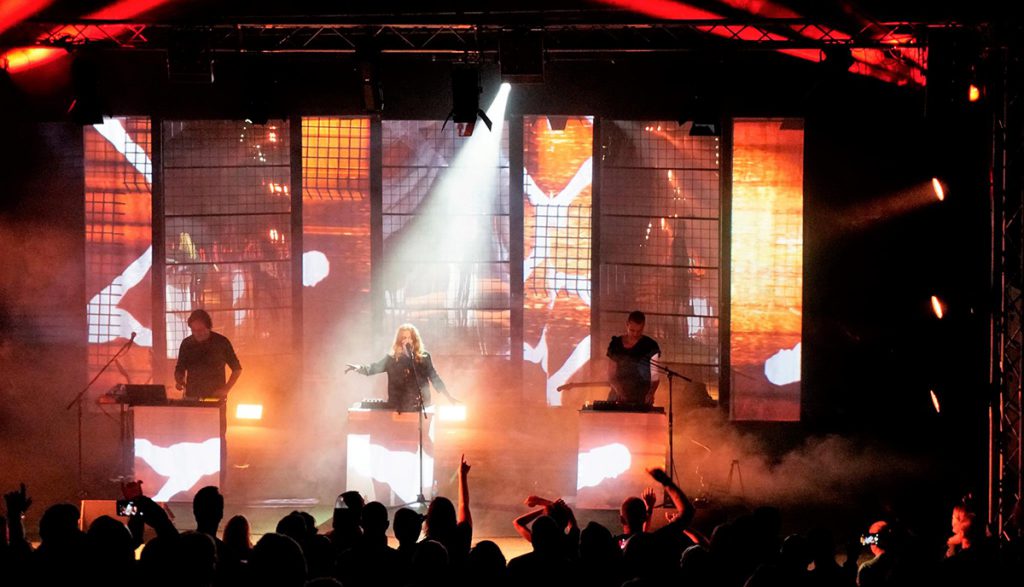 BERLIN – The power of collaboration is not to be underestimated. Take German electro duo 2raumwohnung, for example. After meeting in post-reunification Berlin in 1990, electronic musicians Inga Humpe and Tommi Eckart embarked upon two long-term successful collaborations – one of them romantic, and the other as one of Germany's most successful electropop bands of the last two decades.
Tasked with providing sublime visuals for a recent 2raumwohnung performance at the Freilichtbühne in Zinnowitz designer Mario Volk along with the lighting operator Sven Köpke from Hellcon Veranstaltungstechnik, used CHAUVET Professional Maverick and Rogue fixtures to create a combination of wonderful looks for the band's 90-minute concert.
Hellcon Veranstaltungstechnik Stralsund provided Volk with 6 Maverick MK2 Spot, 6 Rogue R2 Wash and 6 Rogue R1 Beam fixtures. These luminaires were hung above the stage to provide the foundation for a lattice of overlapping, music-heightening visuals.
Thanks to the Maverick's 440W LED engine, powerful beams of light were thrown onto the stage to provide added emphasis and heightened emotion to key moments in the set when the band performed hits such as Bei dir bin ich schoen and Mir geht's genauso. Other Maverick features including MY + CTO color mixing, two 6-position rotating slot and lock gobo wheels and 3-facet prisms, created a blanket of dreamy and ethereal visuals that contributed to the mood of the band's music.
To complement the Maverick's powerful visuals, the Rogue Wash and Beam fixtures provide a number of contrasting yet beautifully balanced lighting effects. For example, the Rogue R2 Wash fixtures covered the show in a blanket of saturated colors. Providing an interesting juxtaposition to the Rogue R2 Wash fixtures were the Rogue R1 Beam units. Thanks to the two layerable, independently controlled 5- and 8-facet prisms, Volk was able to create stunning split beam effects to punch through the blanket of wash color on stage.
In combining the different fixtures' various unique effects, operator and designer were thus able to craft a number of standout visuals to provide 2raumwohnung with a stunning aesthetic foundation upon which their ethereal and atmospheric numbers could be enjoyed to maximum effect.