Chauvet Creates Versatile Looks For George Washington Party
Posted on April 8, 2015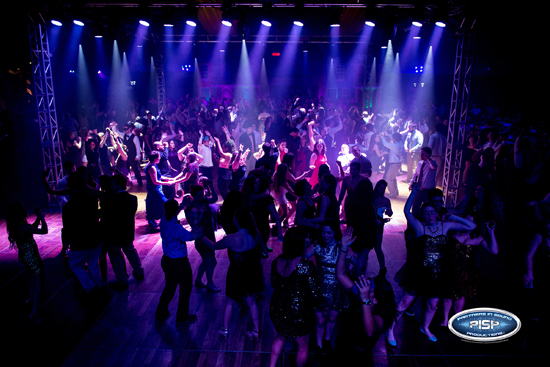 CHESTERTOWN, MD – Back in 1782, George Washington consented to have the small "College at Chester" renamed in his honor.  More recently, the students and alumni at Washington College (the 10th oldest in the US) have been showing their appreciation for this gesture by throwing a giant annual party in honor of the first president.  This year's George Washington Party may have been the most colorful ever, thanks in no small measure to a dynamic and colorful lighting display created with a collection of Legend, Q-Wash and COLORado fixtures from CHAUVET Professional.
Massimo Didonna of Partners in Sound (New York) created the party's lighting rig to be impactful and versatile at the same time. "The party is a very big event for the school," said Didonna. "Not only does it draw a huge turnout of students, it also attracts quite a few alumni. The students want dancing, intensity and visual excitement; the alumni want more subtlety and sophistication. We were able to give them both with the way we designed the party and with the Chauvet lights we used."
For the students, Didonna built a 30' x 30' truss structure over the dancefloor and blasted it with bright, vividly colored light from Legend 330SR Spot fixtures and Q-Wash 419Z-LED moving washes. "The lighting gave us the kind of club look that pumped up the dancers," he said. "The power and brightness of the 419 fixtures provided all the coverage we needed to cover this spacious area, which is about 40,000 square feet. The zoom capability of the 330SR was essential to getting the gobo projection we wanted to create atmosphere."
Didonna used 16 Q-Wash 419Z-LED washes and 12 Legend 330SR Spots over the dance floor and at other areas throughout the party pavilion. For example, the Q-Wash 419Z-LED fixtures were used to wash the stage and the DJ booth as well as a "lounge area" created for alumni.
"We built a very attractive area with pipe and deluxe drapery to create a lounge where faculty and alumni could mingle away from the club atmosphere," said Didonna. With plush furniture, uplighting provided by 24 COLORado 1-Quad Tour par-style fixtures and scenic elements, he and his team were able to create a space that offered a getaway from the dancefloor while still blending in with the overall look of the party.
Part of that overall look was created by the party's New Orleans theme (even though the first president of the US never visited the Crescent City, which at the time of his administration belonged to France). Nevertheless, the Big Easy scenic elements lent a special decorative element to the party, especially with the colorful uplighting rendered by 10 Freedom Strip Mini Quad-5 linear battery-powered wireless fixtures from CHAUVET Professional's sister company CHAUVET DJ.
Partners in Sound brought in 400K power supply to run the George Washington party lighting rig, which was controlled by a grandMA lighting console. "The job went very smoothly," said Didonna. "The people at the college were wonderful to work with. Of course, when you have this many scenic elements and are creating so many different looks, setup time is always a challenge, but our team did a great job. We look forward to celebrating George Washington again next year!"