Chauvet and Rachel Miller Bring Sparkle to Lucid Candy
Posted on April 20, 2015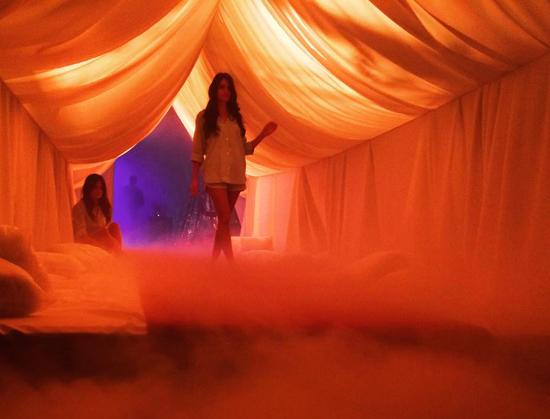 CULVER CITY, CA – Alternative artist Børns didn't just perform for fans who turned out for Lucid Candy, a pre-concert event celebrating his Candy EP, he took them on a dream-like journey reminiscent of Alice's fantastical walk through the Looking Glass. From the moment fans entered the event's Playa Studios venue, they were swept up in a swirl of images, sensation and colors that sent their imaginations whirling in new directions. Lighting designer Rachel Miller used a collection of fixtures from CHAUVET Professional to add to the evocative power of the event, which was created by 72U and Mophonics Music & Sound.
The magic Miller worked with lights was evident in the event's mesmeric tunnel entrance, which visitors walked into after being presented with intriguing pill vials filled with M&M candy. With dry ice produced fog rising from the ground and flowing fabric covering the walls and ceiling, the tunnel gave visitors the feeling of walking into a dream. This effect was accentuated by Miller's use of COLORado 1-Quad Tour RGBW LED wash fixtures to backlight the fabric.
"We were able to achieve the artist's vision of sunlight coming through the tunnel by lighting the sheets from behind with the COLORado 1-Quad Tours," said Miller. "I added medium flood par lenses to the fronts of the fixtures to achieve a wider spread. We mixed the colors manually to get the precise shades the artist wanted."
Miller praised the color rendering capabilities of the COLORado 1-Quad Tour, which has color temperature presets from 3200 to 10000K and offers manual as well as DMX color mixing. "I use these fixtures as often as possible, because of their color," she said. "In this case, the saturated hues and manual color mixing gave us the exact colors we wanted. Plus, since they're LED fixtures, their low wattage made it easy to use a single circuit for all units."
After walking through the dreamy tunnel, visitors passed through a succession of rooms with images of clouds, psychedelic abstracts and a female astronaut, before entering a main room where Børns performed a number of songs from the Candy EP as well as some covers, like a steamy rendition of Elton John's "Benny and The Jets." Large white projection mapped cubes dominated the visuals for the band's performance. Then during the DJ/iPod playback part of the event Miller used the Wash FX from CHAUVET DJ, a punchy wash light with 6 zones of control.
"We set the Wash FX to audio activated to stay within budget," said Miller. "However, the room had a very rich exciting look.  The Chauvet FXs were extremely helpful in giving me a full room wash with movement and color changes that match the mood of the music and the crowd. The client wanted to create an extraordinary experience, so the bar was set very high for this event and the lighting certainly didn't disappoint."