Miami Heat Forward Chris Bosh had a CHAUVET Professional Birthday Bash!
Posted on April 24, 2014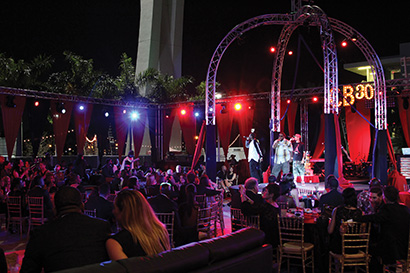 Miami Heat forward Chris Bosh had a 30th birthday party, and LD Dan Cohen of Uplyte used a big rig full of CHAUVET Professional lighting to make it even more glam!
From the article at PLSN Magazine:
"This project was brought to us by one of our very talented event planner clients who does a lot of work with Team Bosh," said Cohen. "Adrienne Bosh wanted a sultry Cirque style event with a seductive look and feel and yet, at the same time, also provided the traditional excitement of a 'Big Top.' We had to create a vast array of looks to give us some 'cabaret' style moods and then transition smoothly into a very different feeling for some of the specialty acts, which included a variety of Cirque-like performers. Having a versatile and reliable lighting rig was essential to us being able to fulfill the client's vision for this project."
Check it out!